PRESS STATEMENT
#Africa4Palestine calls for a boycott of "Zoom" video conferencing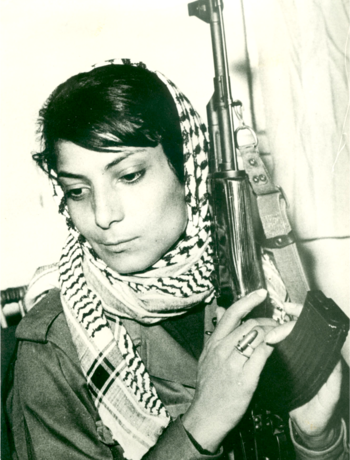 25 September 2020

The human rights organization, #Africa4Palestine, together with partner organizations will be writing to the BDS boycott Israel movement office in Ramallah, the BNC, to add the online video conferencing platform, Zoom, to its international boycott list. The BNC, which is the Palestinian office for the BDS movement, guides the global BDS efforts on what to boycott. We will await direction from the BDS and hope that they will provide guidance on the way forward before we embark on boycotting.
The call for the boycott of Zoom follows a decision by the company to
block
an event hosted by San Francisco State University (SFSU), titled "Whose Narratives? Gender, Justice and Resistance" which was to feature the Palestinian icon, Leila Khaled, among others.
"In light of the speaker [Leila Khaled's] reported affiliation or membership in a US designated foreign terrorist organisation ... we determined the meeting is in violation of Zoom's Terms of Service and told SFSU they may not use Zoom for this particular event," the video platform said in a statement released on Tuesday.
In addition, a Womens Day event that #Africa4Palestine held with Leila Khaled was also interrupted, on the 9th of August 2020. Initially #Africa4Palestine was under the impression that it was a technical fault however, we are now convinced that it was a deliberate attempt by Zoom not to allow our event with Leila Khaled.
These incredible acts of suppression of Palestinian solidarity, as well as freedom of expression more generally, by an international company such as Zoom, is part of a litany of attempts by the Zionist and pro-Israel lobby to suppress advocacy for Palestinian human rights that we reject with contempt and should be met with appropriate consequences! We have therefore written to the BDS National Committee in Ramallah and await their urgent addition of Zoom to the international BDS list of companies. An insult to an icon such as Leila Khaled should be met with the strongest condemnation.
————— * —————

WHO IS LEILA KHALED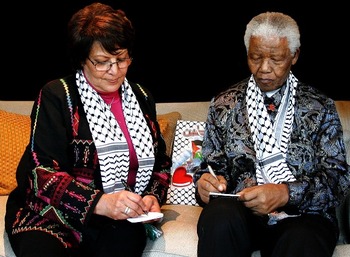 Comrade Leila Khaled (pictured above with Nelson Mandela) is a Palestinian icon and liberation hero. Nelson Mandela and Leila Khaled, both were dubbed "terrorists" by the USA. In fact, Nelson Mandela and South Africa's then liberation movement and now governing-party, the ANC, remained on the USA terrorism watch list for over a decade after the end of Apartheid - similarly the party that Khaled belongs to, the PFLP, remains on the US terrorist list. Mandela himself was only removed from the US State Security terrorist watch list in 2008 – after he had visited the country as President of our country. Many Palestinians - including Leila Khaled are today considered terrorists by the same people who once did so with the ANC, the PAC, Nelson Mandela, Winnie Mandela and other liberation struggle heroes.
We have previously hosted Leila Khaled in South Africa, with her most recent tour being in 2014 where she was a guest of Parliament and also shared platforms across the country with various Government Ministers, Premiers, Mayors as well as South African stalwart, Ahmed Kathrada and Nelson Mandela.
Leila Khaled has been dubbed "a symbol of resistance of the Palestinian struggle". Khaled's image flashed across the world in 1969. The picture of a young, determined looking woman with a checkered kuffiyah scarf was as era-defining as that of Che Guevara, Ruth First and other political figures from our recent past.
When our international borders completely open and travel is unfettered, we will ensure to bring comrade Leila back to South Africa. Comrade Leila is us, and we are her. We are proud of Cde Leila as well as her political party, the Popular Front for the Liberation of Palestine, and give her and the PFLP our solidarity.
ISSUED BY TISETSO MAGAMA ON BEHALF OF #AFRICA4PALESTINE
Spokesperson, Tisetso Magama: +27 (0) 61 4146348
Director, Muhammed Desai: +27 (0) 84 211 9988
If you would like a free copy of the award-winning film
"Leila Khaled Hijacker"
send an email to info@africa4palestine.com. The free DVD is only available for pickup from our Johannesburg office from Monday 28 September 2020.
AFRICA 4 PALESTINE
Suite 3 | Park Center | 75 12th Street | Parkhurst | Johannesburg
PO Box 2318 | Houghton | 2041 | Johannesburg
T: +27 (0) 11 403 2097 | F: +27 (0) 86 650 4836
Africa4Palestine is a registered Non-Profit Company. Registration Number: 2020/549404/08