We want to thank everyone who came to our first show of the season over at
the Fremont Theater a couple of weeks ago. It was a wonderful experience because of you! Thanks for your support of the storytellers and our terrific new house band, Tonight's Special. A splendid time was had by all!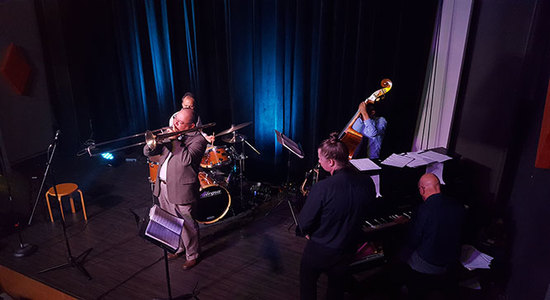 Tonight's Special: Aaron Mattison (sax), Roger Paulson (piano),

Laurent Nickel (bass)

Bryant Byers (trombone), Alan Dragon (drums). Photo by Kelly Nissl
Stories by Immigrants & Refugees
If you love the Urban Tellers
®
experience, be sure to come to our next show. It's a special immigrant and refugee edition made possible by a generous grant from The Collins Foundation. You'll hear the real, true stories of the people of Portland, including
Eva Rotter-Johnson from V
enezuela, Marisol Sara Batioja-Kreuzer from Ecuador, Arisanto Bayu Aji from Indonesia, Ruiyuan Gao from China, Mohammed Usrof from Palestine, and Rodrigo Aguirre from

Chile. Two nights! Thursday, November 2 and Friday, November 3.
Our Storytelling Community