SHOP HOURS
Monday: CLOSED
Tuesday: 12 - 6
Wednesday: 12 - 6
Thursday: 12 - 7
Friday: 12 - 6
Saturday: 10 - 6
Sunday: 12 - 4

 

 

 

 

Have you knit up something warm and cozy for everyone on your Christmas list yet?  There's still time.  We've got some great ideas for last minute projects with our yarn of the month and three classes featuring projects that will be completed and suitable for gifting at the end of class.  And, of course, don't forget to tell your loved ones where to shop for your gifts, we are happy to offer assistance in the form of wish lists and gift certificates!

Monday, December 21st 12-6

Tuesday, December 22nd 12-8

Wednesday, December 23rd 12-8

December 24th for Christmas Eve

December 25th for Christmas Day

January 1st for New Year's Day
We have MORE baskets!  These baskets are so great, we sold almost all of the shipment we got in last month right away, so now we have even more!  There perfect for yarn and they make great gifts for anyones general
 toting and storing needs.  They can be used for groceries, toys, stuffed animals, art supplies, clothing, magazines, or fill it up and make it a gift basket.  Come see the new patterns and pick out your favorite!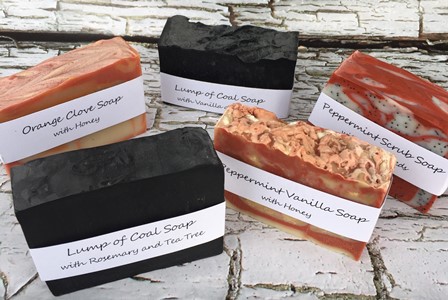 Sarah's cooked up some fresh batches of soap just for the season.  There's Peppermint Scrub, Orange Clove, Peppermint Vanilla, Lump of Coal with either Vanilla and Clove or Rosemary and Tea Tree, Orange Cedar and the always popular Lavender.  These soaps are made by hand, locally, with all vegetable oils and scented with essential oils.  They are especially nice to use in the winter since they provide extra conditioning oils to help keep your skin from drying out.  Plus, Lump of Coal soap makes a great stocking stuffer!
We have more bags from Binkwaffle!  These sturdy bags are perfect for projects.  Pick a little one for a small project, or a large one for something more substantial.  With a wide opening, it's easy to see inside to get what you need.  They are also fully reversible, with adorable patterns on both sides!  A perfect gift for a knitter or for yourself!
While you are at ReBelle, take the opportunity to enter Local First Lexington's Holiday Shopping Challenge.  This year, to enter you need to 1) Shop Local, 2) Take a selfie in the shop, 3) Upload it to Facebook or Instagram, and 4) Tag it #LocalFirstLex.  The prize this year is a HUGE gift basket full of items from Local First Lexington business!!  To make it slightly more entertaining, we've provided a basket of props and a selfie stick for you to use for your selfie at ReBelle.
We always like to pick a chunky yarn for December's yarn of the month.  This year, it's Aquarella by Malabrigo.  Aquarella is a gorgeous single ply thick and thin 100% merino yarn.  It comes with 65 yards to 100g skein and as you would expect from Malabrigo the colors are simply mouth-watering.  You can use one skein to knit up the Cashmere Neckwarmer (shown below) or try some of these other patterns for a quick and cozy knit:  Three hour cowl, Two hour hat,  Mile a Minute Scarf, Rustic Baby Hat, Urchin (hat), Ovate (shawl), or Chunky Slouch Cap.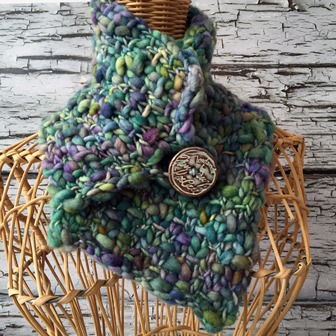 Featured Upcoming Classes
 

 

Crocheted Rings Necklace $25

Crochet a new look for yourself or a friend in this new jewelry class with Raellyn. We will be crocheting around rings and joining them together to create this modern necklace. A knowledge of basic crochet stitches is required. All materials needed for the project are included in the class fee, so come join us for a fun afternoon of crochet and walk away with a new necklace!

Sunday, December 20th 4-6pm

 

 

 
Introduction to Vessel Felting

 

In this class we will learn the basics of three dimensional vessel felting while creating multi-textural felt bowls. We will get a little wet so wear clothes that can get a bit messy. Class kits will be available for $10 and include enough fiber for two bowls, take home forms and a felting mat.

Saturday, December 19th. 2-5pm




 

 

 
 

 

 

 

Embroidered Pendant $15

 

Embroidery is not just for clothing, in this class Raellyn will teach you to embroider on fabric using a tissue transfer technique to make an embroidered pendant necklace. There will be a class kit available for purchase for $10.

 

Saturday, December 19th 10:30-12:30