Federal court asked to stop transfer
Jailed hip-hop soldier Spc Marc Hall petitioned a federal court Monday to stop the army from moving him to Iraq in order to court martial him for his "Stop-loss" song; Marc is asking for public trial at Fort Stewart.
Alexis Hutchinson wins discharge!
We won. Single mom Spc Alexis Hutchinson did not go to Afghanistan, will not go to jail, will not be separated from her baby Kamani, and will get out of the Army. To everyone who signed the petition or donated to her defense, thank you.
Travis Bishop to be freed early
Sgt Bishop won a three month reduction of his prison sentence. Hundreds of letters from supporters credited. This successful appeal was funded by Courage to Resist and supporters like you.
---
Marc Hall petitions fed court to stop Iraq transfer
Jailed hip-hop soldier asks to stop army from staging Iraq court martial for "stop-loss" song
By Courage to Resist.
February 16, 2010
Donate | Petition | Leaflet | stoplossmusic.org
So far 53 supporters have donated $1,651 of the $2,500 sent to file this petition for Marc. Please help.
FORT STEWART, GEORGIA – Attorneys for jailed hip-hop soldier SPC Marc Hall filed a petition with the US District Court of the Southern District of Georgia yesterday in an attempt to stop the Army from transferring SPC Hall to Iraq for court martial. SPC Hall currently remains incarcerated in the Liberty County Jail, Hinesville, Georgia as of this morning.
Court filings included: The brief | Habeas petition | TRO | Exhibits
David Gespass, civilian attorney for SPC Hall explained, "Not just the Constitution, but the rules for courts-martial, prohibit prosecutors from holding a court-martial in a combat zone as a pretext for depriving an accused of a public trial, counsel of his choice and necessary witnesses. Whatever the Army may claim, that is exactly what the Army is doing to Marc." Mr. Gespass is the president of the National Lawyers Guild. He is based in Birmingham, Alabama.
---
Single mom Alexis Hutchinson wins discharge!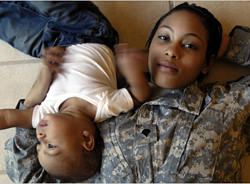 By Friends and Family of Alexis Hutchinson.
February 11, 2010
Spc. Alexis Hutchinson, the single-mother in the Army who missed deployment last year when her childcare plans fell through at the last minute was today granted an administrative discharge from the Army. Hutchinson and her civilian attorney, Rai Sue Sussman, are happy with the results. Spc. Hutchinson says that she is "excited to know what will happen to me, and that I am not facing jail. This means I can still be with my son, which is the most important thing." (Photo:  James Dao, NY Times. 2/12/10)
Hutchinson will receive an "Other Than Honorable" discharge, but will not be facing criminal charges at a court martial, which would have subjected her to a bad conduct discharge and up to a year in jail if she lost, as well as a criminal record. Ms. Sussman stated: "we would have fought the court martial, and I think that we had valid defenses if it went to trial. However, this resolution will give Alexis closure and the ability to move on immediately, without a lengthy trial and possible jail term." They believe that at trial, the evidence would show that Spc. Hutchinson had intended to deploy until her childcare plans fell through.
The Army has regulations which anticipate the situation of single parents having plans for childcare during deployment fall through. The regulations call for an extension of time to find alternate care-givers, and to discharge a parent honorably if no solution is found. Sussman states: "Here, the Army did not act according to their own regulations, and did not value the family responsibilities of this soldier. If they had, Spc. Hutchinson would not have been in this situation and would be getting a better discharge."
---
Travis Bishop wins reduction in sentence
February 10, 2010
FORT HOOD, Texas – Sergeant Travis Bishop received word this week that he was given a 3 month suspension of the 12 month sentence he got last year for refusing to deploy to Afghanistan based on his Christian religious beliefs against war. Sgt. Bishop has been imprisoned at the Fort Lewis, Washington stockade since August 16, 2009. Lt. General Robert Cone, commanding general of Fort Hood approved the sentence reduction on February 4th after considering Sgt. Bishop's clemency application.
Sgt. Bishop's clemency application included a legal brief (alleging problems at trial, problems with the processing of Bishop's conscientious objector claim, and mistreatment at the Fort Lewis brig), a hand-written letter from Sgt. Bishop, and 433 letters (signed by a total of 538 people from 21 different countries) from members of Amnesty International calling for Sgt. Bishop to be released.
Sgt. Bishop's civilian attorney, James M. Branum, estimates that Sgt. Bishop will be released no later than March 31 based on the amount of good behavior credit Sgt. Bishop has earned.
In an emotional response, Sgt. Bishop asked his legal team to relay this message to the public, "Thank you! Thank you! Thank you to everyone who wrote letters and supported me! This is amazing and unprecedented."
---
Please click here to forward this to a friend who might
also be interested in supporting GI resisters.