Canada continues ouster of war resisters
Supporters continue campaign for sanctuary while slowing removal proceedings. After being deported, Iraq War resister Cliff Cornell awaits court martial. Donate to Cliff's defense here.
Command rape victim finally discharged
In this Courage to Resist audio interview, former MP Suzanne Swift talks about what happened in Iraq, and how she eventually became a war resister. She was recently honorably discharged.
Training held for active duty soldiers
Courage to Resist helped train active duty troops on a practical overview of military law regarding GI resistance. Last weekend's training was organized by IVAW at Coffee Strong near Ft. Lewis.
Resister, Guantánamo guard speaks out
Guantánamo prison guard and Iraq War veteran Brandon Neely speaks out on abuses. Last year, Courage to Resist helped Brandon successfully resist Individual Ready Reserve activation.
"AWOL from the military" legal memo (PDF)
Updated comprehensive info by GI rights lawyer James Branum.
---
Canada continues ouster of war resisters
Supporters and resisters continue campaign for sanctuary while slowing removal proceedings.
By Sarah Lazare, Courage to Resist published by Common Dreams
February 15, 2009
In the past weeks, the Harper Administration has moved swiftly to push U.S. Iraq War resisters out of Canada, issuing removal orders to five more resisters who had resettled up north. Two have recently been forced out of the country, and the rest continue their appeals through the Canadian Courts. This adds to the growing number of U.S. war resisters in Canada who are being threatened with deportation and eventually U.S. military court martials and imprisonment.
"According to the Nuremberg principles, people have the right to a free conscience," said Ryan Johnson, a former soldier who refused deployment to Iraq and resettled in Canada in June 2005. "We should be allowed to stay based on that."
Since the beginning of the Iraq War, dozens of U.S. troops resisting service in Iraq have applied for refugee status in Canada, on the grounds that, were they handed back to U.S. military custody, they would face persecution for refusing to participate in an illegal war. Several Afghanistan War resisters have also made Canada their home, with an estimated 200 U.S. war resisters currently residing in that country.
Cliff Cornell, who resettled in Canada after refusing to deploy to Iraq in 2005, returned to the United States when the Canadian government denied him a stay of removal. He was arrested by U.S. border police last week and taken to a county jail in Bellingham, Washington. Following a community vigil at the jail, Cornell was released and given five days to travel to Ft. Stewart, Georgia on his own accord. He is expected to face court martial, and supporters have set up a defense fund to cover his legal fees.
---
Command rape victim, GI resister finally discharged
By Courage to Resist. 17:50 min.
February 14, 2009
When military police officer Suzanne Swift was in Iraq, she was sexually coerced by a superior, then harassed by him after she ended the unwanted relationship. Back in the States, she went AWOL rather than return to Iraq when her unit was ordered back. Swift was recently discharged from the Army and tells the story about what she had to endure.
---
Organizing training for active duty troops at G.I. coffeehouse
By Courage to Resist
February 20, 2009
This past weekend, Courage to Resist organizers helped conduct training for Iraq Veterans Against the War (IVAW) members who are currently on active duty. We focused on the practical legal (military law) aspects of GI resistance, including: speaking out from within the military, ramifications of going AWOL, refusing orders, and resisting the Individual Ready Reserve. Other sessions covered how to build IVAW chapters on military bases, often the most hostile places to organize GI resistance to the occupation of Iraq. Ten active duty members representing five military bases participated in the training held at the Coffee Strong G.I. coffeehouse and Internet café across the freeway from Fort Lewis, 45 miles south of Seattle, Washington.
---
Resister Brandon Neely on being a guard at Guantánamo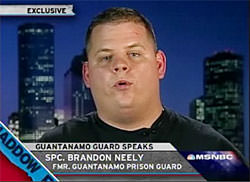 When the Army recalled Brandon Neely from the Individual Ready Reserve, Brandon did not answer the call. Today he is president of the Houston chapter of Iraq Veterans Against the War and speaking out.
Brandon declares, "I have seen and done many horrible things, either at Guantánamo or in Iraq, and I know what it is like to try and move on with your life. It's hard."
Last year, Brandon told us, "I looked at my dad and told him right there I'm not going back.... I never thought in a million years that the government and the President would send troops into harms way for nothing.... I got on the Internet and came across the Courage to Resist website."
Testimony of Spc. Brandon Neely to the Guantánamo Testimonials Project at the Center for the Study of Human Rights in the Americas, University of California at Davis