Support Spc Stevens and the Ft. Bragg 50!
Sign the petition to ask the Army to free conscientious objector Dustin Stevens and end the illegal pre-trial punishment of him and the Fort Bragg 50!
Warehousing soldiers in the homeland
Courage to Resist's Sarah Lazare and Dahr Jamail expose the treatment of Echo Platoon at Fort Bragg, NC where they remain suspended in a legal limbo of forced uncertainty.
Sgt. Travis Bishop sentenced for resisting
Travis was found guilty on all counts for resisting Afghanistan deployment and sentenced to 12 months in a military jail. His application for discharge as a conscientious objector has since been denied as well.
Also: Courage to Resist joins Vandenberg protest
---
Petition in support of Spc Stevens and the Ft. Bragg 50!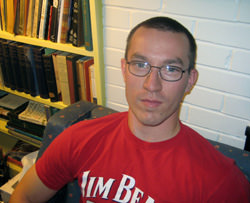 By Courage to Resist
August 25, 299
We recently helped expose the outrageous treatment of dozens of soldiers at Fort Bragg, NC with "Echo Platoon - Warehousing soldiers in the homeland" by Sarah Lazare and Dahr Jamail.
The Army reacted swiftly, not by improving the situation, but by formally charging the most outspoken soldier, Spc Dustin Stevens (photo right), with "desertion".
The Army has since begun an investigation into these "allegations"; however, it is clear we will need to hold the military accountable for the treatment of our soldiers in Echo.
Please sign the online petition to ask that the Army free objector Spc Stevens, and end the illegal pre-trail punishment of the Fort Bragg 50.
Free Army conscientious objector Dustin Stevens now!
In May 2002, after five months in the Army, 19-year-old Spc. Dustin Stevens refused to graduate with his 82nd Airborne Division training unit. "I knew in my heart and in my mind, I couldn't kill anybody and couldn't be a part of an organization that did so," he explains. Instead of discharging Spc. Stevens as a conscientious objector, his command simply ordered him to go home and await discharge papers. In January 2009, during a routine traffic stop, Dustin was shocked to learn that there was a warrant for his arrest. He was immediately arrested, turned over to military police, and has been held on restriction at Fort Bragg, North Carolina since. We respectfully request that the Army immediately discharge Dustin Stevens.
End illegal pre-trial punishment for Dustin Stevens and the Fort Bragg 50!
Dustin Stevens is one of about 50 soldiers being held at the 82nd Holdover Unit awaiting likely AWOL and desertion charges. They live in a legal limbo of poor living conditions, verbal abuse, and arbitrary punishments while waiting for up to a year to be actually charged and court martialed. The result is that these soldiers are subjected to many months of unjust and illegal punishment prior to their day in court. We respectfully request that the Army improve living conditions, reassign sadistic supervisors, end all informal punishments, and expedite resolution for these soldiers so that they can return home to begin rebuilding their lives as soon as possible. Also, we respectfully request that if eventually convicted by courts-martial and sentenced to time in the stockade, these months they have already "served" count towards sentencing.
Sincerely,
Mike Ferner - Veterans for Peace national president
US Army Colonel Ann Wright, ret. - former US diplomat
Marjorie Cohn - National Lawyers Guild national president
Shazia Shakib - organizer for women's rights, Kabul, Afghanistan
Howard Zinn – historian / author, "A People's History of the US"
Carlos and Melida Arredondo - Gold Star parents of Alex Arredondo
Elaine Johnson - Gold Star mother of Darius Jennings
Judith LeBlanc - United for Peace and Justice organizing coordinator
Medea Benjamin - cofounder, Global Exchange and CODEPINK
Ray Parrish - Vietnam Veterans Against the War staff GI counselor
Clare Bayard - War Resisters League organizer
Roxanne Dunbar-Ortiz - professor emeritus, California State University
Michael Eisenscher - Bay Area Labor Committee for Peace & Justice
David Swanson – After Downing Street co-founder
Selena Coppa – Active duty US Army Sgt., IVAW member
Jeff Paterson - Courage to Resist project director
Gerry Condon - Project Safe Haven director
Geoff Lobenstine - GI Rights Hotline organizer
Judith Kelly - Pace e Bene, training facilitator
Marti Hiken – National Lawyers Guild Military Law Task Force
S Brain Willson – Former Cmdr, USAF Combat Security Experimental Ranger Unit, Viet Nam (68)
---
Echo Platoon - Warehousing soldiers in the homeland
By Dahr Jamail and Sarah Lazare for TomDispatch. August 10, 2009
Echo Platoon is part of the 82nd Replacement Detachment of the 82nd Airborne Division at Fort Bragg, North Carolina. Soldiers in the platoon are relegated to living quarters in a set of dimly lit concrete rooms. Pipes peep out of missing ceiling tiles and a musty smell permeates beds placed on cracked linoleum floors.
For soldiers who have gone AWOL (Absent Without Leave) and then voluntarily turned themselves in or were forcibly returned, the detention conditions here in Echo Platoon only serve to reinforce the inescapability of their situation. They remain suspended in a legal limbo of forced uncertainty that can extend from several months to a year or more, while the military takes its time deciding their fate. Some of them, however, are offered a free pass out of this military half-life -- but only if they agree to deploy to Afghanistan or Iraq.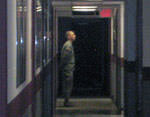 Specialist Kevin McCormick, 21, who was held in Echo Platoon for more than seven months on AWOL and desertion charges, was typically offered release, subject to accepting deployment to Iraq, despite being suicidal. "Echo is like jail," he says, "with some privileges. [You are] just stuck there with horrible living conditions. There's black mold on the building [and] when I first got there, there were five or six people to a room, which is like a cell block with cement brick walls. The piping and electricals are above the tiles, so if anything leaks or bursts, it goes right down into the room. "
Specialist Michael St. Clair went AWOL because he could not obtain treatment from the military for his post-traumatic stress disorder (PTSD). On turning himself in, he ended up consigned to Echo Platoon. As he recalls it, "The number fluctuates all the time, but on an average you have 50 people sharing two functioning toilets and a single shower… Except for a couple of rooms none have doors, and there is minimal privacy with four or more people to a room. It's stressful not knowing what's going to happen to you."
---
Sgt. Travis Bishop sentenced for resisting deployment
By Dahr Jamail, Truthout
August 16, 2009
Sergeant Travis Bishop, with the US Army's 57th Expeditionary Signal Battalion, pled not guilty at a special court martial on Thursday to two counts of missing movement, disobeying a lawful order and going absent without leave (AWOL). Friday, in a trial full of theatrics from the jury, prosecution witnesses and the prosecution, he was found guilty on all counts and sentenced to 12 months in a military jail.
Sgt. Bishop is the second soldier from Fort Hood in as many weeks to be tried by the military for his stand against an occupation he believes is "illegal." He insists that it would be unethical for him to deploy to support an occupation he opposes on both moral and legal grounds, and has filed for conscientious objector (CO) status. A CO is someone who refuses to participate in combat based on religious or ethical grounds, and can be given an honorable discharge by the military.
Last week, Specialist Victor Agosto was sentenced to 30 days in a county jail for his refusal to deploy to Afghanistan. Agosto, like Bishop, feels the war is illegal, something that James Branum, the civilian lawyer for both soldiers, agrees with.
"The war in Afghanistan does not meet the criteria for lawful war under the UN Charter, which says that member nations who joined the UN, as did the US, should give up war forever, aside from two exceptions: that the war is in self defense, and that the use of force was authorized by the UN Security Council," Branum told Truthout in an earlier interview, "The nation of Afghanistan did not attack the United States. The Taliban may have, but the nation and people of Afghanistan did not. And under US law, the Supremacy Clause of the US Constitution, any treaty enacted by the US is now the 'supreme law of the land.' So when the United States signed the UN Charter, we made that our law as well."
---
Courage to Resist joins Vandenberg protest
By Courage to Resist
August 23, 2009
Before sunrise this morning, the U.S. Air Force launched a Minuteman III Intercontinental Ballistic Missile (ICBM) from Vandenberg Air Force Base in southern California. The missile is designed to deliver a lethal nuclear payload capable of killing millions of human beings. Four members of Courage to Resist from the San Francisco Bay Area joined other opponents of U.S. military policy outside Vandenberg's main gate to protest the launch.
---