Welcome to CMCA(UK)
Welcome to the CMCA(UK) Summer Company Newsletter. Read on to find out more about what the CMCA(UK) team has been up to over the past few months...
Defence Vehicle Dynamics (DVD) 2014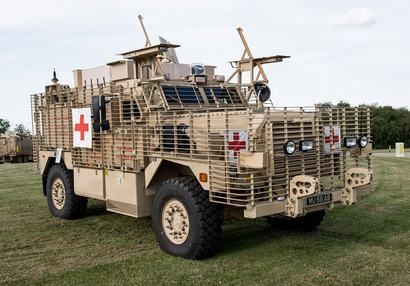 An Ambulance variant of the Ridgeback vehicle seen at DVD 2014. Photo: MoD, Crown Copyright.
CMCA(UK) were one of many industry heavyweights to exhibit at the UK's biggest military vehicle demonstration, Defence Vehicle Dynamics (DVD) last week. The 11th DVD showcased how the UK's biggest vehicle demonstration has moved from strength to strength to become the premier Land Environment equipment and support stakeholder engagement event in the defence calendar.
Held at Millbrook Proving Ground, DVD2014 brought together the MoD's equipment and support organisation (DE&S), Front Line Commands and Industry. Its purpose is to showcase vehicles used by the military as well as highlighting new vehicles and systems proposed for future use as the Army looks ahead to the equipment requirements of Future Force 2020.

Attendees came primarily from DE&S Project Teams, Joint Headquarters, the Defence Academy and various training establishments.

Additionally the event allowed industry to hear first-hand from military personnel who have been deployed on operations, and better understand the equipment used by the British Army.
DVD 2014 was a key event in CMCA(UK)'s annual exhibition programme given the growing number of Land System clients for whom we are delivering Obsolescence Management, Codification and Procurement solutions. It was also a great opportunity to put faces to the many names that we deal with on a daily basis both within DE&S and across the Prime Contractors and Supply Chain. Suffice it to say that our stand was extremely busy on both days and we look forward to exploring the new business opportunities that have arisen from DVD 2014 and also to strengthening our existing contractual relationships across the Land environment.
Tobacco Manufacturer Update
The ongoing obsolescence management relationship between the Tobacco Manufacturers and CMCA(UK) is set to enter a new phase this Autumn. As our readers may be aware, CMCA(UK) has been working with the Tobacco Manufacturers since June 2013 to develop a set of obsolescence management guidelines and best practices that will eventually form the basis of a common, proactive obsolescence management framework across the industry. A draft document has now been produced on behalf of the Tobacco Manufacturers and, in recent months, representatives from the tobacco manufacturing supply chain have been involved in a series of workshops designed to outline the objectives, requirements and benefits associated with the adoption of the Obsolescence Management Best Practice and Guidelines for the Tobacco Industry. CMCA(UK) has also been on hand to provide the supply chain with the necessary subject matter expertise to both develop and deliver effective obsolescence management. Additional workshops will be held in Switzerland this August to finalise the content of the obsolescence management framework before the formal document is distributed at the annual Tobacco Colloquium in early October after which further dialogue will take place between the individual Tobacco Manufacturers and OEMs. Here at CMCA(UK) we look forward to continuing to support the Tobacco Industry in their quest to introduce proactive obsolescence management at all levels.
ISO9001:2008 Surveillance Visit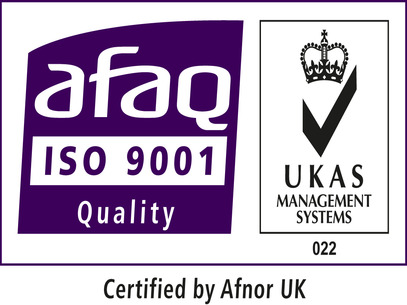 Back in June CMCA(UK) had their ISO 9001:2008 surveillance visit, which we are pleased to announce went very well. When an ISO audit is carried out, the auditors main function is to check that we have systems, documentation and competence to achieve the defined standard requirements.
The purpose of the Surveillance visit is to check how the key processes are performed, how they are measured, and how they are improved – in other words, whether our system really works. Throughout the visit the auditor visited various departments within CMCA(UK) and was very happy with what he found.
Our IS0 accreditation sits in conjunction with the CMCA(UK) company policy 'To provide products and services of the highest quality and value to our customers. Gaining, and more importantly retaining, their respect and loyalty.'
REACH - Candidate List Update
Please be advised that ECHA have published the latest update of the 'Candidate List of Substances of Very High Concern' dated 16 June 2014. A further four substances have been added to the list so that it now totals 155, these new substances being:
Cadmium chloride (CAS Number 10108-64-2)
Sodium peroxometaborate (CAS Number 7632-04-4)
Sodium perborate; perboric acid, sodium salt (EC Number 239-172-9; 234-390-0)
1,2-Benzenedicarboxylic acid, dihexyl ester, branched and linear (CAS Number 68515-50-4)
No further substances have been added to the Authorisation List which remains at a total of 22 and the List of Restrictions remains at a total of 104 Substances/Groups/Mixtures.
CMCA(UK) tackle Counterfeit Prevention
To further enhance our understanding of the landscape of industry standards and documents that apply to counterfeit avoidance and detection, key members of our team attended the DE&S Counterfeit Awareness Seminar held at Abbey Wood earlier this month. The main objective for attending was to further staff knowledge on the key signs for spotting counterfeit parts that could potentially enter the MoD supply chain, thus consistently reinforcing the CMCA(UK) company policy of providing products and services of the highest quality and value to our customers.
CMCA(UK) has extensive laboratory facilities which include XRF testing, SEM analysis and a solderability assessment capability supported by an exceptionally experienced team of technicians capable of evaluating and assessing potential counterfeit components. This service is provided under our OMS umbrella and each service package is tailored to our customers specific requirement.
May we take this opportunity to thank you for your time and for reading our newsletter, Please don't hesitate to contact us regarding any of our services or to see how we can help you. Contact our Business Development Manager Antony Elliott on;
In the last issue of the CMCA(UK) newsletter we revealed that planning had begun for the 2014 CMCA(UK) Client Forum. We can now disclose that the venue has been booked and the agenda is being finalised. The annual event provides the chance to meet likeminded individuals and share best practice, personal experience and innovation in overcoming the challenges faced when dealing with obsolescence. Fortunately there are several places still available for this years event in October, contact Obsolescence Strategy Advisor Darren Topley to secure your place today.

Our Long Term Storage capabilities have continued to flourish,

resulting in the recent acquisition of our two new custom-built floor standing insulated nitrogen storage cabinets. Each unit will enable an additional 2.4 cubic metres of component storage space and with their relative humidity maintained at less than 5%, electrical and electro-mechanical items will be kept secure and moisture free until they are required.

Click here for full details on our Long Term Storage capability >>

CMCA(UK) were pleased to exhibit at ES LIVE at the MK Arena in April. This was the first time exhibiting here for CMCA(UK) and it was great to meet the steady stream of delegates that passed our stand as well as being presented with the perfect opportunity to network with fellow electronics industry experts. CMCA(UK) felt ES LIVE was an opportunity not to be missed for providing electronics purchasing professionals all the information they may need relating to Obsolescence Management, including last time buys and long term storage of electronic components.

Click here to view the CMCA(UK) Events calendar for 2014 >>

CMCA(UK) has seen a significant period of growth in the first half of 2014, increasing our work force by 25% and, due to increasing business opportunities, has identified the need to add to our rapidly expanding team. This month we welcome four new starters within our accounts, OMS and Codification departments. With the recruitment process ongoing we hope to welcome several more members to our team over the coming months, please see our website for full career opportunity details.

This month CMCA(UK) say goodbye to one of their Component Engineers, Alan Lane, who after 3 years of service is taking retirement. Thanks for all you've done at CMCA(UK) Alan. We wish you all the best and hope you'll enjoy every minute of your retirement!