SHOP HOURS
Monday: CLOSED
Tuesday: 12 - 6
Wednesday: 12 - 6
Thursday: 12 - 7
Friday: 12 - 6
Saturday: 10 - 6
Sunday: 12 - 4

 

ReBelle will be closed November 24th for Thanksgiving

 

We will be open from 10-6 on Friday, November 25th

 

 

 

 

We have a couple events coming up for you in November.  First, the Malabrigo trunk show will be here through Thursday, November 10th, so come by before then to check out all the wonderful samples and get inspired!

 

Second, on Saturday, November 12th we will have a pop up shop for Hippie Art Chick and Doodle Fibers.  Hippie Art Chick is a fiber lover who is currently focused on pottery, so expect some wonderful yarn bowls among other things. Doodle Fibers specializes in exquisitely hand blended rolags, wooly worms and batts.  They will also have spindles from The Dancing Goats available and will be teaching on the spot lessons if you need help with how to spin any of their lovely fibers. Facebook event

here

.




Don't forget to vote on November 8th.  If you come in that day with your 

'I voted' sticker, you will receive 15% off one item!

 

 

 
We have a fresh shipment of fantasticly dyed yarn from Rhichard Devrieze.  Rhichard's Peppino is identical to Koigu KPPPM except it comes in 65g skeins with 225 yards of 100% superwash merino per skein.  We just got a shipment of 12 varigated and 3 solid colors that are quite gorgeous.  Plus, we also got 40 mini-skeins in at least 30 different colorways, so if you are into minis, come check them out!  Peppino works well for any fingering weight project from shawls to socks.  Here are a few patterns that are particularly fitting: Broken Seed Stitch Socks, Yours Truly Summer(shawl), Garter Stripe Baby Socks, Baby Wrap Sweater, Sock Yarn Sweater (child's version) Koigu Linen Stitch Scarf, and Painted (scarf/shawl)
.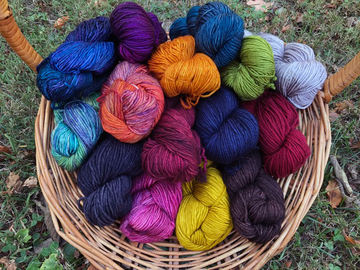 We got a huge shipment of Malabrigo in just in time for the trunk show.  The shipment included 19 colors of Rios, some new, some old, but all beautiful.  Rios is a worsted weight superwash merino that is perfect for anything from sweaters to hats to baby and kids clothing.  We are happy to have our new expanded Rios section finally full!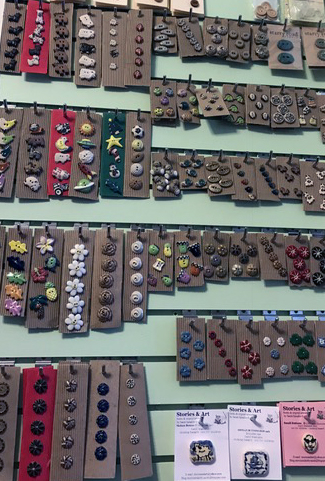 We've also got a new shipment of ceramic buttons.  These range in character from whimsical to abstract and in size from 1/2" to 2 1/4".  Handmade buttons can really complement a piece of hand knitting, they can even be sewn on as a accent in a piece that doesn't call for buttons or be used to decorate other crafts.
Featured Upcoming Classes
 

 

Lotions and Lip Balm Workshop ($30)

 

During this class we will be making lip balm, whipped body balm and lotion with plant based oils, beeswax and essential oils. Participants will receive three lip balms, one whipped body balm and two four ounce containers of lotion and will be able to choose their own scents. One class $30, or sign up for both this class and the Soapmaking Workshop for $45. Call the shop or sign up online here.




Saturday, November 5th 4-6pm

 
Goat Milk Soapmaking Workshop 

($25)


Join Sarah and learn about different kinds of soap making! Resources will be provided and active participation encouraged, so wear clothes that can get dirty. During the workshop we will make two cold processed soaps using goat's milk. We will also explore adding colorants, essential oils and exfolliants to further enhance our soaps. Participants will have some input on the scent. Each participant will get a bar of each soap made during the workshop. One class $25 or sign up for both the Soapmaking and the Lotions and Lip Balms class for $45. Call the shop or sign up online here.

Sunday, November 6th 4-6pm




 
 

 

Amigurumi: Cactus Cutie ($25)

 

Join Raellyn to create this little cactus cutie amigurumi style! Learn to make crocheted sculptural shapes by using increases and decreases, as well as how to stuff and sew it all together. A knowledge of basic crochet skills is required. You will need US size C and F crochet hooks. All other materials required are included in the class fee. 1 class $25

 

Sunday, November 13th, 4-6pm