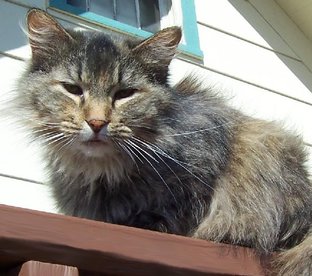 This is Holly. Some of you may remember her from last year when she turned 25. I can hardly believe another year has passed and she's still with us! I plan to feature her on my blog next month (a random birthday chosen because that's the month we rescued her in 2004 when she was 15). She doesn't appear to be fading anytime soon, either. In fact, she has gained more than a pound since last year. She eats well and is very strong. Watch for her on my blog, here:
http://loveablecat.blogspot.com
...............................................................
Rescuers in Hawaii have their hands full since the volcano on the big island erupted recently. Lava is still flowing and cats dumped in the wild are in danger. They don't understand how lava works and running up a tree doesn't save them. Here is the link to read their story, and how to donate to help them if you're so inclined:
Cats have different kinds of purrs!
This is an interesting article about a study done to define how and why cats purr. The researchers found cats produce purring for two reasons. They should have asked me about the third type. However, it's rather unethical to reproduce the reason for the third purr, so they probably didn't think of it. But in my work with stray cats, I learned that they also purr when dying. I believe it's a form of self comforting, related to the healing purr discovered not long ago as well.
Cats on a Skylight
On a happier note, this is an entertaining article.
Cute cat socks!
I'm not associated with this company in any way. I just thought these stockings were really cute and thought you might enjoy looking at them, too.