---
| | |
| --- | --- |
| | June 2018 |
Reduced stress. Increased productivity. Improved well-being.
Forte Organizers helps individuals and families stay organized at home, as well as teaching business people organization skills at work.
Usher in summer with Lori's most recent Dayton Daily News columns:
As a manager, do you ever wonder how to get your employees to have a more organized workspace? Perhaps it is time to set some guidelines for everyone in the office to follow. That way everyone knows what is expected and you're not singling anyone out. Here are a few examples to get you started:
Only 5 personal items are allowed in your workspace.

Nothing is allowed to be taped to the walls

No food items or dirty dishes out in the open.

Only the coffee cup you are using should be on the desk. Other cups should be stored away or taken home.
Of course, as the office leader, you need to set a good example and follow your own rules. Isn't it time for your workplace to look more professional?
According to The Washington Post and a study by The Sightline Institute, American households receive approximately 41 pounds of junk mail every year! It is estimated that we may spend up to 8 months of our lives sorting through that junk mail! I don't know about you, but I rather spend my time doing something much more fun.
Go to our Forte Organizers website to download our list of how to Stop Unwanted Phone Calls and Mail.
FREE!
Think Inside the Box: Organizing Your Home
Saturday, June 9, 10:30 a.m.-12:00 p.m.
Any unoccupied seats will be offered to the general public at 10:30. (In the past, people have registered and not shown up to the seminar, so seats may be available. However, there is no
guarantee
of this.)
LCNB National Bank Area Shred Days
June 2 Middletown Office 4441 Marie Drive, Middletown, OH 45044
June 9 Oakwood Office 2705 Far Hills Ave., Oakwood, OH 45419
June 16 Lebanon Office 730 Columbus Avenue Lebanon, OH 45036
June 30 Hunter Office 3878 St. Rt. 122, Franklin, OH 45005
Lose Your Stuff, Find Yourself...
Enjoy this excerpt from Lori's book:
"If your home is disorganized, recognize when you are making excuses and come up with solutions instead. If you struggle with this, find somone you know who is organized and ask for their ideas.
When it's time to take action, throw away the excuse list you created. That's the first thing in your way."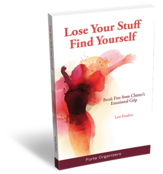 For more great insights and organizing tips, you can pick up a copy of Lori's book by using this link:
Amazon.com
One More Thing...
"A father is neither an anchor to hold us back nor a sail to take us there, but a guiding light whose love shows us the way."

~Unknown
Happy Father's Day to all of our special Dads! Take some time to relax, and have a wonderful day with your family.