Happy Spring, Quilting Friends,
 
If you remember I told you in the last newsletter that I would be writing these quarterly, so we are now on schedule. The next newsletter will be in July. If we have any updates to our class schedule or other news, we will post it to our facebook page. 
This month has been very busy with new classes.We had a good crowd for Mystery Sunday, good food, lots of laughs, and a bonus - we all liked the pattern.Tuck this away in your memory, the fall Mystery Sunday is Sunday, September 18.  
 
Just a reminder that we do take fabric donations for the Wabash Valley Correctional Facility. Also if you would keep all of those little pieces of batting that you normally throw away, the men will use them to stuff dolls. I keep mine in a plastic bag and when the bag gets full, I bring it in. 
A reminder, Open Sew this month is on April 8 and 22. The 8th is a pot luck and the 22 is brown bag. Next month we go back to the regular schedule. Open sews begin at 5:00 and it is just $5.00 for the whole evening.  Bring your favorite project to work on, whether it's machine or hand work. Some people just come to visit.  The conversation is great and we usually learn something from someone. Come and join us, no need to call ahead, just show up.



Classes for the next 3 months -


I just started Secrets and Shadows, we have only had one class, so if you would like to join us, please do.  This is an 8 part class and is going to be a gorgeous quilt. I have all of the blocks made, so hopefully I can have mine put together in a couple of weeks. The next class is on April 5, either 1 - 4 or 5:30 - 8:30.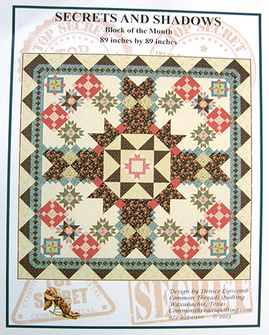 Mary is teaching beginning applique on Saturday, April 9 at 9:00.  She will walk you through the applique process and you will wonder why it ever intimidated you.  Think of the possibilities once you know how to applique!!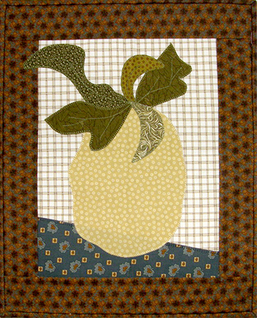 Monday, April 18, I am teaching Pinwheels and Friendship Stars, an easy quilt that looks complicated.   It uses a layer cake, background and border fabric. And it just so happens we can set you up with some layer cakes. The class is offered in the afternoon, 1 - 4 or evening, 5:30 - 8:30.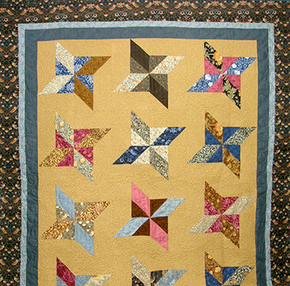 Pinwheels & Friendship Stars
Mary is teaching Independence Quilt on Thursday, Aril 21 at 9:00. This is a multi part class, the second class is on Thursday, May 19, and the third class is yet to be scheduled. This is an awesome quilt and is truly stunning in the Patriotic fabrics.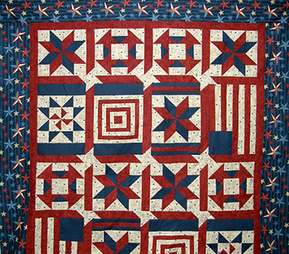 Independence Quilt
Saturday, April 23 you have your choice of  classes, a Patriotic Table Runner or Tuffet. Mary is teaching the Tuffet class beginning at 9:00.You should be able to complete your tuffet in one day and one is just as cute as the next. These are a unique accent to your decor or fantastic gift for a grandchild. This class is sold out, but Mary has scheduled another class on May 21 at 9:00.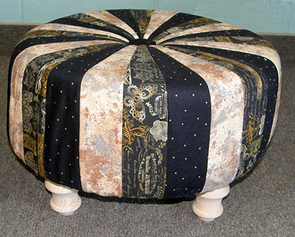 Tuffet
I am teaching a Patriotic Table Runner just in time for Memorial Day and the 4th of July. Great for those summer picnics on your patio.You should be able to complete the top of the table runner that day.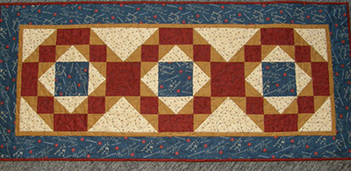 Patriotic Table Runner
Mary is teaching beginning Paper Piecing on April 30. If Mary can teach me to paper piece, trust me she can teach you and I really like paper piecing now. This is another skill you should have and will open so many more possibilities for you.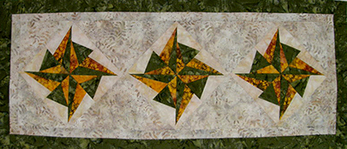 Beginning Paper Piecing
Speaking of Paper Piecing, I am beginning Indian Summer on Saturday, April 30.  I am having so much fun with this quilt. You use light and dark combinations of fabrics. I am using batiks, and only using each fabric 1 time. The paper piecing is easy and you can piece a block (which is actually 4 smaller blocks) in about 1/2 hour. I have ordered more of the paper because I want to make this quilt larger, I still have more fabric combinations that I want to use. These are just a few of the blocks, I am waiting for the paper to arrive and I can't put it together until I have all of my blocks made. This is a 2 part class, the second class is on June 18, giving you plenty of time to finish your blocks.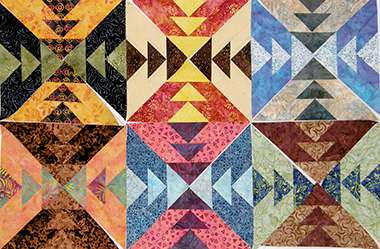 Indian Summer
Be sure to check out our Facebook page for any further updates.
 
Happy Quilting,
Holly and Mary