Dear Ones,
How are you? I hope you have been enjoying a long and delicious summer.
In a world of Facebook and Twitter, where instant public sharing has become the norm, I confess I am in fact, a bit shy. So it's taken me a while to share that big news with you I mentioned in my last few emails… the reason for the pause in my performances this summer… I've had a baby!
Wild and amazing. But, is this actually relevant to you, my musical community and readers of my mailing list? I'm not sure. Which is perhaps part of the reason it's taken me so long to share it with you.
Another reason is this: I know a lot of fellow singer-songwriters. I'm on a lot of mailing lists of other independent artists. And I've never known or seen anyone do this before. In fact, I have very few examples of independent musicians keeping their music going through the years of raising a family. I know many young artists without children, and many older ones whose children have grown, but in that middle space I see a great void.
There's a logical reason for this of course: attempting to create a life centered around music in a society that values most things over art seems like a bit of a crazy thing to do. Attempting to create a life centered around music with a baby or a young child seems like a REALLY crazy thing to do.
But here's the thing: Five years ago I made a promise to dedicate myself for the next half decade to my music and see where it took me. At the end of that time I vowed I would release my expectations and re-evaluate everything. Well, that time is up (yes, it just happened to correspond with me having a baby), and I find myself married to my musical partner/sound engineer/co-producer... And I see that the last five years have been the most fulfilling I have known. While everything changes, there are some things that become our bones, our marrow, the building blocks of the cells of our life. And gratefully I realize, this is music for me. It has become such an integral part of my existence, I cannot imagine and have no desire for a life without it.
And so I begin an experiment – to be a musician AND a mama, a poet AND a parent, an independent artist with an income. How to do this: balance career and family, self and other, private and public, raw and edited, practicality and passion?
I have a hunch it is not a simple answer, but rather that sort of bewildering, beautiful and sometimes terrifying winding path of humanhood. I cannot promise, nor would I try to predict the timeline & details of the future ahead, but I know I will keep songwriting and sharing that music, for this is who I am and this journey is for a lifetime.
I am so grateful to each & every one of you for helping me find and become this. May our connection continue to flourish and deepen in the years ahead.
Shows begin again in September. Come meet the newest member of the family!
With continuing devotion,
Your Songstress,
Amanda
U P C O M I N G S H O W S :
---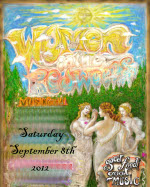 Saturday September 8th @ 3pm
Women in the Redwoods Music Festival | 8865 La Honda Road, La Honda, CA
The 7th Annual, hosted by John Mork, aka, "Captain Cow". The fine lineup of lovely ladies includes The Lisa Kelly Band, Mana Maddy, Candelaria and more! Festival runs from 1 - 9pm. Amanda West goes on at 3pm.
Sunday September 23rd @ 1pm
The Garden Song Flower Garden | 14581 Tumbleweed Ln , Elkhorn Slough, CA
Five acres of dahlias, lavendar, oaks & more. This will be our second year here... Music, bring your own picnic - it's lovely! Also performing this afternoon: Clara Bellino www.thegardensong.com | $10
Sunday September 30th @ 12-2pm
Pescadero Country Store | 251 Stage Road, Pescadero, CA
A perfect place for Bay Area and Santa Cruz folks to take a day trip with a picnic by the sea! The store has delicious food, the town is adorable, and there are lots of hikes nearby. Oh, and of course, there will be the music :-) Good for all ages!