SHOP HOURS
Monday: CLOSED
Tuesday: 12 - 6
Wednesday: 12 - 6
Thursday: 12 - 6
Friday: 12 - 6
Saturday: 10 - 6
Sunday: 12 - 4

 

 

 

 

 

This month we're very excited to be participating in the Knitted Wit Herstory Yarn Club. This club features a different woman from history every month, with a story about her contributions and a yarn inspired by her.  (On a sidenote: it's always going to seem like we are a month behind with this yarn because we aren't allowed to release pictures of this yarn until the 25th of the month.)

 

 

We also have a great knit-a-long for this month, the Glidden hat (pictured above)!  

Using a double strand of Blue Sky Worsted Cotton, this hat is great for transitional weather. For a warmer hat, we have several wool yarns that would work great with this pattern. The KAL is on Thursdays in February from 12-1:30, or feel free to knit it on your own or participate virtually. The facebook event for the KAL is here.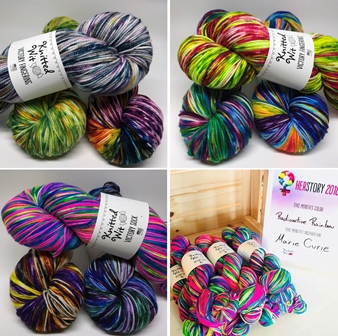 In addition to 8 new and amazing colors of Knitted Wit's Victory Fingering, we also have the first installment of their Herstory Yarn Club! January's colorway is Radioactive Rainbow in honor of Marie Curie. If you like things radioactively bright, then this yarn is for you. Read more about Marie Curie, her life, and her scientific discoveries
here
.
(The colorway for February, Charm Quark, is already in the shop, but we aren't allowed to release pictures of it yet!)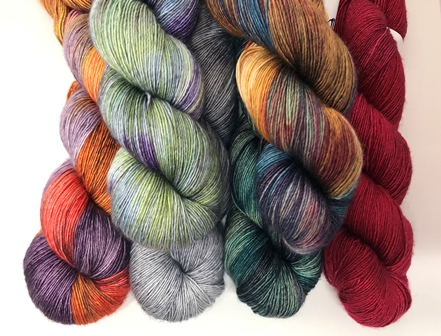 We have 8 new colors of Silk Traveler! Silk Traveler is a stunning single-ply blend of 30% silk and 70% superwash merino with 438 yards per 100g skein. This yarn has been gorgeously hand dyed by the father and son dyers at Meadowcraft Dyeworks. It's a fingering weight and it is the perfect yarn to highlight any pattern, particularly shawls.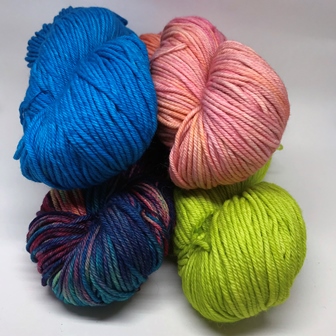 We have four brand new colors of Rios, Cian, Peachy, Apple Green and Camaleon.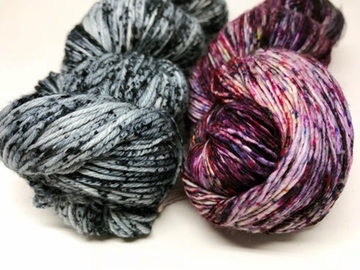 We have a lovely black speckle in Arroyo, Pleiades, and a solid black as well. Also, Atomic in Mechita is back in stock, finally!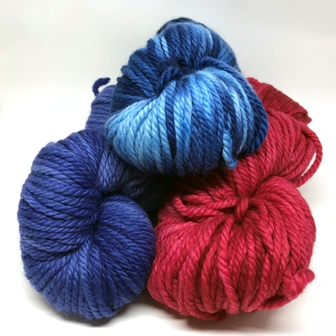 And last, but not leanest, we have Malabrigo Chunky in Indigo, Oceanos and Geranio.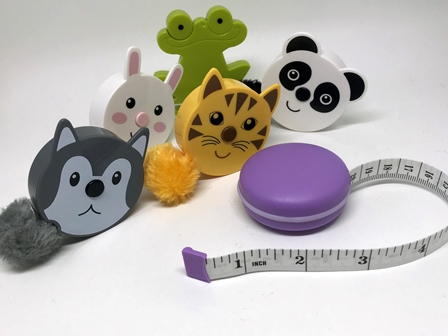 We have quite a few cute new tape measures!
You know you need another one!
The yarn of the month for February is Pitturissimo. Pitturissimo is an aran weight single ply blend of 75% wool and 25% rayon of bamboo with 164 yards per 100g ball.  We used it to knit up
Tulli
 (below). It works up beatufully on a US size 8-9. Other patterns that are good for this yarn include: 
Raglan Turtleneck
,
A Very Braidy Cowl
, and 
Deadwood Cowl
. 
Featured Upcoming Classes
 

 

Granny Square Class ($15)

 

C

ome learn to crochet 3 different styles of granny squares with Raellyn. You will need to bring a size H or I crochet hook and worsted weight yarn. Beginners welcomed, but basic crochet experience is needed.