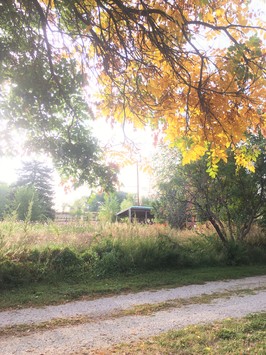 Good Morning CSA Members,
  Today, Wednesday September 7th is a CSA pick up.  Your share will be available for pick up from 4-7pm at your chosen pick-up location. 
Summer Squash (Market pick-up)
Broccoli / Cauliflower (Farm pick-up)
Kale
Eggplant
Cucumbers
Potatoes
Tomatoes
Peppers
Cherry Tomatoes
French Breakfast Radishes
Garlic
Fruit share: Nectarines, Plums, Apples
Egg Share: pick-up every week
Flower Share: Mixed Bouquet (Only one week left!)
Bread Share: next week (3 pick-ups left!)
Coffee Share: next week (3 pick-ups left!)
Wine & Cheese share: next week (3 pick-ups left!)
Babette's: next week (3 pick-ups left!)
Coming next week: tomatoes, greens, zucchini, eggplant, and more.....
     It's the time of the season when morning meetings are held by headlamp, and the interns rush to finish everything before the light fades at the end of the day. Fall is slowly creeping up on us, with its chilly air and golden leaves - does it get any better? Summer is ending and we are thinking about the winter share - greens, squash, roots, and more. But let's not forget about that time in between summer and winter - autumn. Enjoy the changing leaves and pull out your cable knit sweaters, we're almost there.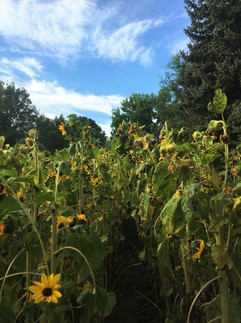 Kale and Cherry Tomato Pie
8 – 10 fresh kale leaves
handful of cherry tomatoes
a few sprigs of thyme
2 garlic cloves
1 shallot
Olive oil
Butter
3 eggs
200 ml plain yogurt
160 gram self-raising flour
handful of grated Parmesan cheese (or Grana padano)
pepper and salt to taste
Directions
Pre-heat the oven to 375 degrees Fahrenheit.
Rinse the kale with cold water, remove the hard stems and chop the kale in small pieces. Peel the shallot and garlic cloves and chop them as fine as you can. Heat olive oil in a medium-sized skillet and sauté chopped kale, shallot and garlic for about 5 minutes on medium heat. If the kale is a bit tender, turn down the heat, add the thyme leaves and season with pepper and salt. Let it cool off a bit. Coat the spring form with butter.
Now for the batter. Mix yogurt and eggs until smooth. Sift the self-rising flour, mix together with the yogurt mixture. Pour half of the smooth batter into the spring form. Add the kale mixture, slice the cherry tomatoes in half and divide them over the kale. Pour the other half of the batter over it and top it off with grated Parmesan cheese.
Place the pie into the pre-heated oven and bake for 25 minutes, or until the cheese is beautiful golden brown. Serve with a green salad as a main dish or even as a starter. Enjoy!
Radish and Napa Cabbage Slaw
1/4 cup white-wine vinegar
2 tablespoons Dijon mustard, preferably whole grain
2 tablespoons sugar
1/2 small head napa cabbage (6 cups)
4 or 5 radishes
1/2 cup golden raisins
1 tablespoon thinly sliced fresh chives
Coarse salt and freshly ground pepper
Directions
Finely shred radishes and napa cabbage with food processer.
Whisk together vinegar, mustard, and sugar. Toss together cabbage, radishes, golden raisins, and chives. Drizzle dressing over salad. Season with salt and pepper.
Eggplant Rollitini
1 eggplant, sliced lengthwise
2 eggs
⅛ salt
1 cup Panko Bread Crumbs
½ cup Parmesan Cheese
¼ cup olive olive for frying
Rollatini Filling
1 cup ricotta cheese
½ cup mozzarella cheese
½ cup pesto sauce
Tomato Sauce
1 teaspoon olive oil
2 tablespoons minced garlic
1 cup chopped sweet onion
1 tablespoon finely grated carrot
¼ cup dry red wine (such as a Petite Sirah)
5-6 medium tomatoes
1 tablespoon Italian seasoning
Pinch of sugar
Pinch of red pepper flakes
Directions
Prep the ingredients: Wash and grate the carrot. Finely chop the garlic and the onion. Cut the top and bottom off the eggplant so that it will stand upright and slice the eggplant lengthwise. The slices should be about ¼ inch. Place the eggplant in a bowl of cold water. In a bowl, mix, the ricotta cheese, mozzarella cheese and pesto sauce. Set the cheese mixture back in the fridge till you are ready to use.
Fry the Eggplant: Mix the Parmesan cheese and panko bread crumbs on a plate. On another plate, mix the eggs and the salt. Remove the eggplant from the cold water and pat dry with a paper towel. Dip the eggplant in the egg and then coat with Parmesan panko mixture. Heat the ¼ olive oil and cook the eggplant 3-4 minutes on medium heat. Once golden brown, place the eggplant on a paper towel to drain. Preheat your oven to 375 degrees.
Make the sauce: Wipe out the pan you used to fry the eggplant. Add the teaspoon of olive oil and saute the onion, garlic and carrot for 3 minutes on medium heat. Add the tomato sauce, red wine and stir. Reduce the heat and allow the sauce to simmer. Pour ⅔ cup of the sauce in a baking dish.
Roll the Eggplant: Spread the pesto cheese mixture across the eggplant. Then roll from the bottom the eggplant to the top. Place the eggplant rollatini in the baking dish on top of the sauce. Sprinkle some more mozzarella cheese on top of the eggplant.
Bake the Eggplant Rollatini: Bake, covered with aluminum foil at 375 degrees for 30 minutes.
Serve: Serve with linguine and bread.
Stuffed Sweet Peppers
4 large peppers (green, red, yellow or orange), tops cut off and cleaned out
1 lb hot Italian sausage, crumbled
1/2 cup chopped onion
2 garlic cloves, minced
2-3 medium tomatoes, diced
2 teaspoons Italian seasoning
salt & fresh ground pepper (to taste)
1 cup shredded mozzarella cheese
Fresh basil, for garnish
Directions:
Saute sausage and onion until browned. Add garlic and saute for 3 minutes.
Stir in tomatoes and Italian seasoning, simmer for 5 minutes. Season with salt and pepper, to taste.
Parboil the peppers and drain well.
Stuff sausage mixture into the hollowed out peppers. Place inside lightly greased muffin pan and sprinkle with mozzarella cheese. Garnish with fresh basil, if desired.
Bake at 350 degrees F. for 25-30 minutes, or until peppers are tender.
It's Time! Sign-up now
for the Winter CSA 2017
In case you've missed it here are the details:
 Registration begins today Wednesday, September 7, 2016
Winter Share will begin on Wednesday, October 19, 2016 and continue for 8 weeks through December 7, 2016.
Pick-up will be Wednesdays from 3:00-6:30 at the Farm Store
The cost of the share is $200 ($25 per week)
Egg shares, Kim & Jake's gluten free bread share and the wine & cheese share are also available through Winter Share.
     Winter Share offers both salad greens as well as cooking greens each week.  Other root crops like potatoes, carrots, beets, turnips, parsnips, radishes, leeks, onions, garlic and more.  Winter squashes and apples or pears are also included each week.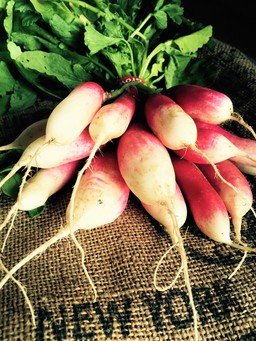 This week members will be receiving some spicy, crisp, delicious French Breakfast Radishes in their share. As the interns can attest, one of the most frequently asked questions at market when these beauties are our is "Why are they called a French Breakfast Radish?" Well here's what we found.
    The French Breakfast radish is an heirloom variety that dates back to 1879. Their oblong shape was popular not only for slicing, but for dipping as well, and it is said that vendors at the Parisian markets would dip the radishes in butter and salt for a snack while at work! The spice of the radish is offset by the creamy butter - we highly suggest trying this!
     We enjoy growing these radishes and we've had a great crop of them this year! Radishes are generally pest and disease-resistant, and are fast producers, normally harvested about 25 days after seeding. We enjoy their beautiful color and flavor and we hope you do too!
     Ladies and Gentlemen - the time is here! Stock up your pantries now with all the great vegetables and fruits of the summer season. There's nothing that beats the winter blues better than cracking open a jar of sweet peaches, or a perfect tomato sauce. Currently this is our selection of produce available for canning:
Red Field Tomatoes 20# case for $30 ($1.50/lb)
Heirloom Tomatoes 10# cases or more for $30 ($3/lb)
Heirloom Tomato Seconds 10# cases or more for $20 ($2/lb)
Free Stone Peaches 18# case for $45 ($2.50/lb)
Plums 20# case for $55 ($2.75/lb)
Early Apples 20# case for $40 ($2/lb)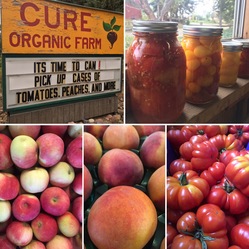 If you are interested in ordering cases of any of the items above, please email us at:
cureorganicfarm@yahoo.com
Please include the item and quantity desired in the subject line (for example 20# case Red Field Tomatoes - YUM!).
     As we are only 5 weeks left from the end of our 2016 CSA summer season, we wanted to remind everyone of some important dates and items to mark on their agenda:
Flower Share - One week left!
Bread, Coffee, Wine & Cheese, Babettes Shares - Three pick-ups left!
Wednesday, October 5: Last Wednesday Night Farmer's Market! Members who pick up at the farmers market, please plan on picking up your last share of the season at the farm on Oct. 12th.
Sunday, October 9: Annual Harvest celebration and pig roast
Wednesday, October 12: Last CSA pick-up
Wednesday, October 19: First Winter Share pick-up
    *Another reminder for all Market pick-ups - the last CSA pick-up on Wednesday, October 12 will be at the Cure Organic Farm Store.
More details about the Annual Pig Roast are on their way!
     In other news ... specialty cuts of goat are now available at the Farm Store, as well as new cuts of beef. - try some today!
"Fall has always been my favorite season. The time when everything bursts with its last beauty, as if nature had been saving up all year for the grand finale."
-Lauren DeStefano



Cure Organic Farm

7416 Valmont Rd.
Boulder, CO 80301
cureorganicfarm@yahoo.com
www.cureorganicfarm.com