Take action today to support GI resistance
New consolidated and up-to-date list of easy action items, including how to write and support jailed resisters, individual defense funds, petitions and letter campaigns.
Leo Church: Imprisoned for helping family
Spc. Church is doing eight months in the Ft. Lewis brig for going AWOL in order to help his three young children who became homeless with their mother during his basic and initial training.
Support Spc Stevens and the Ft. Bragg 50!
Sign the petition to ask the Army to free conscientious objector Dustin Stevens and end the illegal pre-trial punishment of him and the Fort Bragg 50!
Also: Amnesty International declares Sgt. Travis Bishop a "prisoner of conscience," launches international letter writing campaign (link)
---
Take action today to support GI resistance
Write war resisters directly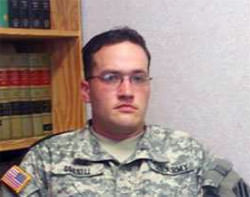 Cliff Cornell
Bldg 1041 PSC Box #20140
Camp Lejeune NC 28542-0140
Cliff Cornell in currently jailed at Camp Lejeune, North Carolina.
Expected release: March 2010
Cliff traveled to Canada in 2005 to resist Iraq deployment. "I don't want to be killing innocent people," he explained at the time. He was deported from Canada in February 2009 and was convicted of desertion at Ft. Steward, Georgia in May. More information about Cliff.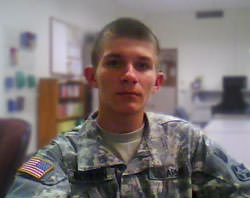 Anthony Michael Anderson
PO Box 305
Fort Sill OK 73503-5305
Tony Anderson is currently jailed at Fort Sill, Oklahoma.
Expected release: November 2009
Tony was sentenced to 14 months in the stockade for resisting Iraq deployment. "I know in my heart that it is wrong to willfully hurt or kill another human being. I simply cannot do it. I don't regret following my conscience," he said at his trial. More information about Tony.
David Travis Bishop
Box 339536
Fort Lewis WA 98433
Travis is currently jailed at Fort Lewis, Washington.
He is still in need of donations to cover his defense costs. Please donate here.
Expected release: July 2010
Travis, with the Army's 57th Expeditionary Signal Battalion, was sentenced to 12 months in the stockade for resisting deployment to Afghanistan. Travis explained that he had serious doubts about his views on war for a long time, but was unaware of his right to file for a conscience objector discharge until just before he was scheduled to deploy. Amnesty International has declared him to be a "prisoner of conscience". More information about Travis. Also: freetravisbishop.wordpress.com
Read more, including suggestions about writing prisoners...
---
Leo Church: Imprisoned for putting family first
Leo Church has been transfer to Ft Lewis, Washington to serve the reminder of his eight month prison sentence for being AWOL while taking care of his family. Leo welcomes your letters of support while he is jailed. His mailing address is: Haskell Leo Church, Box 339536, Fort Lewis WA 98433.
By Army Spc Leo Church
September 1, 2009
For over eight months I waited in Ft. Hood, Texas for my lawyers to barter for my freedom and the prosecutors to decide what they found to be fair for my case. My problems started not long after I finished Basic and A.I.T. when I received a call from Angie, the mother of my children, Alyssa and Kaitlynn, saying that the three were homeless and living in a van in Arlington, Texas.
I asked my company for permission to leave to get them and was blatantly denied. Seeing that I had no other choice I left to pick up my children and then immediately returned to Ft. Hood, back to my company. When I returned I was charged for leaving without permission and given an Article 15, and my pay was cut in half.
Things only got worse from there. I had no one to watch my children. Even though I was not allowed to have my daughters living with me in my barracks room, when I asked for help from my captain I was told to just have them live with me and come to work with me. Unfortunately, the wait for BAH at the time was 6 months. Knowing that I was not allowed to have them in my room over night and it being inappropriate to take them to my company to work, I left to take my children to Amarillo, Texas so I could find them a safe place to live.
---
Petition in support of Spc Stevens and the Ft. Bragg 50!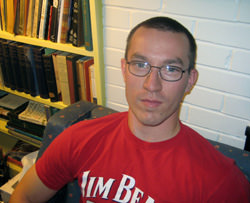 By Courage to Resist

We recently helped expose the outrageous treatment of dozens of soldiers at Fort Bragg, NC with "Echo Platoon - Warehousing soldiers in the homeland" by Sarah Lazare and Dahr Jamail.
The Army reacted swiftly, not by improving the situation, but by formally charging the most outspoken soldier, Spc Dustin Stevens (photo right), with "desertion". A court martial date is expected to be announced soon.
The Army has since begun an investigation into these "allegations"; however, it is clear we will need to hold the military accountable for the treatment of our soldiers in Echo.
Please sign the online petition to ask that the Army free objector Spc Stevens, and end the illegal pre-trail punishment of the Fort Bragg 50.
Free Army conscientious objector Dustin Stevens now!
In May 2002, after five months in the Army, 19-year-old Spc. Dustin Stevens refused to graduate with his 82nd Airborne Division training unit. "I knew in my heart and in my mind, I couldn't kill anybody and couldn't be a part of an organization that did so," he explains. Instead of discharging Spc. Stevens as a conscientious objector, his command simply ordered him to go home and await discharge papers. In January 2009, during a routine traffic stop, Dustin was shocked to learn that there was a warrant for his arrest. He was immediately arrested, turned over to military police, and has been held on restriction at Fort Bragg, North Carolina since. We respectfully request that the Army immediately discharge Dustin Stevens.
End illegal pre-trial punishment for Dustin Stevens and the Fort Bragg 50!
Dustin Stevens is one of about 50 soldiers being held at the 82nd Holdover Unit awaiting likely AWOL and desertion charges. They live in a legal limbo of poor living conditions, verbal abuse, and arbitrary punishments while waiting for up to a year to be actually charged and court martialed. The result is that these soldiers are subjected to many months of unjust and illegal punishment prior to their day in court. We respectfully request that the Army improve living conditions, reassign sadistic supervisors, end all informal punishments, and expedite resolution for these soldiers so that they can return home to begin rebuilding their lives as soon as possible. Also, we respectfully request that if eventually convicted by courts-martial and sentenced to time in the stockade, these months they have already "served" count towards sentencing.
Sincerely,
Mike Ferner - Veterans for Peace national president
US Army Colonel Ann Wright, ret. - former US diplomat
Marjorie Cohn - National Lawyers Guild national president
Shazia Shakib - organizer for women's rights, Kabul, Afghanistan
Howard Zinn – historian / author, "A People's History of the US"
Carlos and Melida Arredondo - Gold Star parents of Alex Arredondo
Elaine Johnson - Gold Star mother of Darius Jennings
Judith LeBlanc - United for Peace and Justice organizing coordinator
Medea Benjamin - cofounder, Global Exchange and CODEPINK
Ray Parrish - Vietnam Veterans Against the War staff GI counselor
Clare Bayard - War Resisters League organizer
Roxanne Dunbar-Ortiz - professor emeritus, California State University
Michael Eisenscher - Bay Area Labor Committee for Peace & Justice
David Swanson – After Downing Street co-founder
Selena Coppa – Active duty US Army Sgt., IVAW member
Jeff Paterson - Courage to Resist project director
Gerry Condon - Project Safe Haven director
Geoff Lobenstine - GI Rights Hotline organizer
Judith Kelly - Pace e Bene, training facilitator
Marti Hiken – National Lawyers Guild Military Law Task Force
S Brain Willson – Former Cmdr, USAF Combat Security Experimental Ranger Unit, Viet Nam (68)
---