---
| | |
| --- | --- |
| | December 2018 |
Reduced stress. Increased productivity. Improved well-being.
Forte Organizers helps individuals and families stay organized at home, as well as teaching business people organization skills at work.
Time to Celebrate and Be Merry! Lori has a new article from the Dayton Daily News.
Have you ever had trouble with electronics at work and needed to unplug them? When you went to your power strip was it a tangled mess of
miscellaneous
cords? Was it hard to figure out which one to unplug?
Make it easy on yourself by labeling each cord with the name of the device it goes to. To make it even easier to distinguish which cord is which, use colored tape to label them
.
You don't even need a labeler, just write the name of the device on the tape with a marker.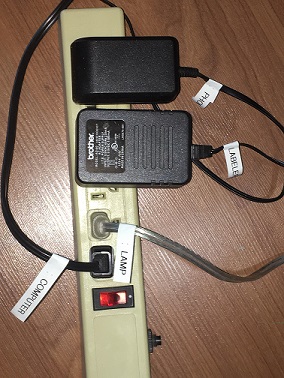 Clutter Free Gift Giving...
This year try giving Clutter Free Gifts. These can include giving "experiences," or giving the gift of your time. Some examples include:
Annual membership to museum, zoo or family park

Movie tickets or take them to a movie

The gift of time: Go to the park, out for ice cream or lunch

Donate money to their favorite charity.

Treat them to a service: cleaning, organizing, lawn care.

Treat them to a class: cooking class, exercise class.

Do a task for a friend or family member's chore list: Wash car, plant flowers, help with home repairs
There are no scheduled public classes in December due to the holidays. We will start up our seminars after the New Year. Watch for dates and times in upcoming newsletters, on Facebook and listed on our website.
Holiday
Lights
Recycling:
Have your holiday lights lost their twinkle? Drop off broken or unwanted lights at any Great Parks visitor center in Hamilton County between November 1, 2018 and February 1, 2019.
Recycling holiday lights instead of throwing them in the trash keeps them out of landfills and gives them a new life. Thanks to a partnership with Cohen Recycling, Great Parks is able to provide six convenient drop-off locations where the lights will be collected and recycled for you.
Lose Your Stuff, Find Yourself...
Lori teaches us it isn't always about exchanging gifts in her book, "Lose Your Stuff, Find Yourself."
"Several years ago when it was my turn to host Christmas, I announced that we would be playing games instead of exchanging gifts. This was a bit of a shock, but everyone agreed to give it a try.
The evening was filled with laughter and shared togetherness. I learned so much about my family members that I didn't get to see often. Even the little ones didn't miss the gift exchange."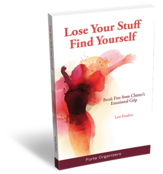 Pick up a copy of Lori's book by using this link:
Amazon.com
Just Hit Reply...
What are some of your favorite Clutter Free Gifts to give? Just Hit Reply and let us know. We are always looking for great ideas.
One More Thing...
"The best and most beautiful things in the world cannot be seen or even touched. They must be felt with the heart. Wishing you happiness." ~ Helen Keller