GOOD NEWS FOR HMV
SMITH REVIEW RECOMMENDATIONS…
…AND INDUSTRY RESPONSE
US ANTI-PIRACY PLANS CAUSE GLOBAL PROTEST
LOVEFILM GETS ITS ABC RIGHT
'APPY DAYS FOR NETFLIX
BAFTA NODS MEAN NO NEED TO TINKER…
…AND STUDIOCANAL'S JOY CONTINUES
DRIVE MOVES UP A GEAR…
…AND GOES LIVE ON TWITTER
BFI DANCES WITH THE DEVILS
HAMMERING OUT A DEAL
A HELL OF A FILM
LEAVING A TRAIL BEHIND
QUOTE OF THE WEEK
RELEASE OF THE WEEK
AT THE MOVIES
SITE OF THE WEEK
TWEET OF THE WEEK
TRAILERS OF THE WEEK
---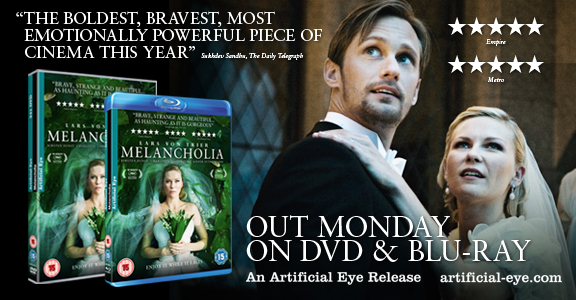 ---
If you can't read this newsletter or see the ads, please click here
It Was A Good Week For…

HMV. After months dodging bullets, the retailer can now get down to serious business…
It Was A Bad Week For… The anti-piracy movement as a whole, as Internet warriors lash out… The games distributors who are less willing to help out retailers than their other entertainment counterparts
Let's start with some breaking news and it appears as if HMV is emerging from its recent troubled times as a stronger, fitter retailer and, if the reports we've seen today are anything to go by, one that can shake off some of the criticism it has recently (unfairly in our opinion) drawn and even earn some good press. For the retailer, the High Street's last man standing when it comes to specialist entertainment retail and a great British institution, has made some major announcements today. And it's all good news too. For after some skilful negotiating – and major support from our industry too – the retailer has announced that it has changed its relationships with its key film and music suppliers that sees them effectively being given 2.5 per cent of its equity. In turn, this will help the company reduce its debt by an estimated 50 per cent if trading moves in its current direction. All this means HMV's banks have amended the company's existing banking covenants, which gives it greater security and more room to move. Effectively, HMV can now concentrate on its plans going forward, rather than constantly explaining itself to the City – it can act, and it can act positively. Its supplier partners are thought to include the likes of Universal Pictures, Warner and Disney, as well as major record labels. Universal Music chairman and ceo David Joseph summed up their beliefs when he said: "HMV is a vital part of the UK music industry and we are delighted that the support of the film studios and music companies is helping to secure its future. We look forward to working closely with HMV in the years ahead." HMV chief executive Simon Fox: "Today's announcement is enormously welcome. These developments represent a material improvement in our financial position relative to the statement we made at the time of our Interim results. The new relationship with our suppliers and the support of our banks will now enable HMV to wholeheartedly focus all of its energies - working in close partnership with its suppliers, on serving the changing needs of its customers ever more effectively. As a key part of this we remain committed to improving our specialist ranging and merchandising of music and DVD whilst also continuing to grow our sales in portable technology and further developing our online and digital offers." We at The Raygun can only salute the majority of our industry who stuck their necks out to support and show faith in the retailer, realising what harm it would do not just to our industry, but beyond that, if it were to disappear from our towns and cities. And now, we're looking forward to seeing what HMV can do (we've already welcomed its pledge to stock more vinyl…).
It has long been mooted and after assorted leaks in the likes of The Observer on Sunday, Monday (January 16) saw the publication of the Smith review, or, to give it its more official title, the Film Policy Review. There were great swathes of recommendations – 56 in all – but the key ones for our business were those concerning piracy. That handful stated that the panel, which as well as Lord Smith included Will Clarke, who founded Optimum Releasing, recommended that the government and regulator OFCOM implemented the Digital Economy Act "as soon as possible". The panel further stated that all interested parties should work on evidence on the impact and levels of copyright theft to ensure it was "as robust as possible". It said the industry should continue with its education initiatives on copyright theft alongside the BFI's new initiatives and the government should further educate and that the government, the BFI, other organisations and the industry as a whole should "promote initiatives that raise the visibility of legitimate sources of intellectual property to consumers such as www.findanyfilm.com". Another recommendation said that the government should continue to "facilitate the partnership work of content creators, ISPs and others to tackle websites which permit or promote copyright infringement". It also stated that the government should implement the recommendations of the Hargreaves review and assure that industry concerns were allayed. Another key element stated that exhibitors and distributors should discuss "theatrical windows and other exhibition terms", should distinguish between different types of films and look at how this could be applied to British independent films.
---
---
So what was the reaction? Mostly the numerous recommendations were welcomed, but what is unclear is what the government will actually do. The BVA's Lavinia Carey said: "The Review is an important first step in assuring the future of the British film industry. If the industry is to continue to play its role in the country's cultural life it is essential that the Government acts to create the right conditions such as encouraging the roll out of superfast broadband and investing in British skills. Most importantly, it is imperative that the Government's current review of copyright does not weaken copyright law and inadvertently introduce uncertainty in a market where raising investment for British productions is already a challenge for independent film makers by reducing the value of video entertainment – so important to the financial eco-system of our film industry. British films dominated the UK video entertainment chart in 2011. Without being able to rely on this income, those films would not have been made. BVA research shows that on average 47 per cent of the revenue generated for film in the UK comes from video entertainment. We therefore welcome Lord Smith's recommendations to ensure the sustainability of the UK's film industry."
Well, at least this in depth report, and even our Digital Economy Act – unintroduced or not – hasn't been the kind of disaster that the US efforts against anti-piracy have been. But the ramifications have spread far beyond America's shores as the Internet went into overdrive over the plans and discussions over not one but two separate bills being mooted by the powers that be in the US. To say that the week has been something of PR misfire would be an understatement, as Wikipedia and a host of other websites went dark in protest at the proposed legislation, which goes under the SOPA and PIPA acronyms and drew fire for both Hollywood studios and the MPAA. As the row and protests rumbled on (from where we're standing the main difference seems to be between what the acts want to achieve and what they might be able to do), political support started drifting away from the legislation, as senators and congressmen fearing the fallout began to withdraw support; President Obama had already distanced himself from SOPA (see our Tweet Of The Week below for Rupert Murdoch's thoughts on Obama's comments). The anti-piracy forces ended the week mired in more controversy, as after raids against the Megaupload site at locations internationally, hackers from the Anonymous group targeted entertainment sites from what they perceived as "the enemy", such as the MPAA. Both bills have now been delayed, mainly to rethink strategy… There are one or two certainties here – one that this is set to continue and, secondly, that the fight is bound to get dirtier and nastier… And it could damage the hard work and fight against online piracy across the globe too.
The competition between the rival subscription services continued this week, the Amazon-owned LOVEFiLM inked yet another deal. This week it has signed on the dotted line with the Disney-backed ABC TV in a deal that will see every episode of every series of Lost, as well as the likes of Castle, available to its subscribers from this month. And later this year a raft of other series, such as Desperate Housewives currently in its last series, Grey's Anatomy, Brothers And Sisters, Happy Endings and Ghost Whisperer, will al be available to LOVEFiLM customers with streaming packages. It's the latest salvo in an ongoing battle between LOVEFiLM and it's rivals to sign content deals with film and television distributors. Commenting on the deal, LOVEFiLM ceo Simon Calver said: "LOVEFiLM members want top class TV shows, as well as movies, to watch instantly as part of their subscription. Today's deal with Disney brings them access to some of the best American TV content ever produced. LOVEFiLM's unique combination of world class movies and TV shows ensures that LOVEFiLM is the first and only port of call for those who want subscription entertainment on demand." Catherine Powell, senior vice president / general manager, Media Distribution, The Walt Disney Company EMEA added: "ABC TV On Demand is home to high quality, compelling US drama, produced by ABC Studios, and launching this service with LOVEFiLM means we are ableto offer viewers more choice and flexibility in how and when they can view full seasons of these gripping shows, through one easy-to-use service."
---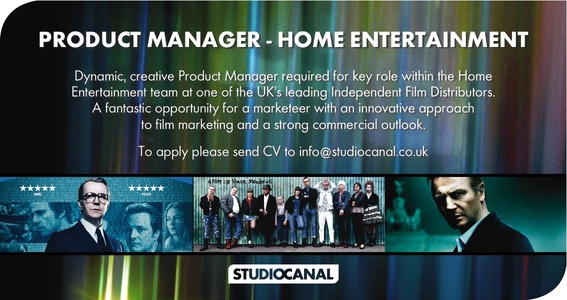 ---
And interestingly, the recently landed Netflix has this week claimed top spot as the number one entertainment app for the iPhone and iPad in Ireland, as well as being the third most third most popular free app in the UK… And we have also noticed a hugely increased Blockbuster presence, with full page mational press ads and other high profile marketing too. The battle is well and truly on…
The awards season is hotting up nicely, with the Golden Globes held last Sunday (January 15) and the BAFTA nominations out a few days later. EV was, of course, one of the big winners with its The Artist and Hugo giving it the highest totals of nods for the prestigious awards. But the home entertainment release for these two is some way off, it's the second highest nominated film, Studiocanal's Tinker, Tailor, Soldier, Spy, and others, such as Icon's Drive, that stand to benefit the most in terms of DVD and Blu-ray. For Studiocanal the 11 nods for the John Le Carre adaptation make it the best-performing British film, the film's success comes in the middle of a purple patch for the company in terms of releases. Last year saw Unknown ending up as Blockbuster's biggest renter (see our website) and further successes for the likes of Source Code and Attack The Block; they continued to sell from release right through to the end of the year – Christmas week was the company's biggest ever in terms of sales. And this year's it's continued with Arrietty (a top 10 hit with 15,000 units sold in its first week), Spanish prison thriller Cell 211 (7,000 and counting) and out this week, The Guard, which is, the company's Mikey Ellis said, "on track to have an amazing conversion". Ellis continued: "We really feel like we've been on a roll since the Summer at StudioCanal home entertainment department with our biggest releases like Unknown, Source Code and Attack the Block breaking all previous records for us and not only being a massive success on week of release but also having strong sales all the way through the Christmas period. Christmas week was also our biggest ever single week of sales. This year has got off to a great start with last year's big releases performing strongly in the New Year sales and on top of this we have one of our biggest release slates in one particular quarter."
Next up for Studiocanal, on January 30, is "by far our biggest release to date", Tinker, Tailor, Soldier, Spy. The release date was deliberately timed to land between the nominations and the awards themselves. "Our strategy is paying off so far as the announcement of an astounding 11 nominations for Tinker and the coverage that it is receiving is reminding the audience how great the film is," said Studiocanal's Mikey Ellis. "Our campaign has been building since our pre-order announcement back in November and since then we've been ramping-up the awareness through cinema advertising and online ads and building to the release date with high impact press insertions supported by statement outdoor sites and an event status TV campaign. The box office result for TTTS was our biggest by almost double the next highest and we have confidence that we can replicate this in home entertainment." The company's Nick Tay added: "With a film of this pedigree we wanted to make a statement and what better way to do that than running huge outdoor ads, major digital sites across London, Liverpool and Birmingham will go live next and will definitely not be missed! TV advertising will of course be central to the marketing with heavyweight presence on terrestrial and all major digital channels and with statement spots in mass audience programming include the Liverpool Vs. Manchester United FA Cup game and Midsomer Murders we are confident that Tinker Tailor Soldier Spy's secret will well and truly be out." The company's purple patch will continue beyond this too. As Ellis concluded: "Following on from this we've got even more quality releases; with Paddy Considine's BAFTA nominated Tyrannosaur out on February 6 to counteract all of the fluffy Valentine's films out on the same day, then later in the quarter we've got two excellent horrors with Del Toro's Don't Be Afraid of the Dark released on February 20 followed by the quality Brit horror The Awakening out on March 5. We are certainly busy at the moment and I know I've said it before but we're very lucky to work on films that are so diverse, interesting and of such a high calibre."
---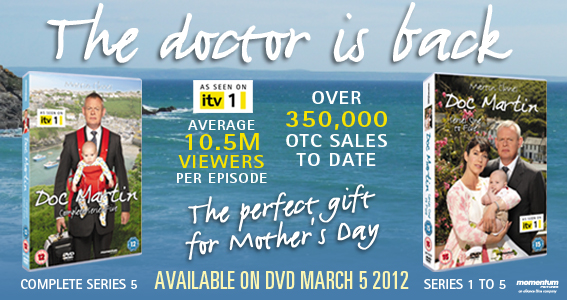 ---
To the BFI's screening room below its Stephen Street headquarters for a special preview screening of the eagerly awaited release of Ken Russell's "It's a real privilege to be releasing the film, our edition finally does it the justice it richly deserves," said the BFI's Sam Dunn, talking about the first ever DVD release, due on March 19. He further outlined the film's extras package, which includes both original material from when the film was released in the early 1970s and newly-commissioned features. In specially filmed introduction, critic (and former video trade press staffer) Mark Kermode said: "This is the film that caused all the fuss back in the 70s, and continues to raise hell 40 years later." And guess what? The film looks fantastic and still packs a punch. It's lost none of its capacity to shock either, which should help come release. Expect a welter of publicity in film magazines, the quality press and elsewhere in the weeks to come.
Back to Studiocanal, and if its increased, high profile theatrical slate wasn't enough, the company has this week announced a major restoration plan for the classic Hammer library, in partnership with the revitalised horror studio. Studiocanal is one of the key partners in the global project, in which a "substantial investment" is being made. The first title to be released under the new banner will be Dracula Prince Of Darkness, due in March. Others due on the spring include The Reptile and The Plague Of Zombies, with The Devil Rides Out and Rasputin The Mad Monk fdue later in the year. Hammer is also planning what it described as "definitive version" of three of its seminal gothic titles, The Curse Of Frankenstein, Dracula and The Mummy. Studiocanal's John Rodden said: "The great Hammer films are uniquely stylish and ceaselessly entertaining. Like the vampires and other supernatural forces they depict, they appear to be deathless, re-emerging relentlessly to thrill and terrify new generations of film fans. Studiocanal is immensely proud to continue its investment in the best of British cinema both past and present by restoring and re-releasing these films." Hammer president and ceo Simon Oakes said: "Our decision to restore some of Hammer's most famous titles not only allows existing fans to experience the films again in high definition, but also encourages a new global audience to discover Hammer for the first time – especially as we get ready to release our next exciting new Hammer project The Woman in Black, starring Daniel Radcliffe. We have a busy year ahead but are confident that our Blu-ray plans will ensure that Hammer's legacy will live on for generations to come." The Woman In Black, of course, is premiering next week and will be released via Momentum…
---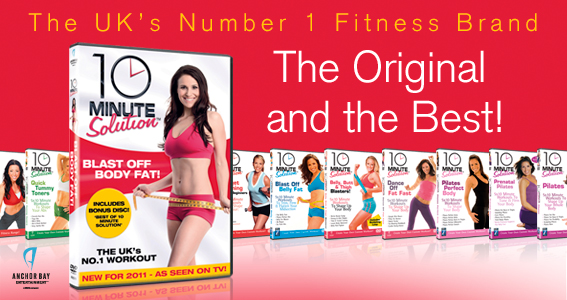 ---
One of next week's more intriguing releases is Hell And Back Again, from the newly formed independent label called, er, Independent Distribution. It is the distribution arm of the successful development, production and sales powerhouse, Independent Film Company, which has been involved in the likes of We Need To Talk About Kevin and Mr Nice. Hell And Back Again is an outstanding documentary, which looks at the aftermath of the war in Afghanistan for US soldiers returning from the war zone. And powerful stuff it is too – expect it to add more reviews to the four star ones it received from the likes of The Times and The Guardian on its theatrical release. It has already been released via vod platforms around the November cinema release, and is one of the better war documentaries out there. The company's distribution manager Stefanie Fahrion said: "We hope that through the DVD release the film will be able to reach new and regional, audiences in the UK, especially the country's servicemen and women who have undergone similar experiences as the film's protagonists."
And lastly, film clubs and societies are currently all the rage, and our pals at The Duke Mitchell Film Club are among the most influential in London, not only was it one of the first of the current wave of nights specialising in the weird and wonderful, it's almost one of the most notorious. Now one of its co-founders, former HMV staffer Alex Kidd, has launched his own spin-off night. The regular contributor to The Raygun website, who spends many of his evenings at screenings, previews and in multiplexes viewing films for his weekly column for us, is hosting the Night Of The Trailers event at the Roxy Bar And Screen, Borough High Street, London, on Sunday February 5. For more, and a trailer promoting the evening, see our website.
Before we head off elsewhere that reminds us to remind you, head over to www.theraygun.co.uk for loads more – features, trailers, insight comment and, going up shortly, our massive 2011 Q&A, where the industry analyses the good, the bad and the ugly of the past year, and looks forward to 2012…
"A so-called 'blackout' is yet another gimmick, albeit a dangerous one, designed to punish elected and administration officials who are working diligently to protect American jobs from foreign criminals. It is our hope that the White House and Congress will call on those who intend to stage this 'blackout' to stop the hyperbole and PR stunts and engage in meaningful efforts to combat piracy."
MPAA chairman Chris Dodd on the Internet's protests against the SOPA and PIPA acts
"It's boring. Everyone wants everything for free."
One unnamed studio executive, quoted in Variety, on why the studios' PR campaign failed against the might of the Internet
Doc Martin has become not just a mainstay of ITV's schedules but one of the best-loved programmes on television – its 10.5 million average viewers put it not far behind the massive Downton Abbey. The fifth series of the Martin Clunes starring programme is due in time for Mother's Day on March 6, alongside a package containing all five series. As Momentum's Kristin Ryan said: "The fanbase is incredibly loyal and varied so the campaign is twofold- appeal to the self purchasers and to Mother's Day gifters alike with national advertising in both key broadsheets and Mother's Day gifting supplements, social media targeting and an extensive PR campaign. And once again Martin Clunes, always a PR hit will be fully supporting our release."
---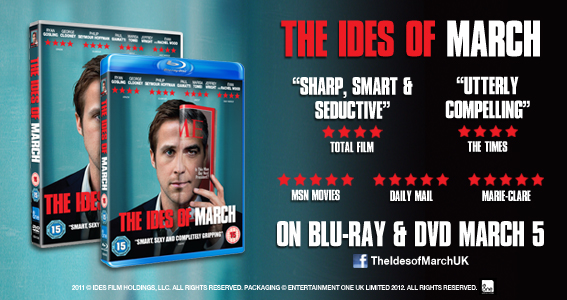 ---
The Horse took over from the cow this week, as Steven Spielberg's War Horse galloped past The Iron Lady; the former earned almost £4 million in its first lap, while the Thatcher biopic has now taken some £5.18 million. The other new entries were The Darkest Hour, which took £740,773 and Momentum's excellent Shame, with £535,000 from far fewer screens.
Remember Sharktopus? Dinoshark? Well, now get ready for Arachnaconda, Sea Scorpions, Grizzligator and many more from the newly formed Monster Machine. The production company has been formed by Sharktopus co-producers Stephen Niver and Robert James Roessel, who told Variety there is a real market for fun monster movies…
Madonna's directorial debut W.E. opens this weekend and it's already had a positive knock-on effect for star Andrea Riseborough, who was this week announced as one of Tom Cruise's co-stars in the forthcoming sci-fi actioner he's making for Universal. As well as Cruise, the film will also star Olga Kurylenko. The film tells the tale of the last man on earth, waging war against aliens with the help of robots…
Ti West is one of our favourite directors, purely on the strength of Metrodome's excellent The House Of The Devil. There's good buzz about his The Innkeepers, also due from Metrodome and now, after his V/H/S currently airing at Sundance, he's announced that he'll be working on sci-fi horror The Side Effect with Liv Tyler…
This is our favourite thing on the Internet this week: the Netflix Trash Film Club. We're in. See it here…
Following Rupert Murdoch was not instantly attractive as an idea, but we loved his piracy tweets this week. Here's what he said: "So Obama has thrown in his lot with Silicon Valley paymasters who threaten all software creators with piracy, plain thievery. Piracy leader is Google who streams movies free, sells advts around them. No wonder pouring millions into lobbying."
The latest film with Bruce Lee in the title…
This will strike fear into parents' hearts…
From superhero to plain hero…
A film about life at Universal's TV imprint… Oh hang on, maybe not
To subscribe to The Raygun newsletter, please email

info@theraygun.co.uk
To unsubscribe, email

info@theraygun.co.uk

with unsubscribe in the subject