SHOP HOURS
Monday: CLOSED
Tuesday: 12 - 6
Wednesday: 12 - 6
Thursday: 12 - 7
Friday: 12 - 6
Saturday: 10 - 6
Sunday: 12 - 4

 

 

Extended Hours

for Yarn Crawl

 

Tuesday August 8: 10-6

Wednesday Aug 9: 10-6

Thursday, Aug 10: 10-7

Friday, August 11: 10-8

Saturday, Aug 12: 10-6

Sunday August 13: 12-4

 

 

From August 8-13, we will be participating in the

I-75 Yarn Crawl

again. We had a really great time last year and heard nothing but good things from those of you who participated last year. The Crawl stretches from Tennessee to Michigan and you can go to as many or as few shops as you like along that route. There are tons of prizes and specials so you won't want to miss out. Passports are only $5, we have some in the shop to sell or you can grab yours

here

!

 

 

We will be havi

ng some extended hours and special events during the yarn crawl. Plus giveaways every day for those participating in the crawl. Be sure to come and check out the Rock and String pop-up shop on Tuesday and Wednesday, August 8 & 9. Erin DeAtley is a Kentucky dyer who dyes both yarn and fiber and is best known for her vivid colors and beautiful self-striping yarns.




In August, we will be doing a Knit-A-Long for the

Wonder Woman Wrap

 by Carissa Browning. The wrap is fairly simple and though it uses two different colors, there is no actual colorwork involved. The Knit-A-Long will be held every Thursday in August from 12-1:30pm as well as on Sunday, August 13th and August 27th from 1-3pm. You can come to as many of the meetings as you like or participate virtually by joining the event on Facebook

here

. Robyn has dyed up some yarn in the perfect colors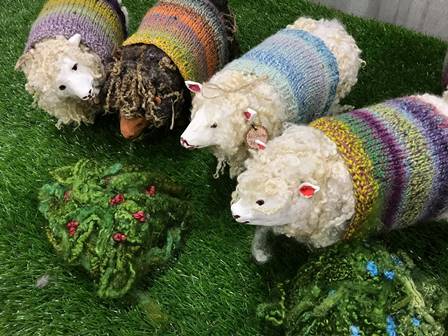 We have new colors in one of our favorite yarns. Entropy, by Feederbrook Farm is 100% bouncy BFL fiber that has been hand dyed before being spun, giving it a unique look and slow transitioning colors. Some patterns that show off this yarn nicely are:  
Budding Crocus Shawl
 (crochet),
Tellins
(hat),
Druadan Forest Scarf
(crochet),
Ravessa Scarf
and
Wurm
(hat).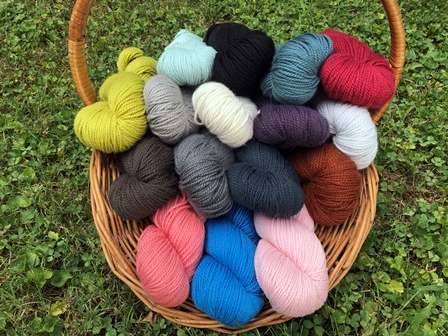 We have new colors in Extra, the extra big, extra squishy, extra soft yarn from Blue Sky Fibers. It's an aran weight blend of 55% baby alpaca and 45% extra fine merino with 218 yards per 150g skein. Sarah just knit up the charming
Tatras Fingerless Mitts
, cozy and substantial to keep your forearms chill-free all Winter.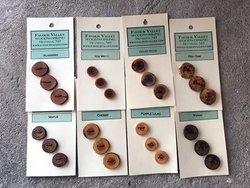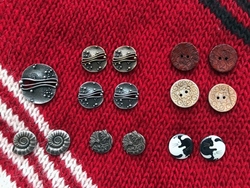 Taking a break from yarn, we have a veritable onslaught of new buttons. We have new wooden buttons from Favour Valley. I love these because these simple slices of a branch really show off the beauty of the wood. We have some more intricate large wood buttons and shawl sticks from Hannah's Ideas in Wood. We picked up several styles of stitchable bamboo buttons from Katrinkles. The customizable nature of these buttons mean they can be made to complement many different projects and you can have a lot of fun with the stitching itself! Last, but not least, we have several styles of new buttons from Skacel in metal, coconut and enamel.
Last, but certainly not least, there's a whole lot of new Malabrigo here. Not too long ago they released a Fuchsia color in many of their lines and we finally managed to get our hands on some. We've got that and a few other colors in Rasta (Fuchsia, Teal Feather and Reflecting Pool) and Caracol (Fuchsia, Camaleon, Salpicado and Anniversario).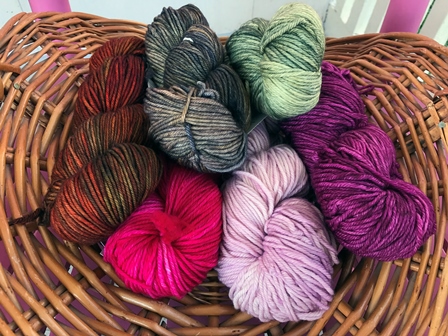 In Rios we've got Volcan, Fuchsia, Sandstorm, Valentina, Yerba, and Hollyhock.
In Arroyo we've got 
Matisse Blue, Camaleon, 
Fuchsia, and Anniversario.
And in Sock we have Anniversario, 
Whales Road
, Ravelry Red and Ochre. Those last two will work really well together for the Wonder Woman Wrap.
The yarn of the month for August is Amitola. Amitola is a beautiful gradient yarn made from 80% wool and 20% silk with 273 yards per 50g skein.
It makes projects really stand out and the color change adds complexity to simple patterns. We have 10 lovely colorways and have knit up the
Inspira Cowl
and
Brigitta
(shawl).  Some other patterns where Amitola shines are:
Dreambird
(shawl),
Taliesin
(sweater),
Astrid
(scarf), and
Spark of Grey
(shawl).
Featured Upcoming Classes
 

 




In the first class you will learn to cast-on, knit, and bind off so you can start on a basic scarf or hand mitts. The second class will cover purling, increasing, decreasing and pattern reading. The price includes two classes, yarn and needles.

Wednesdays, August 16 & 23, 6-8pm



Come learn to crochet with Raellyn! In this class you will learn the basic crochet stitches, increases, decreases, and pattern reading. The class project will be a cute pair of crochet fingerless mitts, similar to those made in the beginning knitting class. Price includes two classes, yarn and a crochet hook.

Saturdays, August 19 & 26, 4-6pm




 
 

 

 

 

Our August Knit-A-Long will be the Wonder Woman Wrap by Carissa Browning. The KAL is free and open to all knitters. Pattern here. Facebook event here.




Thursdays in August, 12-1:30pm

Sunday, August 13 & 27, 1-3pm