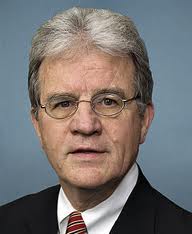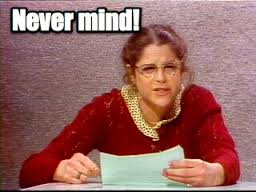 Never Mind!
Gilda Radner's Old Punch Line
or Tom Coburn's New Mantra?
The Monday, August 26, 2013 Shawnee Town Hall Meeting for Senator Tom Coburn has been cancelled. The event was to be held at 5:30 p.m. at the Gordon Cooper Technology Center, John C. Bruton Seminar Center , at One John C. Bruton Blvd. in Shawnee, OK but it is looking like Coburn is feeling the heat from his constituents and that he has had enough scorched ears for this year.
Will he and Lankford learn from the blowback or will both remain in the clutches of the progressives? The coming session will set the stage for the 2014 primaries and it might get interesting.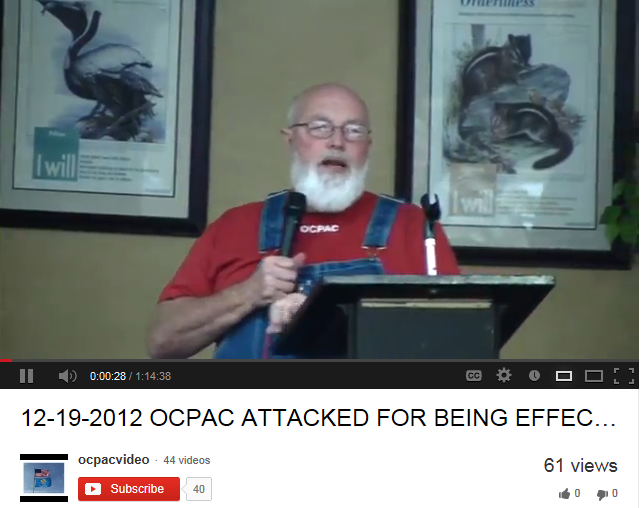 Is OCPAC Entering a Death Spiral
Under Charlie Meadow's Leadership?
Some pundits and politicians are privately saying this might be the case after OCPAC's recent notice of the loss of the second meeting location in less than a few months. The long time meeting location North of the Capitol was closed down due to the retirement of the restaurant owner but OCPAC had transferred over to the Character First building, a long time John Birch Society meeting place. One wonders what is behind their leaving that Character First location after such a short time. Sure they "blame" the lack of parking but come on, they have been holding far large John Birch Society events there for many years with little parking concerns.
But based on their email it is obvious that they are downsizing, going so far as to abandon the hot meals that people bought in favor of sandwiches or hot dogs! But you can get a bag of chips along with tea or water! Ouch! And for only $6.00! Double ouch!! Or Charlie says you can brown bag it but you pay a "cover charge" even if you don't eat! Triple ouch!!!
And who doesn't remember Charlie's boast back in the waning days of 2012 where he predicted an explosion in the OCPAC membership after being, in his words. "attacked" by the YouTube video on the Capitol Bond issues? Here is Charlie talking about the "attack"
The fun part starts around 10:35 into the video so you don't have to wade through the bloviating. And bless his heart, only 61 views of his video at the time I captured the screen shot above. And no comments? Not even any haters out there thought it was worth their time to post? Let's help the poor guy out with some hits on his video. LOL
The video in question is about the Sooner Tea Party's killing of the Capitol Bond issues at the end of the 2012 legislative session. You know right off the bat that the video is deceptive after it complains about not being able to walk in the front doors of the Capitol which have been closed for many, many, years. Visitors have to pass through security checkpoints at the East, West, and South entrances.
But watching the OCPAC video with the amazing 61 views is interesting because of the reaction of the crowd. Every time that OCPAC or Charlie's name is mentioned the crowd titters a bit. But when the Sooner Tea Party is mentioned, even in conjunction with Charlie….. silence. The utterly amazing tactical blunder that Charlie made was in even showing the video because he did little but entertain his audience and showed exactly how powerful the Sooner Tea Party had become. So much that even the OCPAC crowd gets it. Even more amazing is when the part about the Sooner Tea Party thinking that Charlie Meadows was too liberal was shown… not single laugh or snort was heard. These folks get it so they were not surprised!
Where there was a big laugh was when the video said a carpenter and a window washer controlled the House of Representatives. The only bigger laughs in the OCPAC video was when the video said that we would publish an account of a politician and a barnyard animal in our newspaper and when Mary Fallin was the butt of a joke.
Around the twenty minute mark Charlie carefully defends the RINOs in the House and Senate and claims that the Sooner Tea Party labels politicians RINOs only when they get mad at the politicians. Nothing could be further from the truth because we use the Republican Party Platform as the standard and if you follow that platform most of the time you are considered a Republican. Eighty percent is good, even seventy percent unless you are talking about someone that supports Obama Care Health Insurance Exchanges. That is a deal killer for us as it should be.
But Charlie is really trying desperately to explain why we say that he is too liberal. And in doing so he reiterates why he is viewed as too liberal by defending the many RINOs at the Capitol.
But what is very interesting is around 27 minutes into the video when Charlie predicts that that video was going to double their membership. He says that OCPAC had 240 members in 2011 (he said last year in the video), and where is OCPAC today? Well, Charlie strangely stayed silent for many months on the membership of OCPAC until this last week when he admitted to around 170, a 30% drop in membership. Or more importantly, a total miss of his prediction of almost 500 members due to the video alone. Missing the mark by almost 300%…
The other interesting thing was the number of views attributed to the YouTube video which Charlie claimed was almost 5,000 as of the time he spoke, December 18th 2012. The reaility? 565 views as of today. Living in la la land I suppose where wishes are reality.
This was a big deal for OCPAC. They announced an essay contest on the video with cash prizes and Don Crosson of the John Birch Society stood up and claimed credit for the John Birch Society basically controlling OCPAC after Charlie had finished. Wow, puppets controlling puppets, controlling puppets. Where does this end?
But one lady had the courage to stand up and ask Charlie point blank if he supported the Sooner Tea party. That set Charlie off in a tirade, calling the Sooner Tea Party vanquished and gone. Charlie went on to state that Al couldn't walk with anyone without turning on them, leaving out the fact that Charlie, the John Birch Society, and OKSAFE were the ones that turned on the OCA and broke it up. Charlie claimed that they helped form it; an absolute lie. They were invited to join and were given a board seat along with OKSAFE and the John Birch Society, and all three entities are really JBS controlled groups. So they were given more than their share of influence and yet once they realized that the OCA was effective, they killed it off using backhanded tactics. Why? Because they are not interested in fixing our political problems unless they get the sole credit for doing so. What they can not control they will destroy.
Charlie admits that he and OCPAC was kicked out of the OCA but that was after the OCPAC representative to the OCA was forced to resign after getting caught lying to the OCA board and to the OCA member groups! The three Bircher groups had organized a coup and had the votes from the board, which remember was 50% controlled by the Birchers, so only one the other three board members were needed for them to steal control of the umbrella group that the Sooner Tea Party had founded! And they got that vote, for a few hours at least, by lying to one of the independent board members! Even then we assured Charlie that it would be enough to replace their wayward representative but by then the die was cast, Charlie and the rest of the Birchers were shamed by the exposure and all three groups went quiet as a church mouse for months. The three groups were finally removed in early 2011 in advance of the OCA closing down just to show that they and a few other groups betrayed all conservatives in Oklahoma.
There were several other questions about Al or the Sooner Tea Party before Charlie hurriedly cut off discussion and moved on. You could tell that some of the people in attendance were quite confused how the Sooner Tea Party could be credited with controlling the State House yet be discounted by Charlie Meadows. Charlie spun as best he could but the doubt had long been planted and too many know the facts behind OCPAC being removed from the OCA back in early 2011.
Remember the wonderful quote we ran some months back? That few things can never be hidden; the sun, the moon, and the truth. Sadly despite sharing in the Sooner Tea Party's success in killing off that Capitol bond issue Charlie finds his group wallowing in the swells, declining membership, losing meeting venues for lord knows what reason, even charging members for showing up at OCPAC. Despite the vicious attacks since OCPAC and the other groups were shamed the Sooner Tea Party not only survived but has thrived, becoming powerful enough to kill some bills with single emails to the House and Senate. Now not just any bill mind you, our power is limited to preventing them from doing something truly stupid that will not resonate with their voters. But on the other issues you know that the politicians want to know where we stand and what we are going to do if we come after the leaders of ill advised legislation. Charlie said it himself, we will hit them hard, we will be vicious if needed, and in the process we make OCPAC look very bad and that has led to the loss of the majority of what power they ever carried. And not because of what someone else did but because of what they didn't do themselves; make a clear distinction between conservative lawmakers and liberal lawmakers.
Rest In Peace, OCPAC They had a good run. From a powerful influence on Oklahoma politics down to a nice lunch where the choir could be preached to and now they are even losing the nice lunch.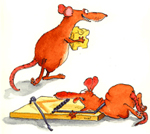 There is no Doubt Now
The Rats are in Charge of the Cheese
And the Second Rat Always Gets the Cheese
By the Watchman
Our readers are aware of the war that is grinding forward between the forces of good government and the Chambercats owned by the Oklahoma State Chamber of Commerce. A recent blog posting shows just how blatant the corruption has become: The Okie » Bingman Names Jennifer Monies Senior Advisor. Since the article indicated that Monies was leaving a lucrative position as a Senior Vice President at the Oklahoma State Chamber of Commerce, we decided to investigate a little deeper.
One of the first items we found was this article from the Oklahoma State Chamber of Commerce in 2010. State Chamber to bolster presence at Capitol with two hires. If they were so proud and boastful about their access to the Capital then, why didn't they give her a big enough pay raise to keep her from going to the Senate as a Press Secretary? A second question crossed our mind too. Did she go to give them greater access?
It also seems that we're not the only ones asking questions. We found this report also. Jennifer Monies | Otter Limits. They raised a very interesting question. Why does a State Senator, which in Oklahoma is a part time job, need a Press Secretary? Why are our tax dollars paying a full time salary to a press secretary for a part time Senator? This is further evidence of an out of control government and out of control spending.
We found this profile of Jennifer Monies Jennifer Monies | The State Chamber of Oklahoma at the Oklahoma State Chamber of Commerce web site. This is a fairly detailed description of her work history, but raises another question. Why were the state tax payers on the hook for a communications director for the part time job of Speaker of the House? They work at the job part time surely they should be able to handle their own press releases.
We also found this video interview ? GC Perspectives with Sam Jones Interview with Jennifer Monies, Oklahoma Prosperity Project - YouTube where she basically states that her job is to persuade Oklahomans that what the Chambers, both the local and the State, want is good for Oklahoma. That's supposed to include the two billion dollars a year in tax money they get in the form of kickbacks from politicians whose campaigns they finance
During our research we ran across literally dozens of stories like this OKLAHOMA CITY: Okla. Senate pro tem names press secretary | National Elections | The News Tribune in papers not just in the state of Oklahoma, but nationally. These points to three possibilities. One it was a very slow news day. Two is that Jennifer Monies wants her name out there for all to see or we hate to even think about number three. The third possibility is that Senator Bingman fancies himself as the next U.S. Senator from Oklahoma replacing Senator Coburn who has indicated he does not plan to run again in 2016. Both are from the liberal eastern part of the state. If this is the case then he will be running up against the Congressman Tom Cole political machine as Cole himself has eyes on Tom Coburn's seat.
The most objective article we found by far was this one TheOKieBlaze | Senate President Pro Tem Brian Bingman Announces Hiring of Jennifer Monies as New Press Secretary and Senior Ad, It was the only article that listed the fact that she actually worked for two Speakers of the House not just one.
Now one of the projects she leaves out of her biography in the Oklahoma State Chamber web site is the fact that she was part of the Chambers project to "Rate the Judges" in their failed attempt to stack the deck in favor of big business. We found this article here to verify this. Staff
This alone is enough to question her qualifications to be in any capacity in government.
We also found this article OCPA - Is Increased Spending Oklahoma's Default Setting? which highlights the big spending ways of our state government encouraged by big business. Do we really need full time Press Secretaries for the Senate and House? Do they need to pay their contributors back so bad that they have to put someone on from the staff of their contributors?
In short, this is a hire that doesn't have a justification. This is tax money being wasted just to help payback a Senator's corporate donors. This raises serious questions of how much more influence this gives an already overly powerful Oklahoma State Chamber of Commerce over the Oklahoma State Senate.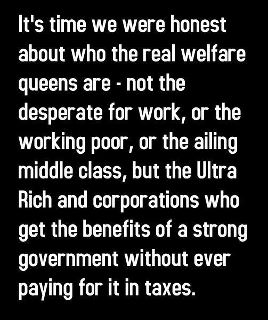 Follow The Money
By Ms PM
It looks like AT&T is on their way to receive about $350,000 of taxpayer money to expand here in Oklahoma City.
The city voted on a $75 million "general obligation limited tax bonds" measure in 2007. Calculations show that Oklahoma City will gain $51 Million over the next five years. What it doesn't say is after the welfare check is cut, is there anything in place to hold a company of this size to stay in Oklahoma? Like… pay the taxpayer funded $350,000 back if the grass is greener in another state at a later time. Didn't this happen in Tulsa a while back with American Airlines?
This article makes the whole situation a bit more interesting. It seems that the State Chamber of Oklahoma now has the AT&T Oklahoma President Bryan Gonterman as its Chairman. Being a bit too coincidental it stands to reason why AT&T wants to set up in OKC. How better to manipulate the goodies than to have someone from AT&T sitting at the table negotiating the payoff.
One of the things that continue to "pop our heads off" is the negotiation process used to buy big business and get them to move to our state or a particular city. The picture painted by our highly competent legislatures is a rosy scenario of "look at all the money we will bring to Oklahoma." In all reality there are a few possibilities as to why they behave like mules with blinders. One; is the money spent not an issue because it didn't come from them and when entering into their fame and glory of how great we are for 15 minutes, we can say, see what we did to improve Oklahoma? Another; not seeing beyond the end of their noses, it is quite possible to continue the unintended consequences as in the American Airlines incident and they are too ignorant to see it. Could it be that all states pay off the big company's so Oklahoma must do the same?
Doesn't Oklahoma have a lower cost of living than many other states? Following suit, aren't the wages lower than many other states as well; we are right to work, correct?
Oklahoma is a fine state with much to offer a business. The questions to all are why don't the people running the state know that? Isn't it time to stop this welfare program?
A perfect example of this exact circumstance happened this weekend while at my booth in Shawnee only on a much smaller scale. A woman wanted an item and then asked if tax was added to the price. Of course the answer was yes which prompted her response; "oh, that makes it too expensive." I could have said that I would pay the tax to sell the item. I instead told her that I understood and it was her choice to decide if she could afford the cost. She bought the item and paid the tax. She purchased a quality item and I got a fair wage to make it. The people running our state might well come to the understanding that some things are really this simple.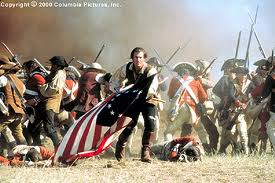 Konawa Tea Party Meets Tuesday Night
We are outspoken on our support of this small group mainly because although they are unabashedly Christian led they are true Christians that follow the teachings of Christ. I've spoken before the group and while they might not be ready to pick up a baseball bat they understand the need for getting tough with the crooks and liars that run our state.
Their next meeting is Tuesday night at 7:00 pm at the Kennedy Library at the Konawa School at 701 W. South Street in Konawa. We encourage everyone to spread the details and attend if you are in the area.
What this group understands better than most is that they are in a fight for the existence of their religion and they need all allies, not just the allies that look like them or talk like them. The salvation of our great nation will come from groups like this, not the self serving groups that excel at milking their supporters and doing little else.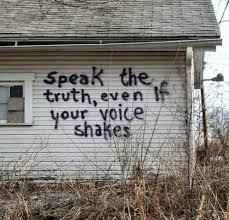 Speak up Oklahoma Forum Unveiled
The Oklahoma House of Representatives has set up a website called SpeakUpOklahoma.com
where you can post ideas on how to improve the state. Allegedly the politicians can view the ideas and comments and participate. Right now the left seems to have taken over the postings so we need some conservatives to balance them out and to defeat their arguments.
But this is no magic bullet, in fact it could harm the movement if our people spend their time rebutting online instead of speaking to the politician's voters. By blowing off steam a lot of people quiet their nerves and think they have accomplished something and the politicians know this. Why else do you think they allow the freedom of speech? It surely isn't because of helping to search for the truth.
That said, posting a few times a week would do some good. Or you can concentrate on re forwarding silly emails and dire predictions to come instead. See which one makes you sleep better at night.
2013 Senate members and House Members
Please copy the block of emails for your contact list so you are able to email all of them and help to inform and educate them before the new sessions begin. Use Bcc to send dozens of email with one email from you to them. This will look like you send each one of them a personal email with only their email showing as the recipient. Please mention the Sooner TeaParty in your emails so they will have a healthy respest for what we do.
Here are the updated House members email addresses in three blocks of Thirty- four each and updated senate emal addresses in one block
.
Rem
ember to strip the unsubscribe link before forwarding this newsletter to prevent someone from taking you off our list! Use our forward this email link at the top of the newsletter to prevent being accidently unsubscribed.
Money is always needed for printing costs, postage, sign materials, and robo call costs. We are tightfisted; we will spend your hard earned money wisely and frugally as we do our very best to clean up Oklahoma politicians so we can begin to clean up our country.
You can donate by sending a check to Sooner Tea party, 358 North Rockwell Ave, Oklahoma City, OK, 73127 or visit Soonerteaparty.org and use the Paypal donation button.