=============
EFT for Pets
The percentage of the world's pet population that is overweight is increasing. Like humans, one of the ways animals cope with stress, boredom or fear is by overeating.
*
Has your veterinarian examined your animal, but found no physical condition causing the weight gain? Remember when your pet was at its ideal weight. What stressful event might have occurred to cause the overeating? Did you move or add a new pet? Consider doing surrogate EFT based on the below example setup statements.
*
"Even though I, <pet's name>, am afraid when my Mommy or Daddy is gone so I gorge on food to feel better, I release this fear now. I choose to feel safe, knowing my Mommy or Daddy will return and give me all the love I need."
*
"Even though I, <pet's name>, am afraid and stressed out since my Daddy brought home the new animal that chases me so I cannot rest, I release this fear now. I feel safe to eat normally."
*
"Even though I, <pet's name>, am afraid of this new home with strange sounds, smells and noises, I release this fear now. I know that Mommy and Daddy will always keep me safe in my forever home. I release this need to stuff my fears by eating too much."
*
Give your pet the gift of long life and good health by keeping it fit and free of fear via EFT!
* * *
Have you used EFT on yourself, pets or family but have not received the results you wanted?
Contact Colleen for a free consultation or session today!
Only $75 USD for an hour of surrogate muscle testing, tapping, laughing, fear blasting and SWEET RELIEF!
* * *
DISCLAIMER: EFT is gentle acupressure and has produced remarkable results in relieving emotional and physical distress.
USE EFT AT YOUR OWN RISK ON YOURSELF AND OTHERS, INCLUDING ANIMALS.
If you apply this newsletter's techniques to yourself or others, you are agreeing to take full responsibility for any side effects and/or outcomes.
* * *
Thank you for subscribing to my newsletter!
* * *
May you be blessed with perfect health, wealth, joy, peace and love in 2009 and always!
--Colleen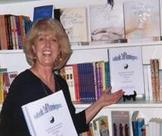 Please forward this newsletter to family and friends who could use the news!
Happy New Year to My Wonderful Worldwide Subscribers!!!
*
I am deeply grateful that you allow me to share my EFT info to help you create the life of your dreams! Please know that you can reclaim your power over your blocks to success, then relax and grow RICH (Relationships, Income, Career, Health) with EFT. *
*
Once again, the #1 New Year's resolution is to lose weight. To view the top 10 resolutions and vote on your choice for 2009, click here.
*
EFT for Weight Loss Willpower!
Some of the biggest blocks for people who want to lose weight is fear of failure to follow through, fear of comfort food deprivation and fear that the weight loss process will be long and painful. These fears are often based on past attempts to shed fat that didn't work. My experience and that of my clients has been that if we release these old fears associated with weight loss, the process is much easier!
*
Weight Loss Willpower Suggestions
If you have the above-mentioned fears, try these setup statements to enjoy your path to slender health!
*
Even though I have this....
*
Fear of failure to stay with a program long enough to lose weight so why bother to try again, I release this fear via EFT! I reclaim my willpower and know that my past does not equal my present!
*
Fear of deprivation of my comfort foods that help me relieve stress, I now tap away this fear. I release the need for comfort foods. I am fearless and unstoppable with the power of EFT to cope with all situations and stressors!
*
Fear that the exercise and dieting will be long, painful and tedious because it has in the past, I release this fear now! I remember to use EFT each day to keep myself strong and dedicated to creating a healthy, slender new ME!
*
Remember to tap in positive affirmations to energize yourself and stay motivated:
Eyebrow: 2009 is my year to slenderize! I weigh <desired weight> by <date of goal>.
Side of eye: I find the perfect program to lose weight and exercise, and enjoy the process.
Under eye: I take back my power over food cravings and addictions! I now crave exercise and healthy foods.
Under nose: I use EFT each day to accomplish my weight loss goals!
Above chin: I feel safe to release my protection fat.
Collarbone: I replace my junk food cravings with cravings for fresh fruits and vegetables.
Under arm: I deserve to be slender, confident and healthy again. I am surrounded by supportive people who respect my new healthy lifestyle and eating habits.
*
Did you feel some resistance or tail-enders when you read the above tapping sequence? Tap it all away until you truly believe you can achieve your desired weight and fitness!
*
Need Help Knowing What Issues to Tap on?
"Heal Your Body A-Z" by Louise Hay includes a section on fat, where it accumulates on your body and what emotional issues are keeping the fat there. My website Products page has more info on this book and others.
*
Want to jump start your 2009 weight loss program by flushing out the fears that keep the fat where it's at? Try a private session with Colleen. Her surrogate muscle testing will identify your hidden blocks to success! Click HERE for Private Session information.
* * *
Did you know that you can benefit your favorite charity while using this charitable search engine? Check it out! www.GoodSearch.com
*
If someone forwarded this newsletter to you, I hope you enjoyed it! Click here to get your own subscription and a free two-volume e-book on how to release panic, stress and fear via EFT. You can easily unsubscribe at any time.