AshGPS: Firmware, Software Update Notification List
for Spectra Precision, Ashtech, Magellan Professional, Thales Navigation
GPS / GNSS Receivers 
Discontinued

: MM20, MM300; Nearing EOS PM

120/220


Ne
w Firmware

: SP80 and SP60
$5,000

Discount
: on SP80 / SP60 with Killer Trade-In on ANY L1/L2 Receiver!
(Z-Surveyor, Z-Extreme, Z-Max, PM500 + any other brand!)

You can click on the link at the bottom of this message to get removed from this mail list, it really does work! 
The MobileMapper 20 and MobileMapper 300 are no longer available.
The ProMark 120 and ProMark 220 are

available while limited supplies last

. Note: the MobileMapper 120 may still be available from other retailers in unlimited quantities.
As these products wind down I strongly suggest that you purchase a reasonable supply of batteries and accessories as they may not be available indefinately.
Factory extended warranties are still available for these products:
   PM120 / PM220: $549 / year
   MM300: $309 / year
   MM120: $309 / year
   MM20: $119 / year


 
(There is an additional charge if your receiver has fallen from maintenance.)
New firmware is available for the SP80 and SP60 GNSS receivers.
Firmware Version 3.10: adds BeiDou only RTK, Galileo used in RTK, WiFi Access Point, Mobile Web interface enhancements, better Galileo acquisition and other new features.
MobileMapper 50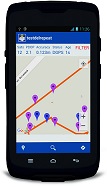 A new Mobile Mobile Mapping product, the MobileMapper 50 is now available.
The MM50 is available as a rugged Android based Wi-Fi ($999) or Wi-Fi + Cellular ($1,299) receiver. The Wi-Fi + Cellular model has a huge 15-hour battery.
The MobileMapper 50 achieves 1.5 Meter real-time and 80 cm post-processed accuracy using a new Android version of MobileMapper Field.
Perhaps best of all, MobileMapper Field is now available for most Android phones and tablets. (Post-processing is only available with the MobileMapper 50 receiver.)
You can download MobileMapper Field as a .APK [ here ].
MobileMapper Office Version 4.8.5 which supports post-processing files generated on the MM50 is available now:
   [ Release Notes ] [ Download ]
Customer Loyalty Trade-In for SP80 and SP60 Receivers!

Spectra Precision is offering a $5,000 trade-in promotion on the SP80 and SP60! 
[This promotion runs from now through March 31, 2017.]
Any legacy L1/L2 receiver can be traded in for $2,500 credit towards the purchase of each SP80 or SP60. Combined with other end-of-year promotions, the SP80 and SP60 receivers are more affordable than ever:
SP60 + UHF $24,900 / pair: with Trade-In: $19,900
SP80 + UHF $27,990 / pair:

with Trade-In: 

$22,990 
Please call us [ +1-801-412-0011 ] for a written quotation as I can't quote the sale price here directly.
Hopefully you will continue to find these notifications a valuable resource, however if this message has found you in error, you can use the link at the bottom of this message to get off the list (really, it does work.) 
If you have any questions, don't hesitate to email them to me. I will do my best to get you an answer. If you purchased your equipment from iGage we are here to help you. If you purchased equipment from another vendor, please contact them first for support--it is only fair to us and our customers.
There is a complete list of all of the past notifications [ 
here
 ]. If you know of anyone with GPS equipment who might benefit from these update notifications you can add them to this list with this link: [ 
Add or Delete a user
 ].
Good survey and mapping to you all! 
Mark Silver,
ms@igage.com, +1 801-412-0011 x16
NOTE: This mail list is NOT produced, distributed or endorsed in any way by Trimble or Spectra Precision. The information presented does not reflect any official company viewpoint nor is it a reflection on them. This mail list is generated by me (Mark Silver,) I am just a person and not a company, it contains my personal observations. Any trademarks listed are the property of their owner and are only listed so we can talk about things in more-than-general terms.