Friends & Neighbors:
Maryland's 2022 legislative session begins Wednesday, so below I preview major issues we're tackling & bills I'm introducing.
This is our third year of policymaking in a pandemic, so we'll obviously deal with healthcare, testing & other immediate concerns -- but we also have an ambitious non-COVID-19 policy basket to work through.
This will also be my first session serving as Vice Chair of the Judiciary Committee, and I'm excited to step up for House Speaker Adrienne Jones. From paid family leave & climate change to marijuana legalization, it's shaping up to be a year of robust policy debates in Maryland. Stay tuned.
Thanks for being engaged again in 2022!

Policy Updates
Overruling Larry Hogan's Vetos - In December the legislature met in a special session and restored several laws vetoed by Governor Hogan. Here are some highlights:
Closing For-Profit Immigrant Jails (HB 16) - I was proud to serve as floor leader on our successful effort to override Hogan's veto of Del. Vaughn Stewart & Sen. Will Smith's bill to close Maryland's for-profit ICE jails. Click below to watch floor debate:
Protecting Small Business Owners During COVID Emergency Shutdowns (HB 719) - Governor Hogan vetoed a bill I introduced with Sen. Shelly Hettleman to create a six month pause on commercial landlords seizing homes & personal assets from restaurant & store owners forced to close by the Governor's Emergency Order. Thankfully we were able to override Hogan's veto, but were left with only a few days of protection during the holidays. Click below to watch floor debate:
PURPLE LINE BUSINESS ASSISTANCE & TRANSIT FUNDING (SB 199 & HB 114) - Thankfully, we were able to override Hogan's veto of legislation to provide financial assistance to local businesses impacted by Purple Line construction. The bills from Del. Brooke Lierman & Sen. Cory McCracy also provide baseline funding for transit.
DEPOLITICIZED PAROLE DECISIONS (SB 202) - After decades of advocacy, we finally removed the Governor from the parole process in Maryland. Sen. Delores Kelley's bill will provide relief for those recommended for release, after serving lengthy sentences.
MARYLAND WORKER RIGHTS (SB 9, SB 746 & HB 894) - These bills would facilitiate bargaining & contract rights for workers at University of Maryland and community colleges.
---
I voluntarily reject corporate donations & rely on small donors
:
---
Maryland 2022 Legislative Preview
House & Senate colleagues have begun flagging topics for legislative action in coming weeks. Here are some of the major policies under debate:
Paid Family Leave - I'll be once again supporting "The Time to Care Act," which would make paid leave available to Maryland workers for 12 weeks after a birth/adoption, and to take care of oneself or a sick family member. This would be funded by an insurance pool created through employer and worker contributions.
Healthcare & Childcare - Alongside improving testing capacity & bolstering the healthcare and childcare workforces, I'll be supporting legislation to expand affordable dental, vision and mental health coverage in Maryland.
E

victions & Renter Protections - With evictions continuing in the current pandemic wave, I'll be joining colleagues to once again push for renter protections including increased eviction filing fees, funding for legal assistance & more.
Climate Change - The House & Senate will be advancing legislation to reduce carbon emissions 60% by 2030, along with advances in green building standards, electric vehicles & more.
Untraceable Firearms - With a spike in guns without serial numbers appearing throughout Maryland, we'll be trying to rein in so-called "ghost guns" this year. These weapons can be sold in kits, 3D-printed, or made at home -- but all share the concerning feature of being untraceable.
Reproductive Rights - I'll be supporting colleagues in efforts to expand Maryland's reproductive health access & affordability in the wake of recent federal court actions.
Marijuana Legalization - We're finally likely to vote on cannabis legalization this year, but there are many debates to be had about how to achieve equity in licensing & revenues, automatic expungement & other criminal justice reforms, restrictions on police searches, home cultivation & more.
Here's a sample of some of the bills I'm introducing this year:
Improve Pedestrian Safety at School Bus Stops & Busy Intersections
Provide More Time to Count Absentee Ballots & Cure Ballots with Errors
Remove Impediments to Licensing Qualified Childcare Providers
Ban Use of Racial Data in Calculating Compensation for Injuries
Audit Cases of Wrongful Conviction & Refer Misconduct for Discipline
Restrict Goverment Use of Facial Recognition Technology
End Maryland's Harsh 4-Year Prison Terms for Syringe Possession
Require Animal Abusers to Pay for the Cost of Care
Repeal Antiquated Crimes Targeting LGBTQ Residents
Increase Maryland's Miserly Jury Duty Pay
Expand County Bodycam Requirements to City Police Departments
Stamp Out "Debtors Prisons" in Maryland
I voluntarily reject corporate donations & rely on small donors
:
---
My 100% Environmental Voting Record: I voted for the environment 100% of the time in the legislature this year. I'm proud to once again have a perfect score with Maryland League of Conservation Voters: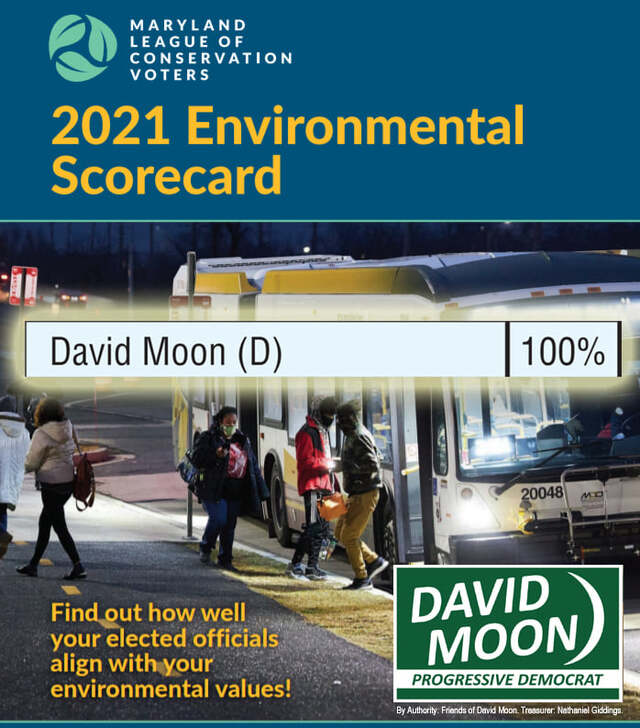 By Authority: Friends of David Moon. Chair: Marlana Valdez. Treasurer: Nathaniel Giddings.
Note that a person can contribute no more than $6,000 to each Maryland state campaign account during the four year cycle, including in-kind contributions. The current cycle began on January 1, 2019 and will end December 31, 2022. Contributions to political campaigns are not tax deductible.