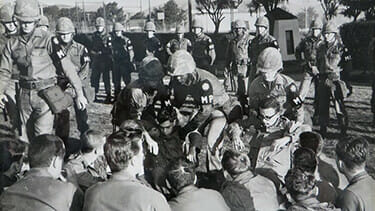 During the Vietnam War era, the Presidio Stockade was a military prison notorious for its poor conditions and overcrowding with many troops imprisoned for refusing to fight in the Vietnam War. When Richard Bunch, a mentally disturbed prisoner, was shot and killed on October 11th, 1968, Presidio inmates began organizing. Three days later, 27 Stockade prisoners broke formation and walked over to a corner of the lawn, where they read a list of grievances about their prison conditions and the larger war effort and sang "We Shall Overcome." The prisoners were charged and tried for "mutiny," and several got 14 to 16 years of confinement. Meanwhile, disillusionment about the Vietnam War continued to grow inside and outside of the military.
"This was for real. We laid it down, and the response by the commanding general changed our lives," recalls Keith Mather, Presidio "mutineer" who escaped to Canada before his trial came up and lived there for 11 years, only to be arrested upon his return to the United States. Mather is currently a member of the San Francisco Bay Area Chapter of Veterans for Peace. Listen to the Courage to Resist podcast with Keith.
D O N A T E
towards a world without war
50th anniversary events at the former Presidio Army Base
October 13th & 14th, 2018
PANEL DISCUSSION
Saturday, October 13, 7 to 9 pm
Presidio Officers' Club
50 Moraga Ave, San Francisco
Featuring panelists: David Cortright (peace scholar), Brendan Sullivan (attorney for mutineers), Randy Rowland (mutiny participant), Keith Mather (mutiny participant), and Jeff Paterson (Courage to Resist).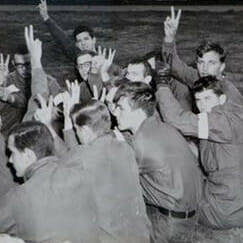 ON SITE COMMEMORATION
Sunday, October 14, 1 to 3 pm
Fort Scott Stockade
1213 Ralston (near Storey), San Francisco
The events are sponsored by the Presidio Land Trust in collaboration with Veterans For Peace Chapter 69-San Francisco with support from Courage to Resist.
D O N A T E
to support resistance