IN THIS ISSUE:

---
Sponsors this week:
The Carpenter Shop
358 North Rockwell
OKC, Ok
405-942-2644
The Carpenter Shop is a full line cabinet and countertop shop that travels all over the state building dream kitchens for discerning customers

This guy is a Noble Oklahoma based company that has great prices on electronics of all types and inexpensive toner and ink for your printer.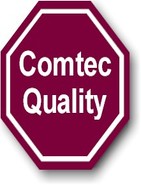 Comtec provides residential and commercial security systems in Oklahoma.
There is only one thing you really need to know about Comtec's quality and pricing, they do not require a contract for their services.
Customers are free to walk away if their service isn't top quality.
Rodent ResistantChicken Feeders!
$50 + Shipping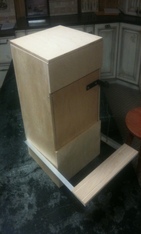 Advertise Your Business, Event, Or Service Here!
$25.00 per week, tens of thousands of Oklahoman
impressions every newsletter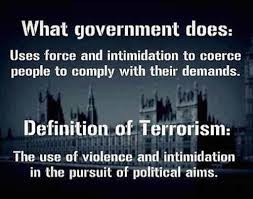 A Trip to The Moon, Part One
By Ms PM
These next few weeks will set the scene for Al's trial set for May 5th, 2014. This is the beginning of a fight between a citizen and the powerful machine armed with corruption. What some may come to understand is this fight really isn't against one citizen but all of us.
I begin here because for many years I have been shown that things happen for a reason. I may not know or understand the reason but none the less I've learned to accept that someone other than me is truly at the wheel. Sometimes it's a lesson I need to learn and at other times someone may need the lesson. To be sure though, someone will learn something.
Jury Duty- My Lesson to Learn
I listened intently as I sat in the courtroom processing all I could take in as the judge instructed all of us "potential jurors." I had never been called for jury duty until now. Even though my name wasn't called to sit in the jury box I heard enough to set the wheels in motion.
The attorneys asked questions of those randomly selected to sit in the box, and I became aware of a reasoning as to why some people were dismissed and others were picked to do their duty. It was a yea or nay from the lawyers to pick the best people, in their mind, which would give a verdict in their favor. Thinking about this I wondered if the outcome was more about which lawyer was the smartest in picking the right people and how much everything really had to do with the case at hand.
I suppose the saying, "You need a good lawyer," is where that came from. I do believe however that lawyers fall into the same "masses of asses" category as the rest of us. Some masses have a higher I.Q. and some are just asses.
Following along with Al's blackmail trial and wondering where it all ends leaves me with much to ponder. First on the list is the fact that he is a friend, I've known him for a few years now, and friendship is something to honor. The waters have been tested as we don't always agree, but somehow respect for a different point of view is always allowed.
Friendship, at least to me, never means throwing your friend under the bus to save face when you have the opportunity to blame them and the truth will never be known as to the deception you have inflicted. Friendship is about being able to speak freely and not be chastised for a different view. It also means that a friend will allow the consequences to unfold along with time for the lesson to be learned.
There is much to be said about a friend that will let a person fall flat on their face without intervention other than their words of wisdom, and after it's all over be there to lend a hand. For me to have a friend requires the ability to be a friend and no one is without imperfections. Human nature doesn't like the outcome when one doesn't get their way and this scenario has always been one of a back and forth nature.
One of Al's qualities that I admire is standing for what he believes and being willing to fight to the end. This doesn't mean anyone is always right but it is admirable when anyone is willing to stand behind their belief regardless of their ideology.
Freedom and liberty for all is a lonely path at times and the tenacity it takes to keep fighting is rare. I've seen so many others give up or back down but that is something foreign to Al's makeup. I've never known anyone willing to take the heat like he will when the fight is between good and evil.
Good, bad or indifferent, it's an admiral quality and few I've known are able to stay the task. This will never mean I always agree with his tactics but it does mean there is more than one way to skin a rat. Politics is nasty and at times it's enough to turn your stomach and leave a rancid taste in your mouth. It is never for the weak or thin skinned and knowing Al, he is neither.
In the case of the State Of Oklahoma vs. Al Gerhart, Al filed a motion to recuse the office of Oklahoma County District Attorney David Prater. The reasons are many In support of his motion and Al's motion states the following:
"This matter (criminal charge) was personally signed by Prater and it is known and believed that the elected DA signs a handful of the charging documents each year."
Many times what is stated isn't to be accepted until the truth is known as to motives. Government trickery is not a new topic. The question to answer is why is Prater so involved with
this
trial?
Next week we will tell the reasons as we see them and you'll begin to understand why we named this story "A trip to the moon."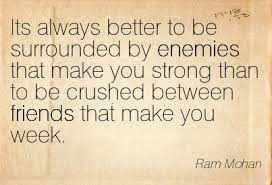 Starting March 12th The Tulsa County Republican Mens Club will be meeting at 5501 South Yale in Tulsa, Ok (LaFortune Park Golf Course Club House).
Here
is the directions.
The new location will have great choices for food and for our first meeting we have invited all of the candidates for State School Superintendent. Our meeting starts at 11:30 and ends at 1.
If you have any questions, to RSVP please call Michael Phillips at (918)747-5934. Dues are $20, open to the public and as always ladies are always welcome!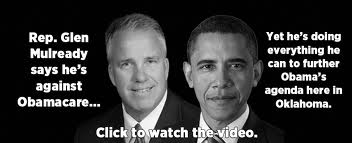 Rep. Glen Mulready, AKA "Mr. Obama Care" (to the left of course of Barak Obama)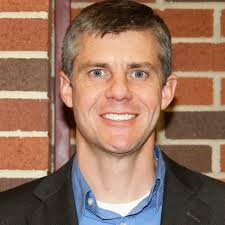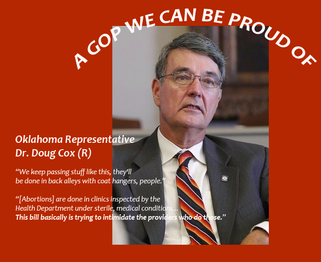 Arthur Hulbert AKA Mr. RINO Doug Cox, AKA "coat hanger Cox"
Mulready Stands Against Legislation that Opposes Obama Care
It wasn't but a few weeks ago that Rep. Glen Mulready emailed the Sooner Tea Party railing against one of our articles criticizing his support for Obama Care and offering to meet with anyone that wanted the "true" story. But his debate against and vote against
HB 2421
this last week should remove all doubt that Rep. Mulready is solidly against any attempt to stop Obama Care in Oklahoma.
HB 2421 would have prevented any state agency or employee from participating in the enforcement of Obama Care and would have allowed the state Attorney General's office the right to file charges against anyone that did try to enforce Obama Care, prevented the state of Oklahoma from setting up an health insurance exchange to participate in Obama Care, and would have given an offsetting tax deduction to any Oklahoman that was penalized by the federal government over their refusal to participate in Obama Care.
Rep Mulready was joined by Rep. Cox (R), Arthur Hulbert (R), Jeannie McDaniel (D), and Shelton (D). Rep Cox of course is a liberal Republican from Tulsa and Rep. Hulbert is a liberal Republican from a House district that runs from Weber falls to Fort Gibson and Muskogee. Seeing these two liberal Republicans siding with liberal Democrats is no surprise to those that read our newsletter. Rep. Cox was the author of the infamous Transvestite Birth Certificate bill and Hulbert is the proud owner of a 34 score on the 2013 Oklahoma RINO Index due to his votes for tax increases and increasing the size of government.
Public Health Committee Meeting
2013-2014 Regular Session
HB2421 Insurance; prohibiting state from aiding
Ritze in enforcement of certain act; prohibit
ing state from establishing health care
DO PASS FAILED
YEAS: 4 RCS# 452
NAYS: 5 2/25/2014
C/P : 0 02:11:54 PM
YEAS: 4
Derby Echols Grau Ritze
NAYS: 5
Cox Hulbert McDaniel (J) Mulready Shelton
CONSTITUTIONAL PRIVILEGE: 0
OK Const. Art. 5, § 24
§ 24. Disclosure of personal or private interest
A member of the Legislature, who has a personal or private interest in any measure or bill, proposed or pending before the Legislature, shall disclose the fact to the House of which he is a member, and shall not vote thereon.
Neither did state statutes prevent Rep. Mulready from supporting a bill that would influence his own pay check. State statures prohibit legislators from self serving legislation:
T. 74, Ch. 62, App. 257:20-1-7
257:20-1-7. Votes, deliberations, and discussions by legislators or statewide elective officers
(a) A legislator or statewide elective officer shall not introduce or cause to have introduced, request the introduction of, promote, or vote on any legislation if the statewide elective officer or legislator or a child adopted child, step-child or spouse of the officer or legislator or a business or entity with which the legislator or officer or a member of the immediate family of the legislator or officer is associated has:
(1) a pecuniary interest in; or
(2) a reasonably foreseeable benefit from;
the legislation. A reasonably foreseeable benefit includes detriment to a business competitor to the legislator or statewide elective officer, to a business competitor of a member of the immediate family of the legislator or officer, or to a business competitor of a business or entity with which the legislator or officer or child, adopted child, step-child or spouse of the legislator or officer is associated.
(b) A legislator or statewide elective officer may introduce or cause to have introduced, request the introduction of, promote, or vote on legislation if the only pecuniary interest or reasonably foreseeable benefit that may accrue to the legislator or officer, child, adopted child, step-child or spouse of the legislator or officer, or business or entity with which a legislator or officer or a child, adopted child, step-child or spouse of a legislator or officer is associated is incidental to the legislator's or officer's, child's, adopted child's, step-child's, or spouse's or business or entity's position, or which accrues to the legislator or officer, child, adopted child, step-child or spouse of the legislator or officer, or business or entity as a member of a profession, occupation, or large class, whichever is applicable, to no significantly greater extent than the pecuniary interest or potential benefit could reasonably be foreseen to accrue to all other members of the profession, occupation, or large class.
(c) Nothing in this subsection shall allow a legislator or a member of the immediate family of a legislator, a statewide elective officer, or a business or entity with which the legislator or statewide elective officer is associated to contract with a governmental entity except as provided in Subsection (b) of Section 10 of this chapter.
Rep. Hulbert and Rep. Sean Roberts were also noticed voting on a bill concerning physical therapists despite the conflict of interest. Both men are themselves physical therapists. Roberts earned a 39 on the 2013 RINO Index, well below RINO status. HB 1020 authored by Hulbert allows physical therapists to see patients without a doctor's referral, vastly increasing their potential business. The practice is considered dangerous because a person might believe a symptom to be a simple pulled muscle instead of a warning sign of a stroke or heart attack.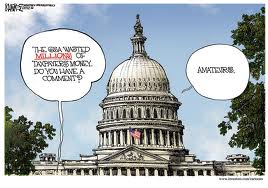 American Indian Cultural Center Doomed
for Financial Support Forever More
Flip Flop Charlie is at it Again!
Last week the OCPAC email contained signs that the OCPAC leader, Charlie Meadows, was testing the water for a possible flip flop on the OCPAC position on the American Indian Cultural Center. Charlie seemed to be clearing the path for a reversal of the long standing OCPAC opposition to additional funding the boondoggle using state taxpayer funds. The project already costs Oklahoma taxpayers seven and a half million dollars a year to retire the initial bonds, an amount that was supposed to fully fund the construction when matched by federal and private money. The state is also on the hook for another half million for security and maintenance costs while the mothballed project slowly rots into the ground. And we are on the hook for these expenditures until 2027. Just paying the 7.5 million in bond payments adds up to almost 100 million dollars.
Much is made by the article of a chance of recovering some of the investment if the project turns a profit but how likely is that? The state has already invested over 97 million as of 2012 in the planned 170 million dollar project that started construction seven years ago but has ground to a halt from a lack of money to finish building it. An audit by the state auditor's office can be found
here
.
The audit report states that the board of the organization has not effectively and efficiently operated so far and that it has yet to develop a business plan that justifies or explains the proposed operating budget requested from the state.
But what are the economic aspects of the project assuming it ever gets built? With a price tag estimated to be at least 171 million dollars upon completion and a continuing subsidy of 11 million dollars from state taxpayer each year to keep the doors open, that alone says that the project was never thought to be self sustaining much less ever returning any profit to retire the debt.
Looking back at this project that started twenty years ago the warning signs were immense. First was the "donated" land that was an abandoned oil well site, in a flood plain, and had limited access to the two interstate highways. You just know that the site was chosen under pressure of State Chamber affiliated land developers who had picked up dirt cheap raw land surrounding the proposed location and plan on making billions if the center ever begins operation. The publicized budget was developed seven years after the work was begun and only then to procure federal funding.
The board of the center had even released a press release in 2008 after receiving 25 million from the state legislature, claiming that the 25 million would allow the completion of the center. Later the board claimed that the press release was unauthorized and denied stating that they had received sufficient funding. The project had ballooned from 100 million to 170 million since then.
The original plan was presented in six forms, from 53 million to 136 million and the board chose the most expensive plan with little debate or thought to financial obligations or future cost of operations. After all, they thought they had a blank check and had no concern about who was to pay for the center. The audit repots goes on to state that the legislature has almost completely ignored their responsibility to audit or track the project and provided no oversight.
The audit ends by recommending actions to fix the problem:
1. Develop an actual budget for construction
2. That the legislature begin oversight of the project on a regular basis
3. Modify board membership by reinstating ex officio board member's voting rights (yes, the few board members with experience in running a museum or state agency had their voting rights removed!)
4. Separate the agency board from the fundraising board which have had identical board members.
5. Develop a realistic operating budget and business plan
The audit goes on to suggest options to clean up the mess:
1. Further funding by the legislature
2. Phased implementation, completing the current construction and then constructing exhibits and other features as public interest and political faith rises in the project.
3. Scale back the existing construction
4. Discontinue funding and operations
5. Transfer ownership and operation to another state agency
6. Modify or transfer ownership to Oklahoma City
The audit lists a completion opening day budget of just over 221 million dollars as of June 2012. So far the building costs around $1,300 per square foot, over four times what the Devon tower cost to build. But if you take the proposed square footage of the center at 125000 and the ultimate opening day cost you come up with over $1700 per square foot. All of this reminds us why governments are poor at picking winners and losers in business. Entering the information in an amortization schedule revealed that debt service would be around 1.2 million per month at 5.5% interest and around 408 million in total cost over thirty years. That is around the same amount that the project has asked from the state as a continuing subsidy so the planned expenses per month will top two million dollars.
Now, what kind of ticket price would be needed to just pay the expenses? If you took the 2 million per month and figured a ten dollar entry ticket for every man, woman, and child, you are looking at 200,000 paying visitors per month. Or 5.2% of the state population traipsing through the museum every month. Each one of us would have to visit once every year and a half! Or consider the Smithsonian Museum in Washington D.C. which brings in around eight million visitors per year. Or the National Museum of American History in Washington D.C that brings in 2.4 million visitors per year. Bottom line is that this museum will never be self sustaining because Oklahoma is no where near the tourist destination that Washington D.C. is and will never be. Hell, we don't even have direct flights to most destinations. Anyone thinking otherwise needs to envision getting the entire population of Oklahoma City to visit that museum every three months. Insanity…. You couldn't even manage the traffic in and out if you had six to seven thousand people coming in every day. And that means only 18 square feet per person during the day? A four x four foot space for each person! Have you ever seen that kind of crowd in any tourist destination short of Disneyland or a foot ball stadium?
But the real question for this story is the tone of Charlie's article at the end where he is asking his readers to offer advice on how to deal with the problem:
"Should we shut it down and let the vagrants swarm into it and become a problem for the city of OKC and the state simply pay off its debts? I believe the Senate will go for finishing the project with money from the unclaimed property fund, the real question will be what will Speaker Hickman and the House do? What is the best way out of this bad deal? I would really like to hear from our readers."
Once again Charlie has become the mouthpiece of his masters instead of the leader of his group. The second you see a group leader telling his people that they must support the project or "let the vagrants swarm into it…" and you know in your bones that one of his handlers has ordered Charlie to drop his opposition to the project or lose access to the politicians.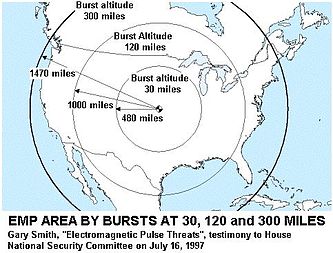 I ran across some interesting legislation last week that seems to have been flying under most everyone's radar. SB 2016, by Senator Ralph Shortey, and the identical House version. HB 2623, by Representatives Pam Peterson and Gus Blackwell, which were both voted out of committee, essentially does two things: it requires public utilities in Oklahoma to protect their electrical grid from an Electromagnetic Pulse (or ""EMP") and also puts a state question on the ballot this coming November to ask the voters if they are willing to agree to pay for a rate increase to provide this protection.
These bills made me curious so I did some investigation. One of the first things I found out is that there was a conference call last December where former CIA Director James Woolsey, former Assistant Secretary of Defense Frank Gaffney and several scientific experts briefed several members of the Oklahoma legislature's Counterterrorism Caucus, along with several representatives of the public utility industry, about the threat posed to Oklahoma and the U.S. by an EMP attack. Now I was really curious. Why would we have such "Big Guns" talking to our people here in Oklahoma? There are several more things I found out.
First, if you are as uninformed as I was, an electromagnetic pulse is a wave of energy that can be produced by a nuclear blast or a solar storm and it can be so intense that it fries everything electrical that it hits. Let me emphasize: it fries everything electrical including computers, cell phones, most cars and trucks, ATM machines, furnaces, water purification & pumping facilities, gameboys and – oh yes – electrical plants. Can we say, "Hurricane Katrina" (good job, Brownie)? This is worse than Mel Gibson in "Mad Max: Beyond Thunderdome"! Gaffney's organization, The Center For Security Policy, recently published a book entitled
Guilty Knowledge
that summarizes eleven (that;s right, 11) different federal studies outlining the threats posed by EMP. Michael Del Rosso, Senior Fellow for Homeland and National Security writes:
"Part of the reason the threat, hazard, and consequences of EMP are not so well known or understood, especially amongst our political elites, may be because even though the DoD has known of this for fifty years and has secured a small number of their key strategic systems, it wasn't until the 2008 publication of the Congressional EMP Commission's
Critical Infrastructure Report
and the associated House and Senate briefings by the EMP Commission's chairman, Dr. William Graham, that the true catastrophic nature of this phenomenon was revealed. Prior to this report such information was relegated to sensitive, compartmentalized security classification..."
If you click on the link to this "Blue Ribbon" Congressional report, you will find several light reading items guaranteed to insure you have a good night's sleep. For example, there are 300 "Super Transformers" in the U.S. and, if they get fried, it would take 12-18 months to replace
ONE
of them. In that intervening time, due to the lack of food and water, Congress estimated that between two-thirds and 90% of America's population would die. In fact, the National Geographic Channel (or "Nat Geo" as the pseudo-intellectuals - and others – call it) aired a special called "American Blackout" that gives a pretty sobering "fictionalized" account of what would happen if the grid goes down. You can see clips of "American Blackout," along with a briefing given by former CIA Director Woolsey, at
www.stopemp.org
.
What is even more sobering is the probability, some even say certainty, that America will face an EMP event. In fact, we have already experienced several EMP events from solar storms. In 1859 the east coast of the U.S. was hit by a massive "Solar Superstorm" that fried everything electrical and caused fires that burned down telegraph offices. Now, back in 1859 the U.S. didn't rely so much upon electricity but, if it happened today, such a storm would cause a "cascading effect" that would cripple virtually ALL of our electrical grid. NASA scientists predict that such storms run in cycles of approximately 150 years. Do the math. We're overdue. In fact, we are currently in a cycle of heightened solar flare activity and got hit with a very small one last Wednesday. By comparison, last year as the earth traveled in its orbit around the sun, we missed by one week a massive solar flare that would have engulfed the entire earth in EMP. Don't believe me? Google the term "Carrington Event" (the name of the 1859 EMP event) and see what you find.
Even more chilling than a solar storm is the threat of EMP posed by the Iranians. Let me give you a few facts. The Iranians have already test-fired a Shahab 3 missile from a destroyer in the Caspian Sea. All they need is a nuclear warhead to put on the Shahab 3 in order to give them a floating platform to launch an EMP attack from. Some experts believe that the Iranians already have nukes. Try this scenario on for size: the Iranian Revolutionary Guard sends some jihadi suicide bombers, hell-bent on getting themselves their 72 virgins, on a destroyer parked off the coast of Norfolk, Virginia where they launch a Shahab 3 carrying a nuke which explodes over Chicago. Game over. America civilization ceases to exist. Sound far-fetched? Former Iranian Revolutionary Guard General (turned CIA spy) "Rheza Khalili" says those are the plans he and other Iranian leaders discussed while sitting around the planning table. In an
event in Washington
sponsored by EMPAct America and the Reserve Officers Association, Senator Ted Cruz gave a sobering analysis of the Iranian situation. No wonder former Iranian President Mahmoud Ahmadinejad declared that "a world without America" was not only "desirable, but achievable."
After I learned these things, I asked myself, "So what?" Why does this concern us here in Oklahoma? Surely, somebody MUST be doing something about this problem. I mean, the first responsibility of a sovereign is to protect its citizenry, right? Isn't the federal government doing something to address this problem? I'll share the absolutely shocking answer with you next week. I'd suggest that you have a sedative handy. The answer will make you so angry you'll need it.
2013 Senate members and House Members
Please copy the block of emails for your contact list so you are able to email all of them and help to inform and educate them before the new sessions begin. Use Bcc to send dozens of email with one email from you to them. This will look like you send each one of them a personal email with only their email showing as the recipient. Please mention the Sooner TeaParty in your emails so they will have a healthy respest for what we do.
Want to reach all 101 House members with two email addresses? Just use these email addresses in the Bcc address line and all 101 of them will get a copy
Here are the updated individual House members email addresses in three blocks of Thirty- four each and updated senate emal addresses in one block
.
Rem
ember to strip the unsubscribe link before forwarding this newsletter to prevent someone from taking you off our list! Use our forward this email link at the top of the newsletter to prevent being accidently unsubscribed.
Money is always needed for printing costs, postage, sign materials, and robo call costs. We are tightfisted; we will spend your hard earned money wisely and frugally as we do our very best to clean up Oklahoma politicians so we can begin to clean up our country.
You can donate by sending a check to Sooner Tea party, 358 North Rockwell Ave, Oklahoma City, OK, 73127 or visit Soonerteaparty.org and use the Paypal donation button.