Jewells Blackwell is an actor based in NYC. From Lady Killers to Lobsters, she delights in collaborating to tell stories. Jewells won Best Actress for her work in the short Deadzone in the New York and LA Film Awards. Insight will screen at the Phillip K. Dick Film Festival in NYC in March. She is currently shooting a feature, performing improv in a monthly show at the PIT NYC and excited for the release of two short films to festivals in 2020.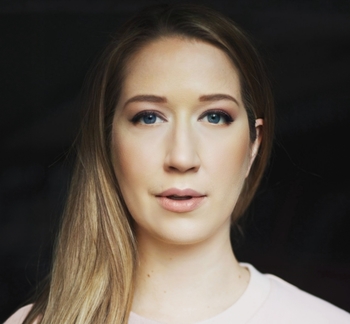 Lindsay-Elizabeth Hand is the Owner and Founder of Edge In Motion Productions LLC, a full-service production company specializing in one of a kind TV Pilots and viral internet content. In addition to producing, Lindsay is an award-winning screenwriter, on the nominating committee for the SAG Awards, and mothers a human child. She is a passionate producer who has a hand in every aspect of production, from the development of the scripts to the logistics of filming and post-production. Lindsay's work has caught the eye of several publications including HuffPo, Funny or Die, Broadway World, A.V. Club, Paste Magazine, Flavorwire, Laughspin, Theater Mania, Spoiled NYC, Downtown Magazine, IGN, Comedy Cake, The Front Row Center, Theater Geek, and Madame Figaro (France) to name a few.
Georgia Warner is an actor, director, writer, and acting coach based in NYC. As an actor, she has worked on and off Broadway, and in dozens of distinguished regional theatre productions (she played Jill Mason alongside Alec Baldwin in the acclaimed Guild Hall production of Equus, and originated the role of Lane in the world premiere of Lyle Kessler's House on Fire), plus a bevy of TV shows, indie films, commercials, web series, music videos, video games, live and recorded comedy sketches, and more staged readings and developmental workshops than she can count. As a writer Georgia works as a journalist for The Independent, writing arts & culture articles and comedic opinion pieces. She has been published as a poet and children's story author, collaborated on and co-penned many comedy scripts, and has occasionally been hired as a script consultant for new works. This year, she served as the official judge of The Hampton's annual Halloween BOO! Short and Scary Story Contest. As a director she has led many children's theatre productions with The Young Artists and Writers Project, as well as full scale and one-act plays in NYC and around the Northeast with Fresh Produce'd, SHOTZ, and others. She has directed multiple short films and comedy sketches, produced both short and feature-length indie films, and worked as a freelance casting director for stage and screen projects. Her knack for helping fellow actors elevate their work has led Georgia to become a respected private acting coach for a wide range of clientele. She launched TSAW (The Seasoned Actor Workshop), a recurring 4-week audition intensive for stage and screen acting, and has proudly helped her clients and students land leading roles in feature films, major Broadway plays and musicals, and hit TV shows.
Two-Mara credits:
Brought to you by Edge In Motion Productions
Produced by Lindsay-Elizabeth Hand
Directed by Georgia Warner
Cinematography by Michael Mastroserio
Edited by Kristopher Knight
Production Manager: Jean-Louis Fragnay
Art Director: Lacie Johnson
Gaffers: Keisuke Nojima and John Zeng
Sound Mixing: Bimo Santoso
Make-Up and Hair: Lani Sunglao
Assistant Make-Up Artist: Will Metivier
Production Assistants Molly Wymer, Dan Giannone, Jim Reilly, David Caligure
Original Music: Jo Eubanks and Georgia Warner
Composed by Evan Johnston
Featuring Walker P. Vreeland as the Therapist
A very "Special Thanks" to Sarah's wonderful parents and the "Real" Mara Sisters.
For all media requests, please contact Andrew Gerhan - andrew@sharkpartymedia.com
---