Good Morning CSA Members,
  Today, Wednesday June 8th is a CSA pick up.  Your share will be available for pick up from 4-7pm at your chosen pick-up location. 
  We have been packing so many different projects into each day that if you were to ask one of the farmers what the first thing they did on the farm today was, they would probably look a bit puzzled as they go through the day in their mind trying to remember.
  With the day light continuing to increase for just a another week before the summer solstice we have been busy planting, setting up more irrigation, weeding and harvesting. The early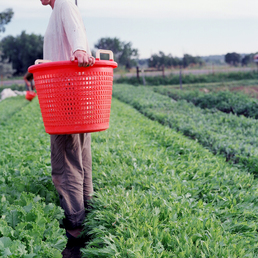 early season conversations about making a bunch of carrots a minute has come to be actualized at this point of the season. Early season conversations about cutting 300-400 pounds of greens by 10am have been actualizes at this point. We are not just getting ready any more.....it is all here and all happening.... trying to keep up with mother nature and her ever changing ways.
  For us, knowing that our efforts in the field provide your families with the highest quality produce offers the best feeling of gratification, and maybe, just maybe our sweet carrots will stop you in your tracks when you take a bite and you will say out loud "that's the best carrot I've ever had". Hope that you enjoy the harvest.
Carrots
Turnips
Spinach
Salad Mix
Pea Shoots
Fruit share: Strawberries
Egg Share: Pick-up every week
Flower Share: Peonies
Bread Share: Yes! this week
Coffee Share: Yes! this week
Coming next week: carrots, spinach, head lettuce, and more.....
    I am not sure who was more surprised, me or the bird.  I know it was not malicious nor probably intentional, yet I do have to say without a doubt that we had a moment.  The moment being between me and a baby robin.                                 
   The scene is as follows, me (Paul) driving with windows down approaching the freshly ploughed fields with perfect wind blown hair.  Alas, a baby robin just spreading it's wings lands on my windowsill, shock ensues. 
    We stare, agree that we have nothing in common and both move on.  There in that brief encounter though was the encapsulation of spring, the beginning of flight, the joy of new friends, the need for retreat and the ability to regroup and move forward.  
  It always occurs when you least expect it to.  That being a new beginning, but life will turn the page on it's own time regardless of your own plans and desires and thus we find ourselves with hands clutching the quill in ink,  the feet tied within boots and a sudden ability of flight.
Enjoy! 
  Bread share begins this week with Kim & Jakes vegan & gluten free peasant loaf. Bread share pick-up is every other week (10 weeks, $60) . Let us now if you would like to add a bread share to your CSA pick-up.
Turnip Gratin


Gratin meaning "topped with a browned crust" - what could be better? Creamy, cheesy, and something different than roasted turnips!

Ginger-Glazed Grilled Carrot and Pea Shoot Salad Use your baby carrots, pea shoots, and salad mix!

Spinach and Sun Dried Tomato Pasta Pick up some Italian sausage at our farm store to go with this recipe!
Strawberry Freezer Jam
This is one of our intern's family recipes!

Turnip Gratin
2 cups heavy cream
3 cloves garlic, smashed
1 bundle thyme
Pinch of cayenne
Kosher salt
1/2 stick butter, plus extra for baking dish
2 pounds turnips, peeled and sliced very thin (mandoline works best)
1 1/2 cups grated parmigiano
Directions
Special Equipment: mandolin, 11 by 7-inch baking dish
Preheat the oven to 375 degrees F.
Put the cream, garlic, thyme and cayenne in a saucepan and season it with salt. Taste to make sure it is adequately seasoned. Bring the cream to a boil and then turn off the heat. Let the mixture steep for 15 to 20 minutes.
Butter the baking dish and layer in 1/3 of the sliced turnips. Sprinkle 1/3 of the grated cheese over the turnips and dot with 1/3 of the butter. Remove the thyme and garlic from the cream and pour 1/3 of the cream over the turnips. Repeat this process 2 more times until all of the ingredients are used up.
Cover the dish with foil, place on a baking sheet and bake in the preheated oven for 35 to 40 minutes. Remove the foil and bake for another 20 minutes, until golden. When done a fork should slide in and out of the center of the dish easily.
For easier serving, let the dish rest 10 to 12 minutes before serving.
 Spinach and Sun Dried Tomato Pasta
8 ounces whole wheat penne pasta
1 tablespoon extra virgin olive oil
8 ounces pre-cooked chicken sausage links (I used Trader Joe's roasted garlic flavor), cut into bite-sized pieces
1 (14-ounce) can reduced sodium white beans, rinsed and drained (I used Great Northern; cannelli or white kidney would work as well)
1/4 cup sun dried tomatoes in olive oil, drained and chopped
2 cloves garlic, minced
1/4 teaspoon kosher salt
1/4 teaspoon black pepper
1/4 teaspoon red pepper flakes
5 cups mixed tender greens—I used half arugula, half baby spinach
1/2 cup freshly grated parmesan cheese
Chopped fresh herbs: parsley, basil, green onions (anything you like or have on hand)
Directions
Bring a large pot of salted water to a boil and cook pasta until al dente, according to package directions. Reserve 1/2 cup of the pasta cooking liquid, then drain pasta and set aside.
In a large, deep skillet, heat the olive oil over medium high. Add the sausage and brown on all sides. Reduce the heat to medium, then add the white beans, sun dried tomatoes, garlic, salt and pepper. Cook until the beans are warmed through and the garlic is fragrant, about 1 minute. Stir in the reserved pasta, then the spinach and arugula. If the pasta seems dry, add a little of the reserved pasta water to loosen it. Cook just until the greens wilt, about 30 seconds. Remove from heat and sprinkle with Parmesan and herbs. Enjoy warm.
Six Week Beekeeping Class
   Join us on Saturdays at the Cure Organic Farm apiaries for a comprehensive, six-week course for beginning beekeepers. We cover everything you'll need to know for your first year of beekeeping, from starting up your home apiary to treating bee disease, harvesting honey, and preparing your hives for winter.
    We believe that the apiary is the best place to learn about beekeeping. Dynamic class sessions include a balance of classroom and "in-hive" activities, offering participants plenty of hands-on bee experience. This early summer course provides beekeepers the opportunity to implement what they learn in class on their own hives at home. Small class size allows our two beekeeping instructors to provide plenty of personalized attention.
Course topics will include:
June 11: Introduction to beekeeping
June 18: Preparing your home apiary
June 25: Basic beekeeping techniques
July 2: Disease diagnosis and treatment
July 9: Caring for the queen bee
July 16: Honey production and strategies for winter survival
    This course is for first-time beekeepers, or beginners looking to develop their skills. Our instructors are bilingual, so both English and Spanish speakers are welcome! Class size will be limited to 8 (minimum 5 participants). Youth 15 years and over are welcome to participate if accompanied by an adult. For liability reasons, we ask that all participants be bee-allergy free.

CSA pick-up-  Wednesday, June 1st - Oct. 12th, 4-7pm.
Farm Store Open- Wednesday-Friday from 11am-6pm;               Saturday-Sunday 10am-4pm.
Boulder Farmers Markets- Wednesday evenings from 4-8pm; Saturday 8am-2pm. April-Nov.
Denver Union Station Farmers Market- Saturdays June 4th-Nov 1; 9am-2pm.
Volunteer Day- Every Thursday from 9am-noon. We will finish planting tomatoes in the field tomorrow!
"Coffee is one of the world's most valuable commodities, second only to oil."
                                                 - Conscious Coffees

Coffee Share begins today, offering you locally roasted beans from Peru. Coffee share is distributed every other week (10 weeks , $110).  Once you enjoy their coffee and learn about their connection with the growers, you won't want to start your day out with any other cup of coffee.  Send us an email if you would like to add a coffee share to your CSA pick-up!
I'd rather learn from one bird how to sing than to teach ten thousand stars how not to dance.
ee cummings
Strawberry Freezer Jam
2 cups crushed strawberries
4 cups sugar, measured into a separate bowl
¾ cup water
1 package SURE-JELL Fruit Pectin
Directions
Rinse 5 (1-cup) containers with boiling water. Dry thoroughly.
Discard strawberry stems, and crush berries one cup at a time.
Measure exactly two cups prepared fruit in large bowl and stir in the sugar. Let stand for 10 minutes, stirring occasionally.
Mix water and pectin in small saucepan, bring to a boil on high, stir constantly. Continue to boil and stir for one minute.
Add fruit and sugar mixture, stir for three minutes or until most of the sugar is dissolved (some sugar crystals may remain).
Fill containers immediately to within ½ inch of the tops of containers. Wipe off edges and immediately cover with lids. Let stand at room temp for 24 hours.
Jam is now ready to use! Store in refrigerator for up to three weeks or in the freezer up to one year!
Ginger-Glazed Grilled Carrot and Pea Shoot Salad
1 lb carrots, peeled, halved and chopped to 1-2″ pieces
about 3 cups fresh pea shoots
1 clove garlic, minced
1 tablespoon grated fresh ginger
juice of 1 lime
2 tablespoons light brown sugar
dash of salt and pepper
2 tablespoon extra-virgin olive oil
Directions
Combine the carrot pieces with the garlic, ginger, juice of half the lime, brown sugar, 1 tablespoon of the olive oil and a dash of salt and pepper in a bowl and toss well (or combine in a plastic bag and shake). Let marinade for 30 minutes or up to overnight.
Heat a grill to a high flame. Place carrots on the rack split-side down. Cover grill and let cook for 3-5 minutes. Remove cover, and flip carefully once. Cook another 2-4 minutes or until the largest chunks have charred on both sides (removing smaller pieces that have charred first). Let cool a few minutes.
Meanwhile, toss the pea shoots with the remaining tablespoon of olive oil and juice of half the lime. Add a pinch of salt and pepper. Toss in the carrots and serve immediately.



Cure Organic Farm

7416 Valmont Rd.
Boulder, CO 80301
cureorganicfarm@yahoo.com
www.cureorganicfarm.com