Please scroll down for English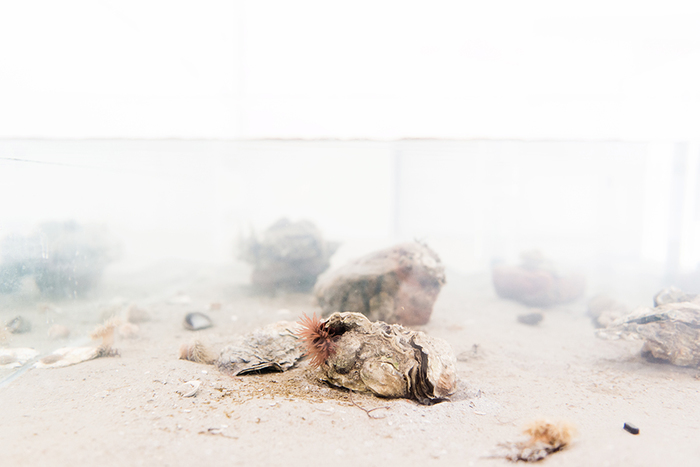 Eamonn Harnett, installatiefoto A Tale of a Tub. Foto: Fabian Landewee. De zeeanemonen zijn gezond en behoorlijk gegroeid sinds de opening!
Op donderdag 31 mei om 16:00 a.s. nodigen wij u graag uit voor een gesprek met Eamonn Harnett. De kunstenaar zal ingaan op de werken die momenteel te zien zijn in Assemblages of Intimacy. Door verbanden te leggen tussen traditionele wereldbeelden, ideologische opvattingen en de eigenschappen van ecologische systemen onderzoekt Harnett hoe wij meer betrokken kunnen raken bij onze natuurlijke omgeving.
Door persoonlijke omstandigheden heeft dichter Patricia Lockwood haar deelname aan het Poetry International Festival helaas moeten afzeggen. Wij wensen haar alle goeds en kijken uit naar een nieuwe ontmoeting volgend jaar. Haar voordracht bij A Tale of a Tub op zaterdag 2 juni om 15:00 wordt overgenomen door de Zweedse Ida Börjel, een van de meest radicale stemmen in de hedendaagse conceptuele poëzie. Lees hier meer over dit event.
Op woensdag 13 juni openen wij de deuren voor The Fondle Tour, een intiem avondprogramma met nieuw werk van Mitra Saboury, Nina Sarnelle en Megan Snowe, rondom alledaagse erotiek, humor en twijfel. In de video's van Saboury gebruikt zij haar lichaam als hulpmiddel om de omgeving schoon te maken. Sarnelle's Tell me about yr research is een muzikale performance die wordt gecombineerd met video. Snowe zal lezen uit een verzameling korte softcore verhalen over lichamelijk afval. Het programma begint om 19:30 en duurt tot 21:00.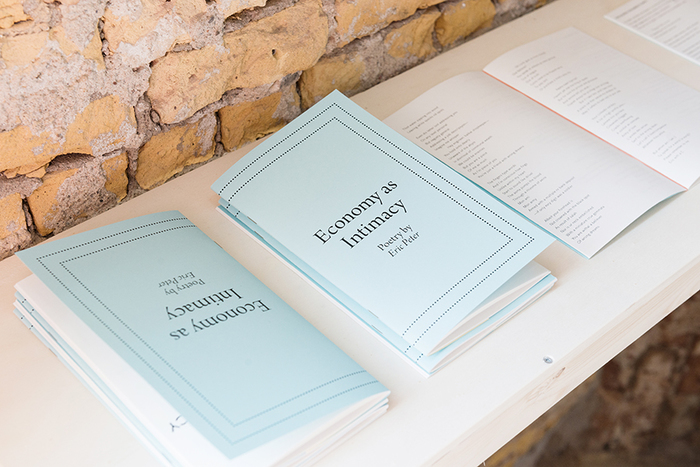 Eric Peter, Economy as Intimacy, 2018, publicatie en reading(s) als onderdeel van Assemblages of Intimacy. Foto: Fabian Landewee
De video Children of Unquiet van Mikhail Karikis, die momenteel te zien is in onze kelder, heeft al veel bezoekers geraakt. Wij zijn dan ook blij om u uit te kunnen nodigen voor een gesprek met de kunstenaar op donderdag 21 juni om 19:30. Karikis' meeslepende audiovisuele installaties en performances, komen voort uit zijn langdurige onderzoek naar de stem als sculpturaal materiaal en sociaal-politiek medium. Zijn werken benadrukken alternatieve manieren van het menselijk bestaan, waarin solidariteit en actie een rol spelen.
Last but not least… Wat beveiliging en privacy betreft, gebruikt A Tale of a Tub de normen die de AVG oplegt al geruime tijd. We slaan alleen uw emailadres op, zonder uw naam of verdere gegevens, met als enig doel u af en toe onze nieuwsbrief toe te sturen. We hebben uw emailadres nooit gedeeld met derden en zullen dat ook in de toekomst niet doen. Ons mailingprogramma is al vele jaren versleuteld, een afmeldlink wordt automatisch toegevoegd onderaan elke mailing, dubbele opt-in is de standaard voor registratieformulieren en er wordt continu een back-up gemaakt van alle gegevens. Onze nieuwsbriefservers en back-ups bevinden zich in de Europese Unie en uw gegevens verlaten de EU niet.
---
A Tale of a Tub invites you for a conversation with artist Eamonn Harnett, whose work is currently on view as part of the exhibition Assemblages of Intimacy, on Thursday, 31 May at 4pm. Through a layering of personal and non-personal references of traditional world views and existing biotope systems, Harnett questions what physically and emotionally heeds us to become more involved, empathetic and at one with the natural environment.
Due to personal circumstances, poet Patricia Lockwood unfortunately had to cancel her trip to Rotterdam. We wish her all the best and look forward to meeting up with her next year during Poetry International Festival. Swedish poet Ida Börjel, one of the most radical voices in contemporary conceptual poetry, will replace her at the reading at A Tale of a Tub on Saturday 2 June at 3pm. Click here for more information.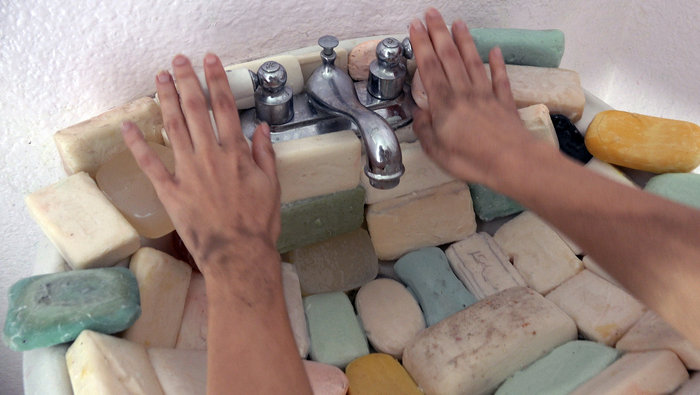 Video still by Mitra Saboury
Join us for The Fondle Tour on Wednesday 13 June, 7:30pm — 9:00pm. The Fondle Tour is a three-person show presenting new work by Mitra Saboury, Nina Sarnelle and Megan Snowe in an intimate event of everyday erotica, humor and doubt. In Saboury's videos, her body is used as a tool to clean the surrounding environment. Sarnelle's Tell me about yr research is a language-driven music set that interacts with projected video. Snowe will read from a collection of soft-core raunch short stories about bodily detritus.
With his ongoing project Economy as Intimacy, Eric Peter questions the relationship between economy and intimacy. The writing and recitation of poems by the artist about economic exchanges—between sellers, buyers and producers—enables a certain personalization of the economic, at a time when income, wages and debt have become increasingly elusive. Join us for an intimate reading of poetry and a conversation with Eric Peter on Sunday 17 June, 3:30pm —5pm.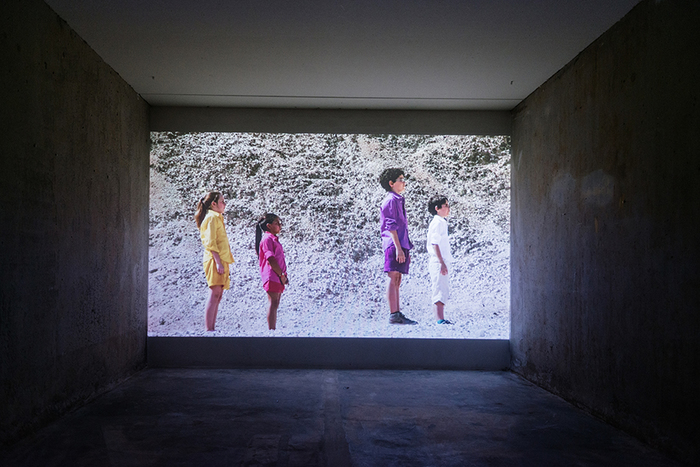 Mikhail Karikis, Children of Unquiet, 2014, installation view A Tale of a Tub. Photo: Fabian Landewee
Many visitors have been touched by Mikhail Karikis' video Children of Unquiet, which is currently on view in our basement. We are happy to invite you to an artist talk with Karikis on Thursday 21 June at 7:30pm. His
immersive audio-visual installations and performances emerge from the artist's long-standing investigation of the voice as a sculptural material and a socio-political agent. He often collaborates with communities and his works highlight alternative modes of human existence, solidarity and action.
Last but not least… As far as security and privacy by design are concerned, A Tale of a Tub has been using the standards that GDPR imposes for quite some time. We only store your emailadress, without your name or other data, for the sole purpose of sending you our newsletter once in a while. We never have and never will share your emailadress with third parties. Our mailing application has been encrypted for many years, an unsubscribe link is automatically added at the bottom of each mailing, double opt-in is the standard for newsletter registration forms and all data is constantly backed up. Our newsletter servers and back-ups are located in the European Union and your data does not leave the EU.
Met vriendelijke groet, warm regards,
A Tale of a Tub
Justus van Effenstraat 44
3027 TK Rotterdam