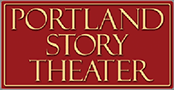 Building Community Through Story Since 2004
Happy New Year! We hope 2018 is going well for you — all 11 days of it so far. We hope that you'll take our advice and forget the resolutions. Think about living intentionally instead. What matters to you this year? Do that!
Everyone at Portland Story Theater thanks you for your continued support. We are grateful for you — our listeners, our storytellers, our donors, our volunteers — everyone who believes that supporting this art form makes the world a better place, one real, true story at a time. So thanks.
2017 was a time of change in our world, our country, our city. So we at Portland Story Theater focused on building resisliency. We held on tightly to our vision: to advance, inspire and expand our community narrative, one story at a time – and in doing so, preserve and promote the ancient art of storytelling in a way that enriches modern life, allowing and encouraging people to be vulnerable and present in ways that are crucial to the full expression of our humanity.
We've created a review of the past year and hope you'll take the time to read it and make a comment.
[
Read more of this post...
]
Portland Story Theater's 2017-2018 Season is generously supported by The McIvor Family Charitable Fund; Tonkon Torp; John Moe; Diane Ponti and Ward Greene; Ronni Lacroute; Polk Family Charitable Fund; Dana and Steve Dennis; members of the Portland Story Theater Board, Founding Circle, and Narrative Network, and many other individual supporters, as well as by the Oregon Community Foundation; The Collins Foundation; James F. and Marion L. Miller Foundation; Meyer Memorial Trust; The Kinsman Foundation; The Autzen Foundation;
NW Natural Gas; and
The Oregon Cultural Trust. Thank you!
Photo Credit: Kelly Nissl