This Sunday, August 7, 5PM, NIGHT + MARKET will be hosting a Northern Thai BBQ on our back patio. There is no specific occasion--just a gathering of friends and an opportunity to cook on an open flame!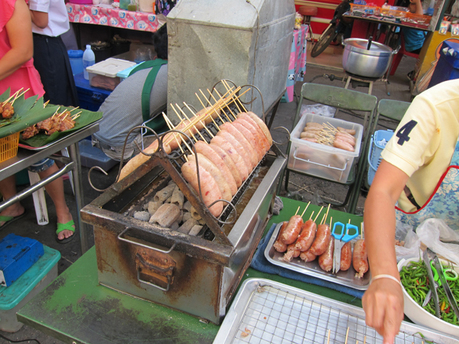 On a recent trip to Thailand's North country, we hauled back three sausage grills. These grills are simple (read: ghetto) little contraptions that are typically fueled with coconut shells. Modest as they may seem, they are responsible for much of the amazing food that comes from this region.

Sunday's menu will consist of regional specialties from Chieng Rai and Isan. It will center around two types of sausage: Sai Uah (Chieng Rai herb sausage) and Sai Krok Isan (Northeastern fermented pork sausage), both of which are completely hand-stuffed in our kitchen every couple of days.

In addition to the sausage, we will be serving the following dishes:

nuoc mam chicken wings fried. with rooster sauce

pork satay skewers bathed in condensed milk. grilled

'kor moo yang' | pork toro grilled fatty hog collar. with 'jaew' northeastern chile dip

bbq 'moo daeng' pork ribs over shredded cabbage w/garlic & lime

salted beef 'neuah kem' oven-dried. deep-fried. best eaten with sticky rice

*moo sadoong | 'startled pig' slices of grilled pork shoulder w/ mint, thai basil, lemongrass, fish sauce, lime, bird eye chile, toasted rice powder

*gang ho | 'dry' pork stew fatty delicious belly and shoulder cuts, slowly simmered with palm sugar, pickled garlic and ginger. tossed with glass noodles

*hor ab | catfish tamale catfish baked in a banana leaf with chieng rai chile and spices

sticky rice

coconut rice

$29 gets you a sausage plate (Chieng Rai and Isan w / trimmings) and 3 other items of your choice (*excluding these items).

Additional helpings, along with starred items, may be purchased a la carte (priced $2 - $10).

The lovely ladies of Ubriaca LA will be on hand with a pop-up wine bar. We're especially stoked, as we requested they bring Thai BBQ-appropriate wines that are NOT Riesling (which we love, but feel is too predictable as a pairing with Thai food). In response, we've heard whispers of Pineau d'Aunis making an appearance, to which we can only say, 'HELL YES!'

Here's a few words about our friends:

"In Italian, the word ubriaca means "drunk," which is what you may be, if you sample all the wines on tap at LA's newest pop-up, Ubriaca LA (@ubriacaLA). A wandering wine bar hosted by Domaine LA's Jill Bernheimer and her cohort Whitney Adams (Brunellos Have More Fun), each event focuses on a different region, grape, style and theme."

Wines will be in the $12 range per glass.

NIGHT + MARKET's Northern Thai BBQ & wandering wine bar by Domaine LA & Ubriaca, Sunday Aug 7, 5PM
NIGHT+MARKET

9041 Sunset Blvd (enter through Talésai, we're thru the curtain behind the bar)

West Hollywood, CA 90069

No reservations necessary.


________________________________________________________