Now available! One Step for qPCR
Minerva Biolabs have just launched Venor®GeM qOneStep: a qPCR-based version of the ever popular Venor®GeM OneStep kit proven to be an effective tool in the detection of mycoplasma in cell culture assays. It combines qPCR and the simplicity of ready-to-use OneStep mastermixes.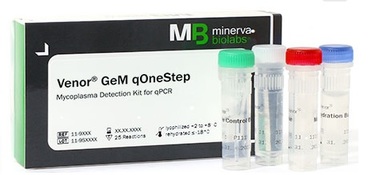 Venor®GeM qOneStep is a mycoplasma qPCR detection kit which includes all reagents required for the qPCR reaction. Primer, nucleotides, polymerase and the internal amplification control are provided as a ready-to-use lyophilized reaction mixes. Rehydration buffer and lyophilized Positive Control DNA are also provided in the kit.
The assay can be performed with any type of real-time PCR cycler able to detect the fluorescence dyes FAM™ and HEX™. The protocol provided is recommended for the fast and reliable screening of cell culture supernatants. The detection procedure can be performed within 3 hours.
Take a look at the the simple procedure below.