Friends & Neighbors:
Maryland's legislative session ended last week, so I wrote a summary of new laws we passed, including bills to provide paid family leave & dental care for those who need it most, ban sale of untraceable "ghost" guns, expand child care & more. Marijuana legalization will also be a question on the ballot this November (details below).
I was proud to vote YES on these & other justice efforts, so I hope for your vote as I seek re-election. S
how support with a FREE "David Moon" sign or sticker:
NOTE: The Democratic Primary Election date has changed to Tuesday, July 19, 2022.
Thanks again for being engaged!

P.S.

College & Grad School Scholarships Available

- The state makes scholarships available to residents of District 20 attending a Maryland school. Applications for 2022 are now open (due 5/15/22): Apply Online.
Important Bills That Passed in Maryland This Year
I was proud to vote YES on a few noteworthy bills this year. Here are some highlights:
HEALTH CARE - I Voted to Provide Dental Care to Adults with Medicaid, Cap Insulin Costs, Stabilize Healthcare Premiums & Care for Pregnant Residents Regardless of Immigration Status (HB 6, SB 353, HB 413 & HB 1080).
PAID FAMILY LEAVE - I Voted to Create a Program to Provide 12 Weeks Paid Leave to Care for Sick Family or 24 Weeks for New Children (SB 275).
PEACE - I Voted to Divest Maryland's Pension Fund from Russia & for a Resolution in Solidarity with Ukraine (HB 1482 & HJ 8).
GUN VIOLENCE - I Voted to Ban Sale/Possession of Untraceable Firearms (HB 425).
CHILD CARE - I Voted for Over $100 Million to Support Child Care Staff, Facilities & Scholarships (HB 89, HB 1100, HB 993, HB 995, HB 725).
MARIJUANA - I Voted to Legalize Cannabis Possession & Home Cultivation and Automatically Expunge Records (HB 1 & HB 837) - THIS REQUIRES VOTER APPROVAL AT THE NOVEMBER 8 GENERAL ELECTION.
CLIMATE CHANGE - I Voted to Speed Up Reduction of Maryland Carbon Emissions to 60% by 2031 & to Zero Out By 2045 (SB 528).
COLLEGE TUITION - I Voted for $112 Million a Year for College Scholarships to Students from Families with Low & Moderate Incomes (HB 734) & 20% Increase in Higher Education Spending (Annual Budget).
REPRODUCTIVE RIGHTS - I Voted to Expand Insurance Coverage & Access to Reproductive Services In the Wake of Recent Attacks by Courts (HB 937)
RENTERS - I Voted for Legal Aid for Tenants, Compliance with Laws for Landlords Seeking to Evict & Pauses for Tenants Seeking Grants (HB 571, HB 174, HB 932).
SCHOOLS - I Voted for Planning to Ensure Adequate School Bus Drivers, Smoother Transition to Virtual Learning, Bonuses to Retain Support Staff (HB 753, HB 1163, HB 1349) & Historic $8 Billion Public School Funding (Annual Budget).
RETIREES - I Voted for a $1K Credit for Retirees Making Under $100K (HB 1468).
ROAD SAFETY & DRAG RACING - I Voted to Require Review of Roads or Intersections Where People Walking/Biking Are Killed & to Impound Cars Used in Drag Race Gatherings (HB 254 & SB 612).
SILVER SPRING & PURPLE LINE BUSINESS DISTRICTS - I Voted to Give Small & Minority-Owned Businesses Greater Representation in Downtown Silver Spring and Support for Businesses Impacted by Purple Line Construction (HB 1340 & SB 191).
---
---
A Few Of My Bills Passed - Here's What They Do
Double Pay for Jury Duty (HB 208) - We passed legislation I introduced with Sen. Jill Carter to increase jury pay from $15 to $30/day (the same as Virginia & DC).
Stop Arresting Residents for Debts Under $5000 (HB 349) - We voted to end the practice of arresting people for small claims cases with under $5000 in dispute. Right now, creditors can put a lien on your body to force your arrest. I introduced this with Sen. Will Smith, who has been working on this for years with Attorney General Brian Frosh.
Use Data to Improve Safety at School Bus Stops (HB 813) - We passed legislation I introduced to require school bus fine data to trigger additional safety measures & reduce solutions built solely on fines.
Ban Sexism & Racism In Compensation for Injuries (HB 244) - We approved legislation I worked on with Sen. Ron Watson to stop letting those who injure others pay women & minorities less, on the basis that they tend to earn less.
Fund Animal Shelters During Cruelty & Hoarding Cases (HB 1062) - We passed legislation I introduced with Sen. Jeff Waldstreicher to compensate humane agencies for animal care during lengthy cruelty & neglect cases, often involving hoarding with dozens of animals.
Decriminalize Minor Drivers License Offenses (HB 206) - We passed legislation I introduced with Sen. Jill Carter to repeal yet another law subjecting drivers to arrest over petty license violations. We've steadily deleted jail penalties on a range of driving offenses unworthy of incarceration.
School Discipline Reporting & Right to Attorney (HB 146) - We passed legislation I worked on with Del. Vanessa Atterbeary to report on how schools handle offenses committed by students & to ensure those facing discipline have the right to an attorney. This legislation results from concerns about the handling of some special education students.
---
Recent News Coverage of My Work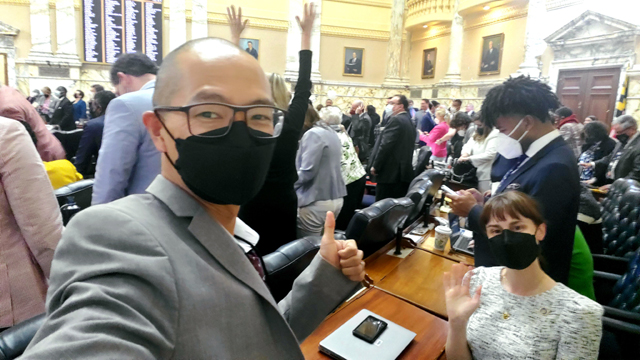 My 100% Environmental Voting Record: I voted for the environment 100% of the time. I'm proud to have a perfect score with Maryland League of Conservation Voters: