If you cannot read this newsletter, click here to view this email in your browser
| | | | |
| --- | --- | --- | --- |
| | | | June 2022 |
Dear ,
Thank you for reading our newsletter.
After two years of mainly continuing our activities using online tools such as Zoom and Teams, we are glad that we can finally continue our activities and projects on location and meet our customers.
At the same time, many organizations know how to find their way again for a study trip to the Netherlands.
A sneak peek of our activities, you find in this newsletter.
| | |
| --- | --- |
| Training for female engineers in Iraq | |
In mid-May, 20 female-only participants followed an inspiring training course in Iraq. The training course is part of a
Nuffic
-funded, tailor-made training project called "Training female extension staff and business professionals on climate-smart agriculture in Anbar Governorate" in Iraq.
As female professionals, female extension workers and business professionals play an important role in reaching female farmers in this region. Female farmers in Iraq are in a vulnerable position, as many of them are returnees and widows who are responsible for the income and well-being of their families.
The training course was held in Ramadi in central Iraq and covered soil fertility, protected horticulture, animal husbandry and workshops on female farming and also an online introduction to CowSignals®.
The project is supported by the Iraqi Ministry of Agriculture/Extension Services and the Governorate of Anbar.
| | |
| --- | --- |
| Egypt learns about climate-smart solutions | |
Twelve Egyptian researchers, advisors, teachers, and entrepreneurs visited the Netherlands in May 2022 to gather ideas about best practices and solutions in climate-smart agriculture (CSA). During the five-day program, the Egyptian delegates interacted with peers from various educational institutions and agricultural companies.The participants were eager to apply their newly gained knowledge in their home environment.
The study tour is part of a multi-year project on "climate-smart agriculture and modern water management". It is funded by the Orange Knowledge Programme and managed by
Nuffic
, the Dutch organisation for internationalisation in education.
| | |
| --- | --- |
| Jordan: impressed by the future agro-engineers | |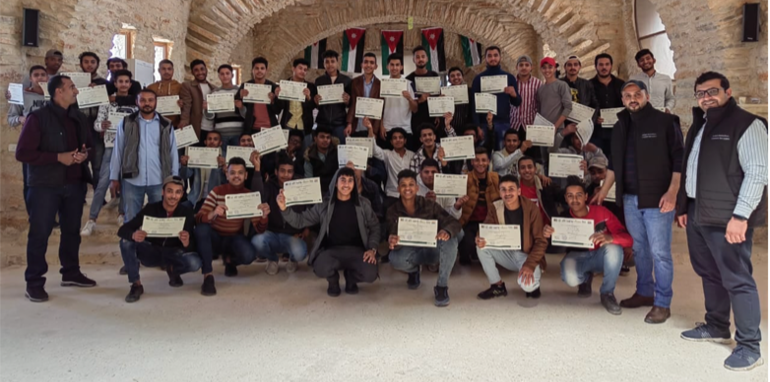 Enthusiastic, creative, knowledgeable and energetic: these are some of the characteristics of the young students we got to know from the Al-Farouq and Al Zamalieh vocational schools in Jordan.
Practical workshops
In late March, workshops were held for a group of more than 40 students of agriculture on hydroponic techniques, integrated pest management and value chain management. The training was held at the Jordanian Agricultural Engineers Association station for research and training. The trainers not only focused on theory but also provided technical training. In addition, they devoted special attention to specific aspects of interest for the participants.
Student challenge
In April, we organized workshops at both schools and challenged students to think about solutions for problems in the sector and to think about business opportunities for the production sector. All staff, Dutch experts and invitees were impressed by these young students' creativity, presentation skills, smart ideas, and enthusiasm. The students are currently fleshing out their ideas, and in the coming period a special day will be organized where they can present these ideas to a jury. We'll keep you updated.
| | |
| --- | --- |
| | |
In June 2022, a large delegation of policymakers from the Ministry of Education In Indonesia, officials from the future vocational Centre of Excellence, and education professionals visited the Netherlands. The purpose of the visit was exposure to the Dutch experience in addressing key challenges in the agri-food sector, such as training future agri-food professionals.
The rapidly developing agri-food sector In Indonesia is generating new and transformative partnerships between the education sector and the business community, which will benefit all parties involved. Dutch companies operating in Indonesia, and Dutch professionals in the education sector who are interested in working with Indonesian educational institutes, met the delegation and discussed partnerships at the network event on June 17. This event provided an opportunity for exchange and dialogue.
The event is part of two programs funded by
Nuffic
and implemented by HollandDoor and consortium partners, the
HAS University of Applied Sciences
,
Wageningen University and Research
,
Zone college
,
VHL University
,
Yuverta
and
Lentiz
. The programs are being launched In Indonesia and aim to revitalize the country's vocational education system.
| | |
| --- | --- |
| Benin LCAs professionalize their teaching staff | |
| | | |
| --- | --- | --- |
| | | |
HollandDoor has been implementing an OKP TMT+ Project (Orange Knowledge Programme, Tailor-Made Training) in Benin since 2020, funded by
Nuffic
. The objective is to refresh and upgrade the vocational education capacities of teachers at four LCAs (lycées techniques agricoles, technical agrarian high schools) located in the north of Benin in Banikoara, Ina, Kika, and Natitingou. The project is divided into three work groups: animal production, horticulture, and irrigation.
In April, the animal production work group held a second week of joint intensive training. This session focused on "feeding and health," whereas the first one focused on "breeding and milking."
Read more
In June, the horticultural working group held its second week of joint intensive training. The main focus there was on "Plant health," with an in-depth focus on "Plant and climate," "Soil and substrate," and "Crop protection". The training was set up to immediately convert each theory introduced in the training sessions into practical implementation, with the ultimate aim of developing a teaching module.
Read more
| | |
| --- | --- |
| Setting up agri-food industrial parks in Cambodia | |
The Netherlands has a lot to offer when it comes to complex networks and concepts for food production, processing, and distribution. Getting acquainted with these agri-food park concepts provided the Cambodian delegation with a great deal of new knowledge and insights, which will hopefully help it develop the country's first agri-food industrial park.