Who is to blame? Charlie Meadows of course as he was one of those mainly responsible for tearing down the OCA umbrella group in late 2010 and early 2011. You see the Sooner Tea Party had supported what turned out to be one hell of a new House member in late 2010 and helped push him into office, defeating a long time liberal Democrat, Glen Bud Smithson. One of the immediate goals was to pass an anti TSA bill that would have allowed citizens to ask for protection from local law enforcement officers stationed at the airports. This would have provided a much needed oversight and without spending any additional tax money. The TSA fears the local law enforcement officers and as the TSA doesn't have arrest powers they are dependent on them.
But Charlie managed to kill the OCA group right about the time the legislative session opened up in 2011. Why? Because he and a few other groups couldn't control the OCA despite being included and being given half of the seats on the board of directors. And what they can't control they will kill. In its place Charlie pushed a new group that imploded after several months for lack of a strong leader. Bottom line is that many groups are businesses first and foremost and they dislike competition for donations and they don't like to share credit for legislative victories. Better to rule in hell than share in heaven is their motto.
Along with the death of the OCA came the defeat of the anti TSA bill that we had helped write. The bill died in committee without even a hearing and at that point we had been damaged heavily by Charlie's actions so we didn't have the clout to support our legislator that had courageously authored and filed the bill. Had the OCA survived there is no doubt that the anti TSA bill would have been signed into law or even had it been defeated the local feds at the TSA would have had the stuffing scared out of them and would have cleaned up their act.
But Charlie won and the story below should be laid squarely on his ample belly so he has to look at it for the rest of his days.
The RDR article called out the TSA as thugs and bullies and reported an instance of child molestation as well as the often reported goal of spreading the TSA's duties to buses, trains, even on our nation's highways. The report focused on a whistleblower who used to work at Will Rogers Airport in Oklahoma City that gave some inside information on the daily train of abuses against citizens.
The story recounts the story of a middle aged mother whose teenaged daughter was taken into a back room and fondled. The child was around 14 to 16 years old and after a long time came out of the interrogation room shaking and drying tears from her face. The inside source said that the child said:
The comment section is worth reading and from the looks of it the local TSA agents are watching and responding to the comments. I would highly recommend everyone post a comment and let these animals know what we truly think of them. One really great suggestion posted there was to retaliate against TSA agents outside of their work place. The one downside would be that such treatment would drive the few decent people from the ranks of the TSA and leave the sociopaths in place. Then again treating them like a red headed stepchild of a telemarketer might just make them start acting like human beings again.
And never forget Charlie Meadows's part in all of this. Had he not gone after the OCA the anti TSA agent bill would have made these goons answer for their crimes in state courts and that mother could have called 911 and received justice.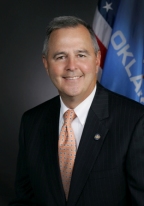 THE WATCHMAN
Throughout this year a low profile proxy war has been waged between the Governor and the Senate. The prize of this war has been the end of the Conservative movement in Oklahoma and the dominance of the Oklahoma State Chamber of Commerce as the true power base in the state legislative process. The ultimate prize has been the long sought Obama Care in Oklahoma.
Those of you familiar with the fight here in Oklahoma are aware that the citizens have rejected Obama Care by a resounding 70% at the polls in 2010. Still the Republican dominated legislature kept trying to implement the Health Insurance Exchanges and if it had not been for We the People of this great state raising such a ruckus we would have Obama Care in the state. Instead we sent the federal money back and have managed to keep the State Chamber at bay on the issue.
Since the initial victory by the people, it has been an annual event for the legislature to attempt an Obama Care bill into the mix. Every year it has been defeated. This year they got close. The Senate passed SB 640 with an astounding 44 votes. The House made a few changes and passed it with an astonishing 90 votes and it went to a conference committee. Here is where the Senate Leadership actually blew it.
During the Conference Committee, the Senate representatives tried to overreach and undo everything that the House had changed. They refused to budge on the issues and the House representatives on the committee refused to cave in to the Senates demands allowing the bill to die the Conference Committee. All of this was done while the news media and Conservative action groups were distracted by trumped up charges of blackmail against a Tea Party leader.
Senator Bingman, you have graduated from the Obama School of Politics.
Senator Bingman tried to make people believe that this bill would bring Obama Care money into the state without the bureaucracy of the federal government. This was evident in the report from the Tulsa World here,
Bill to take Medicaid money won't be heard this year | Tulsa World
. Needless to say Bingman has let his masters at the Oklahoma State Chamber of Commerce down again. Let' take a look at Bingman and see who is pulling his puppet strings.
We began our research by going to
www.ok.gov
and going to the Senators web site. As we suspected, it was the typical brag sheet. Although it lists many public statements that he made, none of the ones listed dealt with the Health Care bill. We did not find that strange as it is not habit for politicians to list public statements on their defeats.
The one press release that caught our attention was the Senate Agenda. It caught our eye because Senator Bingman apparently thinks that funding this abomination of education reform called the Common Core Standards is historic, it actually shows that the Senator has no clue as to how destructive this program is. Either that, or it's that he owns an interest in the program.
We next did a records check with the Oklahoma Courts System to see what information was available there. Here we learned that he was sued in District Court over the re-districting plan in the state. You can read about it
here
. Now this suit was dismissed, but it indicates a hint of dishonesty in the Senate redistricting plan. There is even the potential for redistricting to remove or reduce the chances for a Senator to retain his seat. Now granted this happens all the time, but never so flagrantly.
We next looked at their Special Interest Group ratings. We were not surprised at what we found. Here is an example.
2011 Research Institute for Economic Development Pro Business Positions 98%
2010 Research Institute for Economic Development Pro Business Positions 100%
2009 OKWatchdog Positions on Consumer and Patient Advocacy 64%
2008 Oklahoma Center for Consumer and Patient Safety 66%
The way to read these scores is the higher the score, the more State Chamber oriented he is. As you can tell he is not very consumer oriented. It's a small wonder he likes to give your tax dollars to his business cronies.
We found his positions on Child Advocacy disturbing. We found these ratings indicating a steady decline. Unfortunately nothing has been reported since 2008.
2008 Oklahoma Institute for Child Advocacy Positions on Youth Issues 67%
2007 Oklahoma Institute for Child Advocacy Positions on Youth Issues 80%
2005 Oklahoma Institute for Child Advocacy Positions on Youth Issues 90%
As you can see he cares little for the youth of our state.
We next went to
www.followthemoney.org
to see what they had on his campaign finances. We were not surprised by what we found. Foe someone who campaigned as a conservative, he had no problem taking money from unions and the organization that was formerly known as ACORN. We weren't completely satisfied with what we found, so we decided to dig deeper.
We went back to
www.ok.gov
and went to the Ethics Commission web site to look at what they had available. We started with his campaign for re-election in 2014. Yes he already has started raising funds for his re-election.
Among the personal donations were two executives of the Cooperative Council for Oklahoma School Administration. Now we were not exactly clear as to the purpose of this organization so we did some investigating. What we found is this organization is backed by some of the major players pushing the Common Core Curriculum in our state and in the county.
Here
is a list of some of their sponsors. Is this the reason he supports the Common Core Curriculum? He also accepted funds from Obama supporter and bundler George Kaiser.
Looking at the Committees and PACs that have donated, we again were not surprised to find that the field was dominated by unions and PACs that dealt with special interest. The one that we found particularly disturbing was this one
Merck Sept 6, 2012 $1,000.00
Merck had just sold the rights to eugenics research to the Bill Gates foundation before this donation was made. Does he really want to be associated with a company that was involved with eugenics research?
We also took a look at his 2010 campaign finances. We found virtually the same thing there. He again took money from Merck while they still were doing eugenics research. You can't be pro-life and accept money from an organization involved in this type of research. We also found this.
Roche Inc. Good Governance Comm. Oct. 14, 2010 $200.00
We had dealt with Hoffman LaRoche before. This is what we had found.
Hoffmann-La Roche Summary | OpenSecrets
. Is this legal? Does this warrant an investigation by the ethics committee? We think so. This is a foreign owned company injecting funds into our state politics. This should not happen.
We also found that the usual suspects dominated his campaign finances. Corporations associated with the Oklahoma State Chamber of Commerce were the biggest contributors. Next came the Political Action Committees associated with the health care industry. Since both the Oklahoma State Chamber of Commerce and the Health Care Industry support Obama Care, is it any wonder that we get some proposed form of Obama Care each year. It seems the politicians are bound and determined to produce Obama Care for their slave masters, the Oklahoma State Chamber of Commerce.
We next decided to take a look at votes on subject that mattered to Oklahomans. Here is what we found.
HB 2130 Obama Care, Voted Yea, Liberal Vote
HB 1953 Governors Quick Action Fund, Slush Fund, Voted Yea, Liberal Vote
HB 1593 Municipal Employees Collective Bargaining Act, Voted No, Liberal Vote
HB 1647 Open Carry Bill, Voted No, Liberal Vote
SB 154 Quality Jobs Act, Voted Yea, Liberal Vote
SB 2131 Certain Sentences to be Served Concurrently, Voted Yea, Liberal Vote
SB 2169 Oklahoma Health Care Authority Authorizing Fund, Voted Yea, Liberal Vote
SB 640 Obamacare 2013 Voted Yea, Liberal Vote
According to this voting record you receive a RINO Index score of 11. That is only 59 points below what it takes to be considered a conservative. What a disgrace.
People the evidence are clear. We have a liberal President Pro-Tem of the Senate who appointed likeminded Committee Chairs in the Senate. That is the reason a majority of the Conservative bills that were proposed did not make it through the Senate. It is painfully clear that the current leadership of the Oklahoma State Senate is working for the Oklahoma State Chamber of Commerce and against the People of the state of Oklahoma. It is time to bring these two corrupt entities to an end. It is time to end the political career of Senator Brian Bingman.
The Ultimate Fight for Freedom
By MS PM
Are the lack of morals and integrity the root of our problems? How many believe the old adage, this is just the way it has always worked and there isn't anything I can do to change it? How many think that by believing this, it's merely a justification for doing nothing? Doesn't this allow things to continue like a run-away train that was wrecked before it left the station? Who believes that until the chains break, we are doomed to tighten those very chains around our necks, twisted like a tourniquet, until the lifeblood flows from a nation under attack? Isn't our lack of participation the very culprit of why our leaders think they are above the average citizen? It took this country a long time to get where it is today. Why on earth are there people that continue to think a free society is something that happens while you sleep and magically appears if you sleep long enough?
Taking out corrupt politicians is the same as cleaning up dog turds in your yard. If you never pick them up you end up with an overabundance of stinky substance that infiltrates your nose and eventually creeps into your home on a warm and windy day. If you pick them up daily you keep it manageable.
Politicians are no different. You go after them daily, never to rid yourself of the chore, but you do keep it at a tolerable level rather than letting it become an overwhelming problem. The one difference is you could get rid of your dog. The moral thing to do is clean it up, your family and neighbors will probably never notice until you let it pile up and then have to deal with the stench coming from your yard. Is there anyone that believes it is your neighbor's responsibility to come over and clean up your yard? Probably not, so why is it your neighbor's responsibility to fight for your freedom? The moral of the story is don't elect turds to represent you. If all you have to pick from are turds, pick the best turd, and commit yourself to keeping the turd walking a straight and narrow path.
What exactly is morality? Generally speaking, is it considered "the right conduct?" Who among us has known since they were growing up what is right or wrong? How many times have you watched someone say one thing then turn around and do something totally opposite? How often have you given the wrong person the benefit of the doubt, and then when they go against what you already knew to be true, you have taken on the role of victim? How many continue to ride this dead horse?
Our Founding Fathers knew what we would be up against. How many live and to what degree do they live with a lack of morals? Have you thought about the line you cross as you make excuses for the decisions you make? Can you read the quotes below and still justify what the impact will be in the daily life of a struggling nation when you sit on the sidelines and watch from afar?
"Remember, democracy never lasts long. It soon wastes, exhausts, and murders itself."
John Adams
"If ever time should come, when vain and aspiring men shall possess the highest seats in Government, our country will stand in need of its experienced patriots to prevent its ruin."
Samuel Adams
"Democracy is two wolves and a lamb voting on what to have for lunch. Liberty is a well-armed lamb contesting the vote!"
Benjamin Franklin
"Man will ultimately be governed by God or by tyrants."
Benjamin Franklin
"Bad men cannot make good citizens. A vitiated state of morals, a corrupted public conscience are incompatible with freedom."
Patrick Henry
"America will never be destroyed from the outside. If we falter and lose our freedoms, it will be because we destroyed ourselves."
Abraham Lincoln
"We the People are the rightful masters of both Congress and the Courts--not to overthrow the Constitution, but to overthrow the men who pervert the Constitution."
Abraham Lincoln
"Those who expect to reap the blessings of freedom, must, like men, undergo the fatigue of supporting it. It is the duty of the patriot to protect his country from its government."
Thomas Paine
The cold hard truth comes from Abraham Lincoln. "To sin by silence when they should protest makes cowards of men." Just how many cowards are there among us? How many coulda, woulda, shoulda have done something?
What exactly is integrity? Is it no more than honesty and sincerity? Who out there lives by integrity? Why has the term "as is" been adopted when we sell something? Is it because there is more value placed on the monetary gain than on the honesty of a seller? Is there anyone wondering why that "as is" term isn't placed on those we elect? Truly, the only difference is you can, by your due diligence, find out if a used vehicle is worthy of the price before you purchase. This isn't such an easy task when it comes to elections. The cover-up is done with great finesse. If we knew beforehand what we come to know after an election our responsibilities as constituents would be much easier. We elect those who impose their laws that protect them and their friends only later to justify our apathy by doing nothing. Isn't this attitude of I did my part by voting, but someone else can clean up the mess left by rotten politicians prevalent in today's society?
If integrity is about honesty and sincerity, and morality about choosing the right behavior, then why do we have so many that adopt a "do nothing" attitude? If it is so easy for citizens to allow their elected representatives to run over them then why is it so hard to believe those very representatives will continue to do just that? Is there anyone that doesn't believe we teach people how to treat us? Why is it easier to believe your fight becomes fruitless? Is it that we live in a time of instant gratification with the assumption of if it doesn't happen immediately we take that as failure?
The ones we elect do not have the problem. They're living large on your money with a bankrupt value system. We grew these out of control beasts. Each day is a new chapter in the loss of freedom and liberty and for anyone that thinks there is nothing they can do to stop these lying, greedy bastards they are absolutely correct…that is if your choice is to do nothing. No one has the crystal ball and how is it that anyone knows their efforts did no good? There is a big picture here. Remove the blinders for any self-serving rewards. Is it really easier to believe your efforts go un-noticed? An empty heart does little to guide anyone in the fight for freedom.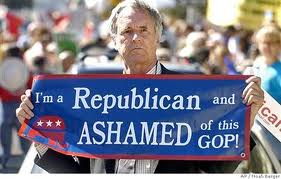 Republican Majority but Hardly Republican in Fact
By the Watchman
CapitolBeat OK newsletter got it wrong this time.
On Monday, May 13
th
, RNC Chairman Rance Priebus paid a visit to Oklahoma City. Apparently he believes that Oklahoma is a good example of how the Republican Party should look. You can read the article here,
RNC's Priebus says Oklahoma is model for "transformational" Republican Party
. Needless to say we couldn't disagree more. This is coming from a man who is so incompetent that he lost a sure fire election in 2012 to the most corrupt President in American History.
It has been suggested that with the added numbers of Republicans in the legislature after the 2012 elections that they must govern with a broader range of ideology. Why? They are Republicans. The party has a platform that they are supposed to support. If they don't there should be rules in place for them to be disciplined but the RINOs in charge of the GOP have managed to stave off any attempt at disciplining GOP elected officials. Lest we forget the former State GOP Chairman, Matt Pinnell, didn't believe in disciplining elected officials if they violated the rules even if other elected officials asked for it.
Mr. Pinnell was given credit for the growth of the party during his tenure as GOP Chair. You can read a story on it
here
. Will someone please tell me how this helps build the reputation of the Oklahoma GOP when we send people to Congress who are facing indictment for gun trafficking? Can someone tell me how it improves the image of the Oklahoma Republican Party when the State Chair supports RINO Republicans over Conservative Republicans during the primary season? Or how failing to discipline Republicans who openly and publicly support Democrats in their campaigns over a qualified Republican candidate enhances the reputation of the Party? It wasn't his leadership that got the Conservatives into office. It was the hard work of the candidates and the grass roots movements that were here long before him that got them in office.
Then there was the Oklahoma State GOP Convention and the National GOP Convention. How disgraceful were the actions of the State Chair in both instances. Well you can read about it
here
. This letter does more to explain the complete violation of party rules than anything else I've seen.What a disgrace.
Then there is this video
Matt Pinnell « ArleneArmy's Blog
. At a time when the Republican Party is doing everything it can to attract minority voters to the party, these sure smacks of racism to me. How dare this punk show such disrespect to this Registered Republican minority voter. This isn't the days of Jim Crowe, Matt.
We can thank the RNC Chair for one thing. That is ridding us of the plague of this clown who thought he knew how to lead to a conservative majority by placing RINOs in office. Thank you Mr. Priebus for taking Mr. Pinnell off our hands.
The bad news is they've elected another RINO to be the state GOP Chair by a narrow margin. This should serve as a warning to all Conservative activist groups out there. Our work is not done. We will need to work just as hard to get our candidate into office this next year as we did over the last few years. We'll also have to work hard to overcome the effects of Mr. Pinnell's poor leadership.
This should serve as a warning to the new GOP State Chair also. We are awake. We are aware of your politics and we won't tolerate poor leadership and corruption. We expect equal treatment of all candidates and punishment for those elected officials that violate party rules. That includes discipline for those who violated party rules by supporting a Democratic candidate over a Republican candidate during the last election cycle. We will be watching.