Other
websites
are picking up the story and are spreading links. However the paucity of new outrage since OCPAC leader Charlie Meadow's refusal to apologize are probably few because so few people actually read his newsletter. Expect a resurgence of stories after the 2
nd
article slowly gets into circulation.
We were curious though and thought about comparing what OCPAC leader Charlie Meadows wrote compared to others who received a pubic scourging after being accused of racist statements.
LA Clippers owner, business magnate, and real estate developer, Donald Sterling tells his mistress to try not to associate with black people especially at the basketball games. (Fined 2.5 million by the NBA and last I heard they were trying to force him to sell this basketball team. The hilarious thing is that his mistress was half black and half Mexican. Now how could a guy be racist if he has a half black/half Mexican girlfriend?)
Floyd Mayweather for saying " Jeremy Linn is a good player but all the hype is because he is Asian
Ted Danson for his comedy act during a roast for his friend Whoopi Goldberg where he appeared in blackface and ate a watermelon.
Comedian Chelsea Handler for posting a tweet of a picture of grape soda and demanding that black TV host Nick Cannon drink it during a twitter feud between the two celebrities. (Who knew that grape soda was considered racist?)
Shaquille Oneal for saying "Tell You Ming, Ching chong-yang-wah-ah-soh"
Paris Hilton who was quoted in a book saying "I can't stand black guys"
Rihanna who called a fellow singer's asian girlfriend "rice cakes"
Gilbert Gottfried for tweeting "What do Japanese Jews like to eat? Hebrew National Tsunami"
Miley Cyrus for pulling at the corners of her eyes making them slanted in a photograph
Black rapper Soulja Boy who cooked off on his music producers calling them "crackers"
Joe Jonas, former Disney star for making slanty eyes in a photograph
Boxer Zab Judah for making comments about one of his opponents "CurryKingKhan" and hoping he would "Choke on his Somosa"
Ricky Rubio, basketball player who said "Ok, he doesn't look like a Mexican anymore but I think he looks even worst. Here is our superstar."
Now remember the actual definition of racist, someone that believes that a person's race determines their future. How is joking around or name calling someone rice cakes racist? Asians eat a lot of rice, I know quite a few and they do. They even laugh about it and say I eat a lot of potatoes. And comedians roasting one of their black friends, where it is expected that the jokes are outrageous and crude? Personal preference on who you wish to date is now racist or making facial expressions like slanty eyes? Not all Asians have slanted eyes, many have lovely round or what I call half round eyes, exceptionally beautiful but even the Asian women with slanted eyes are considered exotic and beautiful by most men.
And really, calling a white guy a cracker is racist? I don't know a single white man that wouldn't just laugh off such a comment simply because it doesn't fit them.
Our point is that you can crack a silly joke or make a face and get hauled into the racist public opinion court but these examples are all ridiculous in our view. Some of them were part of a sarcastic twitter exchange between feuding celebrities but surely they weren't sweeping general statements that deserve to be called racist. As opposed to OCPAC leader Charlie Meadows article entitled "Why Blacks Hate Cops and How Blacks can be Winners not Losers"? Charlie Meadows' long article wasn't some off the cuff jab in a sarcastic duel or a quick statement under pressure in an interview, it was carefully crafted and thought through before publication and that makes all the difference in the world as it probably accurately reflects OCPAC leader Charlie Meadows' world view.
And we had liberals ready to pounce on the "Tea Party" because of his racist ranting.
And we continue to have dozens of conservative candidates who have yet to distance themselves from OCPAC leader Charlie Meadows' racist article.
Insane……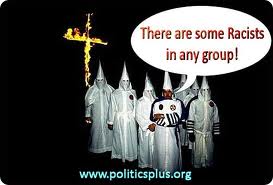 Candidates Slow to Distance Themselves from Racist Statements
Last week was a busy week for the volunteers at the Sooner Tea Party and no one had the time to call the candidates whose names have been blackened by association with OCPAC leader Charlie Meadows. A few calls were made late in the week and some valid questions were asked.
First, why get into the middle of a fight between two groups?
The answer is that this is not a fight between Charlie Meadows and anyone, it is a desperate attempt to isolate conservative candidates that have been publically associated with an accused racist. Staying silent means that you offend a huge swath of people when your opponent seizes on this mistake in the next election.
Why not just let this blow over and keep a low profile?
Because the internet means that anytime anyone Googles Charlie Meadows or OCPAC they will be forever associated with racism. I challenge everyone that reads this newsletter to simply Google these two key word sets:
Charlie Meadows racist
OCPAC racist
Then leave off the word racist and Google again.
OCPAC is associated with racism at the bottom of the first page and it has only been a few days.
Charlie Meadows is associated with racism at the bottom of the first page too and the links will continue to climb as the controversy spreads.
The earlier article written by PM got it right; I personally don't think that OCPAC leader Charlie Meadows is really a hard core racist, just bigoted and ignorant, but that is because I know him quite well. The average person though is reading about the OCPAC scandal and they WILL decide that Charlie Meadows is a flaming racist and that stink will settle on anyone around the man, especially those that he or OCPAC endorses.
Politically Charlie Meadows and OCPAC are zombies and it is only a matter of when, not if, that those associated with them begin to feel the pain.
We are going to do our best to complete the phone calls to the candidates next week and get more statements. We even encourage the candidates to split the fence, not outright trash Charlie or OCPAC, but to distance themselves from the three worst statements made in OCPAC leader Charlie Meadows racist rant entitled "Why Blacks Hate Cops and how Blacks can be Winners not Losers".
Here is part of one of the responses we got this week. It does a decent job at avoiding to offend OCPAC supporters while at the same time making it clear that the three statements made by OCPAC leader Charlie Meadows were offensive:
The isolated statements the sooner tea party has asked me to comment on are just that, isolated statements of part of a lengthy and thoughtful opinion written by Mr Meadows.
As presented I certainly disagree with the statements.
I was fortunate enough to attend integrated OKC public schools, work wheat harvest with a coworker who is Black, and have spent years in the medical profession working with intelligent hardworking people of all races. There are thugs, "losers" and ignorant haters in every ethnic group, including "my race" Caucasian.
We are hoping that this candidate changes his statement prior to publication though because of the remarks "lengthy and thoughtful opinion written by Mr. Meadows" . Were I advising this candidate I would certainly strike the "thoughtful" word. And I would reconsider as we asked for comments on an entire paragraph from OCPAC leader Charlie Meadows' racist rant. That paragraph can hardly be an "isolated statement".
Another remark was why we were "picking" on Charlie. Well, does anyone remember back in May when the Associated Press recruited a Who's Who of Sooner Tea Party enemies in a story about the blackmail trial?
There is old Charlie, hammering away along with Gary Jones, Stuart Jolley, and Richard Engle.
RINO Gary Jones of course is the former Oklahoma State Republican Chairman that we helped force from office prior to his campaign for state auditor.
RINO Stuart Jolley is the former Americans for Prosperity leader that was made into a laughing stock after he attacked the Sooner Tea Party on the Pat Campbell radio show which lead to an interview the next day that disclosed Jolley getting duped into clearing the way for Randy Brogdon to speak at the April 2010 Tea Party event. Jolley was of course a huge Mary Fallin supporter but was duped into believing that he could convince Fallin to speak at the rally, clearing the way for Brogdon to speak. Of course Fallin had been booed at a small conservative event in the Lawton area a few months before and there was no way she was going to risk speaking in front of a Tea Party crowd.
And Richard Engle is the disgraced former OCPAC representative to the OCA who resigned after getting caught lying to OCA board members. PM's article described the OCPAC/Charlie Meadows attempt to gain control over the OCA umbrella group leading to a breakup of the group that had brought together 35 of the largest conservative groups in the state and was responsible for passing four conservative bills in 2010: Opt out of Obama Care, Open Carry, Anti RFID chip in the Drivers license' bill, and a 10th Amendment Montanna gun bill designed to challenge the federal government's control over locally made weapons that remained in Oklahoma. All four bills were vetoed by Democratic Governor Brad Henry and six RINO Republicans switched their votes turning a veto proof majority into just shy of passing the veto override.
Interesting enough not a single one of the attacker's adversarial relationships with the Sooner Tea Party was brought up and not a single one of the attackers brought up that the trial was a travesty and would likely be overturned on appeal. Charlie Meadows did acknowledge that it was a dangerous decision that would have far reaching aspects but stopped short of defending the 1st amendment, preferring that his political opponent be sent to prison and was okay with the precedent being set for other political activists, other than the remarks that it was a fine line.
So our answer to the candidates that asked why we were "picking" on Charlie is that he opened the door with his attacks over the past five years. Nor are his racist statements being prohibited or prosecuted, people are merely finding them… and Charlie… and OCPAC….offensive. That is how the Freedom of Speech amendment is supposed to work; allow the ugly, racist, bigoted statements to be made then deal with them in the court of public opinion. That is far better in our view than what Gary Jones, Stuart Jolley, Charlie Meadows, and Richard Engle advocate when they refuse to stand up for everyone's 1st Amendment rights.
Some of the candidates asked for a week to run this past their political advisors so we are delaying publishing the list of who has distanced themselves from the racist statements and who has not. However we believe that they need some encouragement so here is a list of OCPAC/Charlie Meadows endorsements for 2014:
Primary election 2014:
DAX EWBANK Gov
Jack Fry Senate
Janet Barresi
SUPERINTENDENT OF PUBLIC INSTRUCTION
JOHN DOAK INSURANCE COMMISSIONER
TODD HIETT CORPORATION COMMISSIONER
JIM INHOFE UNITED STATES SENATE
RANDY BROGDON
UNITED STATES SENATE UNEXPIRED TERM
DARRELL ROBERTSON
Northeastern to Southeastern Oklahoma
ANNA FLATT
Central, South Central to far Southwest Oklahoma
STEVE RUSSELL
Oklahoma, Pottawatomie and Seminole counties
DAN LADD SENATE DISTRICT
MARK THOMAS SENATE DISTRICT
RANDY BARNETT STATE REP DISTRICT
JOSH Cockcroft STATE REP DISTRICT - 27
JASON Murphey STATE REP DISTRICT - 31
JOHN PFEIFFER STATE REP DISTRICT - 38
MIKE STUBER STATE REP DISTRICT - 40
ROSS VANHOOSER STATE REP DISTRICT - 41
TOMMY HARDIN STATE REP DISTRICT - 49
MARK McBride STATE REP DISTRICT - 53
PAUL WESSELHOFT STATE REP DISTRICT - 54
DAVID ELDER STATE REP DISTRICT - 61
CHUCK STROHM STATE REP DISTRICT - 69
DAVID BRUMBAUGH STATE REP DISTRICT - 76
KEVIN CALVEY STATE REP DISTRICT - 82
MICHAEL ROGERS STATE REP DISTRICT – 98
General election 2014:
MARY FALLIN GOVERNOR
TODD LAMB LT. GOVERNOR
MARK COSTELLO LABOR COMMISSIONER
JIM INHOFE U.S. SENATOR
JAMES LANKFORD U.S. SENATOR (unexpired term)
MARK ALLEN SENATE DIST # 4
JOSEPH SILK SENATE DIST # 5
JOSH BRECHEEN SENATE DIST # 6
- FRANK SIMPSON SENATE DIST # 14
KIM DAVID SENATOR DIST # 18
JASON SMALLEY SENATE DIST # 28
JACK FRY SENATE DIST # 42
RALPH SHORTEY SENATE DIST # 44
DUANE CRUMBACHER SENATE DIST # 48
DAVID TACKETT HD # 12
GEORGE FAUGHT HD # 14
BOBBY Cleveland HD # 20
JUSTIN FREELAND WOOD HD # 26
TOM NEWELL HD # 28
DENNIS CASEY HD # 35
SEAN ROBERTS HD # 36
JOHN PAUL JORDAN HD # 43
AARON STILES HD # 45
TOMMY HARDIN HD # 49
SCOOTER PARK HD# 65
DAVID BRUMBAUGH HD # 76
RANDY McDaniel HD # 83
DAVID DANK HD # 85
JASON NELSON HD # 87
MIKE CHRISTIAN HD # 93
CHARLIE JOYNER HD # 95
LEWIS MOORE HD # 96
ELISE HALL HD # 100