Nieuwsbrief / Newsletter 2014 nr 2
website http://www.van-eck.net   facebook:

Onderwerpen:
Nieuw: Spoeladapter Super 8 / 16mm (Van Eck) - set van 2

Bezoek ons op de Fotografica beurs (zondag 9 maart 2014, Nieuwegein)

Louis Drive-By Cinema
Topics:
New: Reel Adapter Super 8 / 16mm (Van Eck) - Set of 2 
Visit us at the Photographica fair (Sunday, March 9, 2014, Nieuwegein)

Louis Drive-By Cinema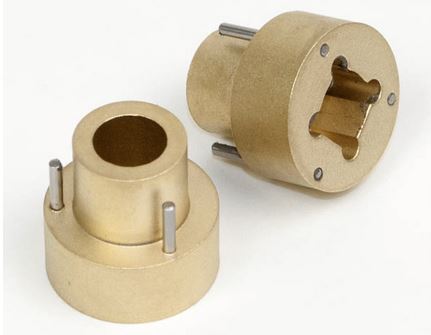 Nieuw: Spoeladapter Super 8 / 16mm (Van Eck) - set van 2
Hoogwaardig volledig metalen adapter om Super 8 te kunnen spoelen op 16mm filmomrollers.
Met dit verloopstukje kunt U een 16mm omspoeler gebuiken om ook super8 films mee te spoelen of te reinigen.
Deze adaptor werkt uitstekend op de meeste type 16mm filmprojectoren / omspoelers.
onder andere op:
- Meopta 16mm omspoelers
- Siemens 16mm omspoelers
- Bauer P5,P6,P7,P8 projectors (gebruik als omspoeler)
Ze zijn ontworpen om gemakkelijk en frequent erop te zetten.
New: Reel Adapter Super 8 / 16mm (Van Eck) - Set of 2 
High quality full metal adapter to rewind Super 8 films on 16mm film rewinders.
Set of 2 adapters. 
With this adaptor you can use 1 16mm film rewinder to rewind or clean super8 films.
This adapter works great on most type of 16mm film projectors / rewinders
e.g.
- Meopta 16mm film rewinders
- Siemens 16mm film rewinders
- Bauer P5, P6, P7, P8 projectors (used as rewinder) 
They are designed to easily and frequently put on and off the rewinder.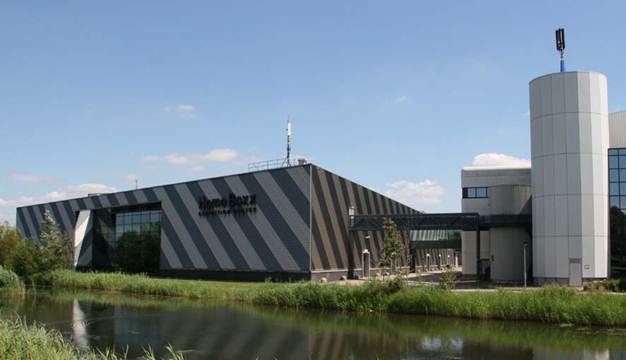 Bezoek ons op de Fotografica beurs (zondag 9 maart 2014, Nieuwegein)
Zondag 9 maart is Van Eck Video Services weer op de Fotografica beurs in Nieuwegein bij Utrecht.
Deze beurs vind plaats in Home Boxx Nieuwegein, met 6000 m2 expositieruimte. Home Boxx Nieuwegein is uitstekend bereikbaar per auto. Parkeren is gratis.
U kunt op deze beurs uw beeld of geluidsmateriaal afgeven ter digitalisatie. Het digitaliseren zal plaatsvinden op onze locatie in Tilburg. Na het digitaliseren kunt U het materiaal daar ophalen, of wij kunnen het via de post terugsturen. Bij een digitalisatie-opdracht krijgt U de entree van de beurs (Euro 4,=) van ons retour (wordt op de factuur verrekend).
Heeft U iets nodig uit onze webwinkel? Laat dit dan even aan ons weten. Wij nemen het dan voor u mee naar de beurs.
Visit us at the Photographica fair (Sunday, March 9, 2014, Nieuwegein)
Sunday, March 9, Van Eck Video Services participates at the Photographic exhibition in Nieuwegein, near Utrecht (Netherlands)
This fair takes place in Home Boxx Nieuwegein, with 6000 m2 of exhibition space. Home Boxx Nieuwegein is easily accessible by car. Parking is free.
At this fair, you can bring your video, film and audio material for digitizing. We will digitize your material at our location in Tilburg. When it is ready, you can visit our store in Tilburg to pick up your material, or we can return your material by the mail.
 If you bring material for digitilisation, we refund you the entrance fee for the fair (Euro 4,= )
If you need something from our webshop? Please let us know. We will bring take it for you to the fair so you can pick it up there.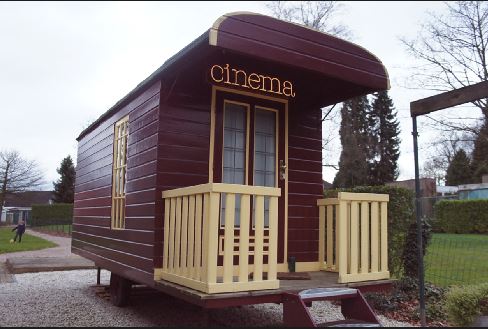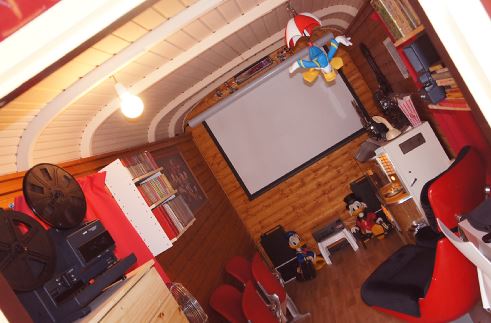 Louis Drive-By Cinema
==== ingezonden stukje van een van onze vaste klanten ====
Je kent dat vast wel … in je hoofd zit altijd wel iets als een voornemen over wat je ooit wil-zult-moet doen-hebben-kopen-ondernemen. Zoals die ene reis maken, dat bijzondere museum bezoeken, die klassieke auto kopen, die berg op fietsen of die oude vriend opzoeken. Zo was al vele jaren het idee in mijn hoofd genesteld , dat er ooit een Pipowagen in mijn tuin zou staan. En jawel hoor … twee jaar geleden was het zover en kon ik een fraai exemplaar op de kop tikken. Eenmaal ontdaan van alle kitsch, zoals huilende herderinnetjes, potkachel en treurig goudkleurig servies stond ie daar in volle glorie. Ik stond erbij en keek ernaar met de gedachte: wat moet ik hier nu in Godsnaam mee.
En … zoals wel meer mensen ervaren: onder de douche kwam een lumineus idee op. Nu moet je weten dat ik in de
seventies
een fervent verzamelaar was van super 8 films en wel in twee categorieën: muzikale tekenfilms (zoals
Silly Symphonies
en
Merrie Melodies
) en spectaculaire sportfilms. Om de hobby een beetje betaalbaar te maken draaide ik  twee keer per week (teken)filmpjes voor kinderen in parochiehuizen en gemeenschapszalen. Van de opbrengst (kindertjes betaalde een gulden voor  anderhalf uur (teken)film) kon ik gestaag mijn verzameling uitbreiden. Met de komst van de video en ander digitaal geweld verdween echter mijn hobby keurig opgeborgen naar de zolder. Op dat natte moment onder de douche kwam toen HET idee:  Mijn Pipowagen moest een volwaardige Cinema worden:
Louis' Drive-By Cinema
. Elektrisch scherm, verduisteringsgordijnen, marktplaats-bioscoop-stoelen. Mijn prachtige Bauer 502 projector uit de vliering gehaald, de films naar beneden gesjouwd en in Friesland reserve een Bauer 502 op de kop getikt. Veel  aandacht voor mijn
alter ego
Donald Duck (druk-druk-druk, altijd bezig, vaak irritant maar goede inborst).  Samen met Dagobert bewaakt hij mijn nieuwe 'filmfort'. Als kroon op werk in helle neonletters op de voorkant CINEMA.
Vorig jaar een geweldige verjaardag gevierd: eerst naar pretpark de
Efteling
(even het kind in mij naar boven halen) en aansluitend naar pretpark
Van Eck
. Voor een 8 mm filmliefhebber een boeiend filmwalhalla, waar je heerlijk kunt rondsnuffelen.
Bij van Eck vind je voor Elck wat wils
(gratis slogan voor je Edwin) … zowel voor de techneut als voor de verzamelaar. Mijn compacte  
Rock-Ola 1464 Music Vendor
Jukebox en mooie Dual platenspeler (incl. sixties LP-collectie) maken mijn Cinema compleet. En de bijeenkomsten  zo af en toe met vrienden van toen in mijn
mancave
,  mijmerend over vroegere tijden en virtueel wandelend langs memory-lane zijn kostbare momenten geworden. Een nieuw doel in mijn leven is zoeken naar bijzondere muzikale tekenfilms. Natuurlijk vind je ze allemaal op internet, maar dat kan de charme van langzaam dimmend licht, een zacht ratelende projector en een iets trillende beeld toch niet echt vervangen … sshhht … de voorstelling gaat beginnen …
PS mijn droomwens … de complete Fantasia op super 8
Louis' Drive- By Cinema
==== submitted by one of our regular customers ====
You probably know this ... in your head there are always intentions … about what you want – what you should do – would like to have – would like to buy or undertake. Like that one destination you have always wanted to travel to, that special museum you want to visit, that one model of classic car you would buy some day,  that one mountain still to climb, that old friend to look up again.
In my head for many years there was this idea that I wanted a "Pipowagen" (a famous Dutch circus clown's mobile home) at the back of my garden.  And yes ... two years ago I could get my hands on a perfect specimen.  Once it had been stripped of kitsch, for instance pictures of crying shepherdesses , and sad but intricately gold painted dinnerware…. It had finally arrived and  stood there in full glory . Then I thought: what the hell am I going to do with it ?
And as many people have experienced: the answer came while standing under a hot shower. You should know that in the seventies I was an ardent collector of super 8 movies. They came in two categories : musical cartoons (like Silly Symphonies and Merrie Melodies) and spectacular sportsfilms . In those days I paid for my hobby by showing cartoon movies for children in the parish hall . With what the kids paid I could expand my collection . Of course my hobby did not survive the advent of video's and other digital abuse, so I stowed away the films in my attic . The idea that came up was: why don't I turn my clown's wagon into a Cinema : Louis ' Drive - By Cinema! A real electric screen , blackout curtains , cinema seats from a second hand store . My wonderful Bauer 502 projector was removed from the loft , down came the movies and somewhere in Friesland I even bought a spare Bauer 502 . The repertoire contained a lot of Donald Duck – my alter ego (busy-busy-busy, often irritating but basically with a good disposition ) . Together with Scrooge McDuck he guarded my new ' film fort . To crown the work garish neon letters proclaimed CINEMA! .
Last year I had a great birthday. First I went to the Efteling theme park (ever a child!)  and then to the Van Eck amusements park. For an old film buff like me this is fascinating film mecca , where you can browse all manner of stuff. Lovely! "Van Eck caters for all tastes" would be my slogan for this phenomenon. For both the techie and the collector there is much to enjoy.
So my cinema now is completed by my compact Rock -Ola 1464 Jukebox and a nice Dual turntable ( incl. sixties LP collection) . My mancave has seen many friends spending a leisurely hour there, talking about days gone by and walking down memory lane . A new purpose in life has become to search for special musical cartoons. Of course you can find most of them on the Internet , but the charm of slowly dimming light , a softly rattling projector and a slightly quivering image cannot really be replaced by twenty-first century technology.  ... sshhht … silence ! the show is about to begin ...
Louis Hilgers - Operator of Louis ' Drive -By Cinema ( info@educos.nl)
PS My dream --- the complete Fantasia on super 8

Van Eck Video Services, Herastraat 43-03, 5047 TX  Tilburg, The Netherlands
web: www.van-eck.net   E-mail:  info@van-eck.net     phone: +31 (0)13 5715148