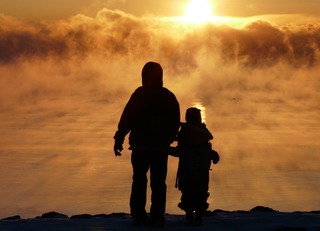 "Happiness is having a large, loving, caring,
close-knit family in another city."
― George Burns, Comedian & Actor
==========================

============
HAPPY ♥ SEPTEMBER

 

♥ BIRTHDAYS
TO EACH OF YOU PRECIOUS
SOULS BORN THIS MONTH!
Thanks to you all for subscribing!
==============

========================
==============

========================
As children, we crave the love and acceptance of
our parents and family members. We'd do almost
anything to show our love and loyalty to them.

Our subconscious tribal instincts tell us that the
MORE we're like our family or community,
the more acceptance and caring we'll receive.
In the human cave-dwelling times, b

eing UNLIKE or radically different from our tribe could result in

rejection via shunning, which often led to death.

Our basic 21st Century A.D. survival instincts aren't
much different than those in the 21st Century B.C.
We know we need to be accepted to survive.
Our child-like subconscious minds often leap to the
conclusion that we'll get the love we crave from
our families when we display the same ailments
they have. It's genetics, right? Maybe NOT!

About eight minutes into this interview,

Dr. Bruce Lipton

says, "Our perception of the environment
controls our genetics and our behavior."
What if you perceive that having disease or
ailments similar to your parents shows your
loyalty and love? I did--and didn't know it!

What if you could clear that subconscious belief in
two or three minutes as I did, and open your
energy to mega well being? This month's first
THANK YOU for SHARING this info with other
folks into holistic well being methods!