BEAR IS KING OF THE JUNGLE
PADDINGTON BREAKS RECORDS
FROM PERU TO GLOBAL SUCCESS
"QUALITY ON SCREEN EQUALS COMMERCIAL SUCCESS"
MAMMOTH MARKETING FOR HOME ENT RELEASE
IN-STORE ACTIVITY APLENTY
PADDINGTON EMBRACES SOCIAL MEDIA
PR KEY TO CONTINUED SUCCESS
MARMALADE HELPS SPREAD THE GOOD WORD
---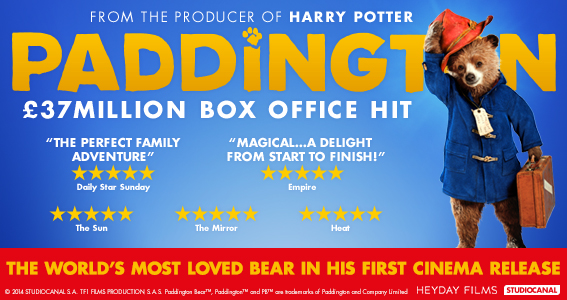 ---
If you can't read this newsletter or see the ads, pl
ease click
here
He's a lovable character, who is both polite and charming. And yet en route to a mammoth £37 million plus haul at UK cinemas – one of a number of records broken by his debut feature film – Paddington has barged the likes of Wolverine and the X-Men, Katniss and her Hunger Games team and even Emmet and his Lego pals out of the way. And now, the bear from Darkest Peru is returning to the fray, with Studiocanal's March 23 home entertainment bow allowing Paddington into everyone's home. And here, in this special newsletter, we assess the company's biggest ever campaign for its biggest ever box office title and how it is setting about making it its biggest ever home entertainment title… As Studiocanal's Kristin Ryan noted: "The film is a heart-warming and hilarious adventure and as the stand out family film of the year, our main consumer message for the home entertainment release is that finally on March 23 you can bring Paddington into your home to be enjoyed with your whole family. And as the perfect gift for the whole family to enjoy this Easter, the release campaign runs straight through until the end of the Easter holiday."
Some background first and a reminder of the remarkable achievements that Paddington has made since its debut at cinemas towards the back end of 2014. In its first weekend on release in the UK it began to send assorted records tumbling – the second biggest family film opening of the year (behind only The Lego Movie, which it would later sweep aside) and the biggest opening weekend of a live action film for almost five years, its £5.13 million opening frame was bettered only by Disney's Alice In Wonderland. By the end of its second weekend its box office, at £10 million plus and counting, was more in keeping with that of Frozen a year previously. By its third week on release it had become Studiocanal's highest grossing release ever, fast forward to the end of the Christmas period and its total had gone past the £30 million mark, by the end of January its £35 million haul had seen it past The Lego Movie, another estimable milestone. Even towards the end of February – half term week – it was still performing admirably, with its box office actually rising by more than a third as it had one last final hurrah before Studiocanal's home entertainment release.
At the same time as it was tearing up the UK charts, Paddington was performing similar miracles around the world… The film opened in the US in January, adding another $20 million in receipts to Paddington's ever-swelling coffers. By February, its total global haul had passed the $200 million mark internationally. It now stands at $223 million – making it the most successful non-Hollywood family film EVER. Not bad for a small bear from Darkest Peru.
"Paddington started out with a number of advantages: a popular character with nostalgic appeal for parents; a very savvy and commercially proven producer at the helm in the shape of Harry Potter's David Heyman; and a promising cast," said Charles Gant, box office columnist at the Guardian and Heat's film critic, assessing its box office performance. "Of course I would say this, but I was always very gung-ho about the film, especially seeing the footage in Cannes at the Weinstein Company presentation. It looked like Home Alone with a cute bear, and I could see kids loving it. When you make a film, it's always execution-dependent. When I saw Paddington, I thought the execution was a 10. It's rare you can say that. I thought they absolutely made the best Paddington film they could have made. My commercial expectations went even higher after seeing it, but I must admit I never predicted £37m. That's a record for a British family film. It's really gratifying to see audiences respond like this -- to see such a correlation between quality of film and commercial outcome. Paddington opened with £5.13m, and then went on to achieve a multiple more than seven times its debut -- proof that it's not just about marketing (which, incidentally, was strong in this case). Audience word-of-mouth still has a crucial role to play in sustaining the life of a movie."

---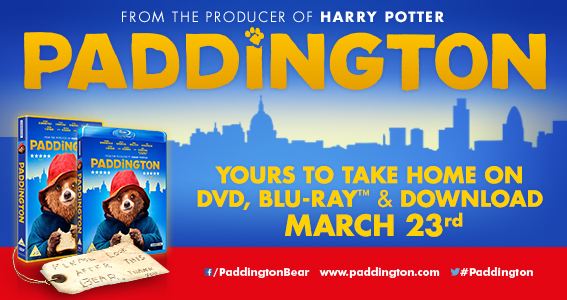 ---
So, what of the home entertainment bow on March 23? With a four week event-sized media campaign, taking in everything from TV, press and outdoor through to online, Studiocanal is ensuring the key "Take Paddington Home" message will be heard "multiple times" from this week, beginning Monday March 16, throughout the key Easter period. There's extensive TV across terrestrial and digital channels, with press advertising in tabloid and broadsheet newspapers. Outdoor advertising will appear across London Underground and National Rail networks throughout the key release period, with digital format ads during release week including large format Transvision screens on day of release and digital advertising across shopping centres Nationwide over the Easter holiday period. Online is equally busy, targeting both parents via Yahoo, Time Out, Mummy bloggers, search and social media as well as kids with Youtube pre-roll spots and a special Paddington interactive game ad creative on gaming sites and apps.


Expect to see Paddington taking over stores - character standees will be popping up all over the place, with customers positively encouraged to take selfies and share online. Elsewhere there's everything from bright, lively stock holding units to T-shirts for staff, as well as bunting, balloons and more. Studiocanal's Kristin Ryan said: "In-store is really where the release will stand out and where stores can have a lot of fun. It will encourage stores to join in with the light-hearted fun that audiences associate with Paddington. On the week of release you're not going to miss him in store and our POS will replicate our media strategy with coverage in store all the way up to Easter weekend."

The film cemented its reputation online and Paddington has been a near permanent fixture on Twitter and social media since well before the film's release. The bear himself will be supporting the release, right up to a Twitter Q&A, one that is sure to draw plenty of interest. Studiocanal is further able to hone its activity, having seen what works for the theatrical release. As Studiocanal's Kristin Ryan explains: "There is a wonderfully positive and active online community who have been fantastic throughout the film's lifecycle and are incredibly excited about the Home Entertainment release. Every post or tweet is met with excitement, interaction and engagement. Harnessing their enthusiasm has been a big part of our social strategy from images of Paddington in his tux at the BAFTAs to World Book Day costume competitions, scrap-booking tips and activities. Our social strategy runs through March and April with fun and interactive Easter activity planned including eggs-cellent recipies, activity sheets and 'things to do this school holiday' ideas. In addition, the activity and noise via our multiple promotional partners will ensure our release message reaches even further."
Publicity has been another key element in aiding the film to its mammoth box office haul, with Paddington seemingly never far from the headlines, even his recent trip to China earned plenty of column inches. Organic Publicity has secured interviews with Hugh Bonneville, Sally Hawkins, producer David Heyman, director Paul King and Paddington himself in newspapers and magazines such as Empire and Total Film and The Guardian and Daily Mail, online (Yahoo! Movies), on radio (BBC Radio 4) and TV (Lorraine, CNN, Good Morning Britain). The film is almost guaranteed blanket review coverage and plenty of competition coverage too. Studiocanal has also created plenty of content, such as activity sheets, to be placed in parents' and kids' magazines and online. The Easter holidays too provide additional PR opportunities, including inclusion in Easter 'Things to do' guides, themed activities and features. Meanwhile, Paddington himself will be out and about during the week of release, including a visit to – where else – Paddington station where promotional teams will be distributing Easter activity sheets and chocolate.
---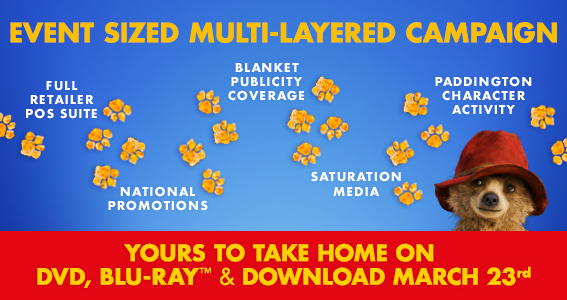 ---
Promotional activity sees a queue of partners lining up to work with Studiocanal, both directly and via the promotions agency Play7. The Pizza Express promotion has been running since February hálf-term (you can see some of the entries here
), and promotions are also confirmed with a multitude of partners including Alton Towers, the Merlin group of London attractions, Eurocamp holidays, British Airways, English Heritage, Heathrow Express, Muddy Puddles, Film London, Visit London, Journey Latin America and activity with the Whippersnapper brand in Wacky Warehouse, Thomson travel and National Express. And there are ongoing partnerships with long term Paddington partners Robertson's and Harper Collins, the latter securing book download promotions with both The Sun and Starbucks. There's also educational work with the Into Film organisation. Promotions and partnerships manager at Studiocanal Kate Lambert said: "Paddington is an incredibly strong and highly respected heritage brand and we've been able to extend many of the fantastic promotions from the Theatrical release but also bring some new partners to the mix."
We'll leave the final from Studiocanal to general manager for home entertainment John Rodden, who said: "We always felt Paddington was going to be a very special film that audiences would embrace. Since its release in cinemas last November all our expectations have been surpassed and the film has become a true phenomenon. It has been an incredibly exciting project for Studiocanal and heralds our ambitions in international production. The support and excitement from UK retailers has been fantastic and we're confident that the success will continue through our home entertainment release next week and throughout the Easter holidays."
QUOTE OF THE WEEK
And what of the bear himself? We have this exclusive comment from Paddington himself, who said: "I was so excited every time I saw my film in the cinema that it was hard to concentrate and I kept missing bits so I'm really looking forward to next week. Mr Brown says we will be able to buy the DVD or download it so that I can watch it at home as many times as I like."

AT THE MOVIES
He's been the voice of Paddington. He's also Q in the James Bond franchise, with an appearance in the next 007 outing, Spectre, due later this year. And now Whishaw is combining Paddington's London setting with more espionage-based antics, as he stars in the forthcoming London Spy, a five part BBC series. Creator Tom Rob Smith said: "Ben Whishaw is quite simply one of the best actors in the country."

And what of Paddington producer David Heyman? The man who nursed the bear from book to big screen is returning to JK Rowling – he produced the Harry Potter films – and is producing Fantastic Beasts And Where To Find Them, an adaptation of Rowling's work…
To subscribe to The Raygun newsletter, please email info@theraygun.co.uk
with subscribe in the subject matter
To unsubscribe, email info@theraygun.co.uk with unsubscribe in the subject
For editorial or advertising queries, contact tim@theraygun.co.uk