Uh, chemicals have rights and their own lobby? Are we going to see a save the sodium chloride movement?
Ward attacks Christian members of the High Noon Club saying that "I suppose that some who were at that meeting believe that one must share their political and social opinions to be a genuine Christian."
So a lot of Speaker Kris Steele's disdain for conservative values becomes crystal clear once you realize exactly what his values are and the type of people he goes to church with. His vote for the transvestite birth certificate bill and the same sex marriage/survivor benefit Senate bill is explained, as is his disdain for general conservative values. One can see why the State Chamber supports him and his lieutenants' agenda as it is nearly identical with their own agenda. One also understands why Speaker Steele thought nothing of his pastor blasting Oklahoma values in the November 2010 swearing in ceremony prayer, heck he has to preach that drivel several times a week in his regular job at Wesley United Methodist Church in Shawnee.
As usual, we have no one to blame but ourselves for not looking into Speaker Steele's past and his core beliefs before he came to power. Like Barak Obama before him, he is what he is and he has been quite public about his views since before he was elected. Unlike the Obama/ Jeremiah Wright pastor controversy, Kris Steele continues to attend the church and continues to be paid as one of the associate pastors of the church.
Now I am sure that there are plenty of Methodists that are not social justice believers so just to be clear we are not including them in the views that Wesley United Methodist Church supports. When I was a kid, being Methodist was a good thing. Has the church been taken over?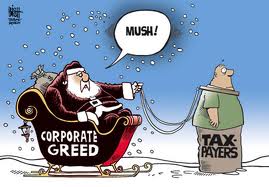 The tone for the meeting was set on Monday when the meeting was pretty much dominated by the Speaker Steele/Hickman supporters taking the State Chamber tours and attending the State Chamber lobbyist dinner. On Tuesday the agenda was moved forward putting the State Chamber of Commerce propaganda… uh, "polling" program during breakfast. House leadership tried to act as if this was a last minute reorganization but there were ten very detailed and elaborate power point presentations along with two sided briefing sheets so they had planned the agenda change way in advance.
There were ten speakers between 9:30 am and 2:00 pm:
Representative Earl Sears presented the budget outlook.
David Dank covered tax credits
Phil Richardson covered water policy
Randy McDaniel covered pension reform
Jason Nelson covered DHS reform
Guy Liebman covered transportation issues
Jason Murphy covered government modernization
Glen Mulready covered Obama Care
Doug Cox covered OSEEGIB (Oklahoma State Employees and Education group Insurance Board) and Medicaide
Kris Steele covered corrections reform
The three most important issues covered were Representative Earl Sears and Representative Guy Liebman on merged budget and transportation issues, Representative Glen Mulready on Obama Care, and Kris Steele on his early release agenda.
Obama Care/Fallin Care is going to be forced down our throats against all opposition. Here is what Representative Glen Mulready's told the attendees:
"Now listen guys, what we need to be doing is regard to Obama care… the state has already done all it can to resist Obama Care… what we need to be focused on as a caucus is a contingency plan if it isn't ruled unconstitutional and proceed on implementing Obama Care."
At this point Representative Charles Key was on his feet telling the legislators that they have a Constitutional responsibility to defend the state and the people from unconstitutional laws like Obama Care and that they need to be discussing nullification of Obama Care not caving in. According to several sources Representative Mulready began mocking Representative Charles Key on the nullification issue.
The final important issue was Speaker Steele's corrections reform which is known as "The Soft On Crime Agenda". Speaker Steele discussed the number of incarcerated women in Oklahoma, and then veered off to talk about drug crimes, then brought up the large percentage of minorities committing crimes.
At this point Speaker Steele's frustration over losing the Speaker Designate race showed up when he made a backhand slap at Representative Shannon. Speaker Steele mentioned that the crime rate had dropped in Oklahoma City and Tulsa but was up 30% in Representative TW Shannon's House district in Lawton. Speaker Steele quickly added "…but I'm sure that is no reflection on the fact that our new Speaker Designate is their representative." Several attendees reported that the crowd was "stunned" at Speaker Steele's thinly veiled racial comment.
Even more revealing was the fact that Speaker Designate TW Shannon was not allowed to address the caucus or provide input on the caucus agenda. Not only did Speaker Designate Shannon not get an initiation to speak but this was the first time the Speaker Designate was not allowed to address the caucus since 2004 when the GOP took control of the House of Representatives.
The purpose of the caucus meetings is to discuss a formal House Caucus agenda for 2012 and to discuss any House rule changes. Usually they discuss constitutional matters, public safety, pro life issues, or Second Amendment issues, those issues that are planks of the Oklahoma State GOP Party Platform. Instead of doing caucus work the event revolved around handpicked Speaker Steele lieutenants pushing indoctrination on their pet issues, with limited time for questions and answers, all designed to run the clock out on the meeting to avoid discussion the agenda or the rules for 2012. Rather than treat elected Representatives like adults, House leadership subjected the attendees to five hours of nonstop death by power point, including right through lunch!
When attempting to figure out why something happened and finding the answers elusive, I like to reflect on whether or not I am asking the right questions. And the old saying that doctors use "Think horses not zebras" comes to mind, the point being that one should consider the cause a common one before attempting to blame things on an exotic causation.
Taking in all the info, I believe that this entire highly orchestrated even was designed to avoid having rank and file input on the 2012 agenda, to avoid having to discuss Representative Trebilcock's loss of his committee Chair position, and to avoid any discussion of the new Ethics Committee that Speaker Steele created.
Indicative of the poor planning and leadership for this event was the last minute scheduling of Representative Martin's suggested new House rule that would have forced elected Representatives to sign a confidentiality oath before attending Caucus meetings. Martin even asked that a representative not be allowed to vote unless he or she had signed the oath. After submitting the new rule, recieving a second on the motion from Guy Liebman, and giving his reasons for the need of a new rule, Representative Steve Martin accepted questions from the attendees.
Representatives were on him like ugly on ape, bringing up the need for transparency in government, linking this proposed rule to the new Star Chamber Ethics Committee, asking that instead of more secrecy that the caucus be opened to reporters and the general public, asking that the legislature be subjected to both Open Meeting laws and the Open Record Act. Representative Charles Key, Gus Blackwell, and Jason Murphy did a great job at asking how oaths of confidentiality squared with the personal political beliefs of the members.
The Representative Steve Martin rule change went down in flames though with mostly the Speaker Steele/Hickman allies voting in favor with the exception of Representative Paul Wesselhoft, Mike Jackson, and Charlie Joyner. Joyner and Wesselhoft voting for the rule was a surprise. Mike Jackson isn't a surprise, he is a moderate Republican from Enid, although he is slightly more conservative than his Senate partner.
During the question and answer session on Representative Martin's proposed secrecy rule, the Sooner Tea Party got brought up, not by name, but when asked for an example of leaks Representative Martin brought up the walkout when Representative Dan Sullivan spoke at the last caucus, the Speaker Designate voting record that the Sooner Tea Party published, the Skye McNiel article saying that the Tea Party was mocking the wholesome occurrence of birth, then mentioned that his secrecy rule itself had been leaked, and suggested that the leaks were a mean spirited attempt to embarrass and divide the caucus. Martin finished by saying "There doesn't seem to be anything said in caucus that the Tea Blogger can't get hold of."
The proposed rule change didn't get the supermajority required to implement it which was ironic because the supermajority requirement was added around 13 months ago at the first Republican House caucus meeting after the 2010 election. It seems that the rules that Speaker Steele created at that contentious meeting in Bartlesville have turned around and bit him in the hindquarters.
Once the secret oath rule went down in flames, House leadership postponed discussion of the rules till the next meeting. But there is much more to this entire story. Was the Representative Martin secrecy rule merely a ruse to distract attention from an even more tyranical method of surpressing the truth from being leaked? Are conservative legislators and conservative activists going to be targeted in the next session? Find out in next week's newsletter.
Oklahoma's Own Joe Wilson Moment
Everyone remembers the September 2009 controversy over Congressman Joe Wilson yelling "You Lie!" at Obama during a speech. We had our own Joe Wilson moment on Tuesday when debate lead to an uproar between House conservatives and House progressives.
In June Speaker Steele removed John Trebilcock from the House leadership team for refusing to vote in lock step with House leadership. In November Speaker Steele fired John Trebilcock from his committee Chairman position in retaliation for Trebilcock supporting TW Shannon in the Speaker Designate race. Since this was the first caucus meeting since Trebilcock was fired, Representative Gus Blackwell took Speaker Steele to task for the retaliation. Speaker Steele responded by saying that Trebilcock was not removed for supporting TW Shannon but was removed for other reasons. Speaker Steele then called Trebilcock a "friend". With that, Trebilcock had had enough. He had showed a lot of class up to that point, allowing others to defend him, not saying a word.
Representative Trebilcock was seething during Speaker Steele's remarks but held his tongue until Steele repeated the accusation that there were valid reasons for Trebilcock's being fired from the Chairman position. Trebilcock raised his hand to speak, then ripped Speaker Steele's version of the facts to shreds point by point, using specific dates of events, then told Speaker Steele: "I was not going to engage in this but you have said something to the caucus that was not true. I was removed from the leadership team in June, and I can understand why you wouldn't want me in your inner circle because I didn't support some of your agenda. But you told me that it wouldn't affect my Chairman position. What happened between June and November that caused you to remove me from the Chairman position?
Speaker Steele responded with "John, I didn't want to raise this in front of everyone, you just weren't there, you missed 30% of your votes." Trebilcock responded "there weren't any votes cast over the summer".
With that, the room erupted in pandemonium as the representatives realized that Speaker Steele just got caught lying in front of everyone! Speaker Steele supporters freaked out at seeing their man caught red handed. Representative Dank starts yelling for a motion to adjourn, the meeting Chairman Representative Weldon Watson is yelling that he accepted Dank's motion to adjourn while Representative Blackwell and Key shouted out their objections; Representative Reynolds is calling for a motion to table the adjournment and is shouted down by a very flustered Chairman Weldon Watson. The normal meeting rules are upended by the objections going unheeded and a vote is forced, adjourning the meeting in order to shield Speaker Steele.
This event was serious enough that Wednesday afternoon Representative Gus Blackwell sent an email to the Republican House members:
Representative Blackwell painted a stark but accurate painting of Speaker Kris Steele's actions. I want to commend him for stepping forward with courage and laying this out for all to see.
I spoke with many legislators to get their reaction to the controversy. One said this was like a family problem, if it isn't addressed then things will blow up. Another said that Speaker Steele's leadership skills were poor, that the Speaker should have dealt with this man to man with Trebilcock. Another comment was that this isn't the style of leadership that you would fight for and that if supporting Speaker Steele means that you will be marginalized the second you don't agree with him 100% then Steele isn't going to have a lot of supporters left. Another said that if the Speaker was confident and secure in himself then he could have handled things better than he did.
Others blamed the entire episode on Representative Hickman, saying that he was behind all the trouble since he was the real power behind the Speaker, one went so far as to call Hickman a "puppet master" and a "manipulator". One legislator opined that the entire episode was orchestrated to distract the legislators from discussing the agenda and the House rules.
Many of the legislators that voiced their opinion on the controversy also believed that the Representative Steve Martin proposed secrecy oath rule was a crude attempt to remove enough Republican caucus members to force a new vote on the Speaker Designate race. Another legislator said that Speaker Steele was "unveiled" by his actions. Others stated that Weldon Watson aggravated the situation by breaking the House rules, calling his actions as Chairman at that meeting totally outrageous and a complete violation of the trust of the legislators.
The result of the controversial caucus meeting last week is that a lot of legislators are actually talking about removing Speaker Steele from power. There are issues with an outright removal of Speaker Steele. One claimed that rather than losing face, Steele would negotiate with conservatives. Others said that removing the Speaker would make the GOP look weak, as if they were incapable of governing. More than one suggested that TW Shannon wasn't quite ready to step into the Speaker position and suggested that Gus Blackwell finish out the Kris Steele term so that Shannon had time to learn the ropes.
One thing is for certain. The Speaker Steele supporters are realizing that their days in power are numbered. It is now just a matter of time until one legislator, whether it is in caucus or on the House floor, stands up and says:
"Mr. Speaker, I move that the speaker position be vacated".
As one legislator said, "The Speaker is realizing that he doesn't have a gun pointed at the heads of the legislators and is going to get blowback if he continues believing he can do anything he wants." Others like Representative Glen Mulready have already seen the writing on the wall; I'll go so far as to predict that Glen Mulready will not run for his seat in 2012 or if he does he will have a hard time winning re election.
And since Representative Mulready stuck his head up and got noticed for his support of Obama Care, his opponent, Darren Gantz, is hosting a campaign kick off this Thursday night Thursday Dec. 15th, 8605 South Elwood Jenks Riverside Airport, 6:30 to 8:30pm. Airplanes, music, food and a chance to help defeat an iron clad State Chamber of Commerce lacky. What more could you want?
The next meeting for the United Rural Animal Industries and Sportsmen's Association (URAISA) will be in McLoud, Oklahoma on 17 Dec 2011 at 12:00 noon in the VFW building. McLoud is approx 15 miles east of Oklahoma City, 5 miles west of Shawnee and 4 miles north of I-40. Look for the McLoud exit.
If you would like to support the Ron Paul movement, there will be a Libertea Rally for Ron Paul on Saturday Dec. 17 at 1PM on the South steps of the Capitol.
Last week's article on the relationship between Representative Skye McNiel and Speaker Kris Steele caught a lot of attention in the blogshere. The McCarville report posted a story about our "attack" on Kris Steele's disability then the Oklahoma Truth Council blog picked up the thread and advised me to "take a breath". The McCarville Report is corrupt and their motivations have been adequately exposed, rather than reporting the news, McCarville continues to try to manufacture the news, destroying the credibility of his work, but criticism from the Oklahoma Truth Council warrants a reply.
First off, it was obvious that the article was sarcastic and horribly irreverent. Even the legislators mostly thought it was pretty hilarious. I'm told that during breaks at the Monday and Tuesday caucus meeting there were small groups of legislators gathering at the back of the room chuckling about the article and discussing the issue. Everyone understood that we were mocking Kris Steele's propensity to micromanage his lieutenants and to attempt to dominate every aspect of Capitol interactions.
I used to gauge just how far I went with my sarcasm by reading the hate mail we received. Lately though, there has be a paucity of hate mail, not a lot of unsubscribe requests either, so the readers at large have either found the sarcastic, biting remarks more funny than offensive or they have resigned themselves to ignoring it. A third reason for the lack of feedback might just be that people are beginning to see why we ridicule our targets.
The thing about sarcasm and ridicule is that it is both memorable and difficult to defend against. Sure a solid, rational, well laid out argument against House leadership would convince a few, at least those that were so interested in Oklahoma politics that they would wade through such a dull topic. But the masses demand to be entertained while they learn, and everyone enjoys seeing the guy on the flagpole taking shots in his tukus. Telling a story about corrupt politicians and showing that they aren't any smarter than the rest of us also cuts into their political reputation.
But the other points about sarcasm used in written form is that we usually depend on tonal inflection and gestures to realize that sarcasm is being used and like it or not, to interpret sarcasm involves second order interpretation of the writer's comments, so the sophisticated understanding might be lacking in some people. It is said that the inability to determine sarcasm is present in those with certain forms of brain damage, dementia, or autism. Well, then… one has to do no more than watch who laughs at the more offensive portions of the Sooner Tea Party to determine their mental health.
.Seriously though, have we all become so politically correct that we can't laugh at politicians when they show us how silly they can be? And Speaker Steele just seems to bring out the worst in people. I can imagine that were I in his class in third grade, I would beat him on a regular basis and steal his lunch money. Wedgies and toilet dunking would likely occur on a regular basis. A face like that just aches to be abused so it was no wonder that one of his childhood "friends" took a shot at him leading to a six figure settlement from the Daisy Air Rifle Company and the OTASCO store that sold the B.B gun to his parents.
In October, right before the Speaker Designate race, we gave the sixteen most common values that the Tea Party stands for and asked the legislators if they were on our side or against us. I believe that the outcome of the Speaker Designate race was the answer, with RINO Republican House leadership taking a humiliating public beating and the more conservative TW Shannon winning control of the 2013 legislative session. We have written about the first two Tea Party values, opposing illegal immigration and supporting pro domestic private employment policies. Number three on the values list is our support for a strong military and that means protecting our veterans and our National Guardsmen.
Stories of the new North American Command training soldiers for deployment in the continental U.S. are troubling for most civil libertarians. The Posse Comitatus Act has long protected Americans from having our own military turned on us without a direct order from Congress but the law is under attack all in the guise of "safety" and "security".
Most Americans understand that police powers should be controlled locally so that the citizens have control over those police forces. The legislators of the State of Oklahoma should always be aware of their duty to maintain control of local affairs, to ensure that in the event of local needs, that the National Guard be used rather than our professional military. By keeping our military reserved for outside threats, the public will retain their admiration and respect for veterans and soldiers. If the day comes when the military is viewed as suppressors rather than protectors then public support will evaporate.
Past the use of Federal troops within the confines of the U.S. for policing citizens, our legislators should always support our veterans and soldiers. Last session saw a tax break created for veterans but it was delayed for years while corporate welfare tax credits for Boeing and another industrial concern were implemented immediately. We have seen our Oklahoma National Guard deployed in Iran and Afghanistan rather than using Federal troops, putting a burden on the families of National Guard members who tend to be older family men instead of young unmarried recruits.
Many believe that we should not be the world's policeman because we cannot afford it as we are spending borrowed money that our children and grandchildren will have to repay. At the very least many believe that should we have to go into a foreign country to protect our interests, we should blow through there and accomplish our mission and get the heck out of the business of occupying countries.
Lastly, what American small town or city wouldn't love to have an air base or army base? Is there a reason that we have bases in 135 countries around the world? Is there not another way to do this so that we are spending American dollars at home where our economy will benefit?
The Tea Party movement is completely supportive of our armed services and while many of the issues are Federal in nature there are things that the State of Oklahoma can do. Shipping the illegal aliens out of the state comes to mind so that returning National Guard members have a shot at getting another job once they return