=============
**
<><><><>
EFT® for
Clutter-Busting!
Sunday October 4
EFT® for Physical & Emotional Healing
Sunday October 18
12-2 PM - $25
<><><><>
Lose Weight, Gain Confidence with EFT®!
Sunday October 25
12-2 PM - $25
<><><><>
to reserve your place at least 48 hours in advance!
=============
**
Contact Colleen for a free consultation or to book a session for an hour of surrogate muscle testing, tapping, laughing, fear blasting and SWEET RELIEF!
<><><><>
<><><><>
DISCLAIMER: EFT is gentle acupressure and has produced remarkable results in relieving emotional and physical distress.
USE EFT AT YOUR OWN RISK ON YOURSELF AND OTHERS, INCLUDING ANIMALS.
If you apply this newsletter's techniques to yourself or others, you are agreeing to take full responsibility for any side effects and/or outcomes.
* * *
Thank you for subscribing to my newsletter!
* * *
May you be blessed with perfect health, wealth, joy, peace and love! --Colleen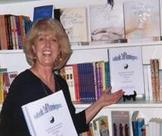 Please forward this newsletter to family and friends who could use the news!
Need help identifying the Core Issues to tap on?
Products to help YOU heal your life with the power of Tapping and Louise Hay's teachings.
* * **
Click
HERE
for Private Session information
.
Mega thanks to YOU, my Worldwide Subscribers for inviting my EFT Secrets and Tips into your inbox!
**

<><><><><><><><><><><><><><><><><><>
Is an unknown core issue keeping you from creating the life of your dreams?
Want to find out what it is?
Read on!
<><><><><><><><><><><><><><><><><><>
Autumn allergies have begun in the northen hemisphere
while Spring allergies started in the southern hemisphere.
Article on tapping allergies away HERE!
*
People have been tapping away their animal's fears, allergies and misbehavior tendencies using my
NEW ANIMAL EFT E-BOOK!
Details HERE!
<><><><><><><><><><><><><><><><><><>

Tapping Into Hidden Core Issues
via Simple Constricted Breathing Techniques
*
Have you ever felt anxious or afraid but weren't sure why? Many people feel that way. Although they know how to tap on themselves, they're not sure what to tap on.
*

The simple Constricted Breathing Technique can help you find and release hidden yet important emotional issues..
*
It also helps you to breathe more deeply . This is great when you exercise or do any strenuous activity. I've used it before I jog and the quality of my breathing really improves.
*
Use this info (from emofree.com) at your own risk ONLY AFTER consulting with your healthcare provider or family physician.
*
(1) Inhale 2 or 3 maximum deep breaths. Take your time and don't hyperventilate. This step will stretch out your lungs so that any Tapping improvement in your breathing cannot be attributed to a normal "stretching effect" of your lungs.
*
(2) Once you have stretched your lungs as far as they will go then take another deep breath. This time assess the deepness of your breath on a 0-10 scale where 10 is your estimate of your maximum capacity. Numbers typically vary from 3 to 9.
*
(3) Apply a complete round of EFT® or Meridian Tapping Techniques (MTT) to change the breathing.
(Tapping newbie instructions
HERE
) Try using the below Setup Statement examples if needed.
*
NOTE: Be VERY AWARE of any emotional issues or memories that come to mind. These are clues from your subconscious mind. When have you felt constricted or smothered recently or in the past? Were you so frightened or stressed that you held your breath recently or in the past?
*
Tap on your karate chop point or rub your sore spot and repeat three times:
"Even though I have this constricted breathing, I deeply and completely accept myself."
OR
"Even though I can only fill my lungs to an 8, I deeply and completely love myself and my precious body."
*
Do a 9-Gamut Routine followed by your Reminder Phrases on all the EFT / MTT acupressure points.
*
You can create the Reminder Phrases from the above Setup Statements, e.g., "This constricted breathing", "Feeling like I can't fill my lungs completely", "Fear is constricting my breathing".
*
(4) Relax and assess your breathing and thoughts. Did any fearful memories come to mind as you tapped? Ask yourself questions such as: "What does this constricted breath remind me of?" and "If there was an emotional reason for my constricted breath, what might it be?" Often, the answers or memories will give you a big clue to an important emotional issue that can be released.
*
(5) Take another deep breath and assess the 0-10 deepness. Has it improved? Try another round of tapping on the constriction if you could not think of a negative event or fear. If an emotional issue DID come to mind, then tap specifically on that.
*
(6) The deepness of your breath should keep improving. You may cough out some toxic emotions, too. When your breathing is completely unrestricted, you're done!
*

If you still can't find the emotional core issue on your own, contact someone who can...like Colleen!
*
Tap each day for the optimum health of you, your loved ones, and your animal friends!
<><><><><><><><><><><><><><><><><><>
Want to learn HOW use MUSCLE-TESTING and TAPPING

together

like Colleen does?
*
People around the globe have ordered my
Muscle-Testing and TAPPING SECRETS in
ONE E-BOOK to help themselves, pets and their loved ones! You can NOW get the E-book and 3 bonus e-books through PayPal, then

download them right away

!
*
Check out the Table of Contents and get details by clicking HERE.
<><><><><><><><><><><><><><><><><><> *
GOT ALLERGIES? Get the facts about worldwide allergies and how TAPPING can help HERE!
* <><><><><><><><><><><><><><><><><><>
PET MISBEHAVIOR, ALLERGIES OR ILLNESS?
Get Colleen's 5 years of ANIMAL TAPPING experience and PROVEN TECHNIQUES in one informative e-book.
E-book's table of contents is HERE!
It's the BEST $20 you'll ever invest in your animals' emotional and physical wellness!
<><><><><><><><><><><><><><><><><><> *
Note: Colleen Flanagan uses a highly effective form of Gary Craig's standard EFT
®
that she's developed over years of research and hands-on experience. For information on the standard EFT
®
and the free manual with tutorials, go to
www.emofree.com