JOHN WICK SPECIAL
DIGITAL RELEASE PASSES 100,000 MARK…
…LIONSGATE TEAMS WITH WARNER FOR BOX SET
EXCLUSIVE SKUS HELP PHYSICAL INTO SIX FIGURES TOO
POS MAKES WICK "UNMISSABLE"
MARKETING KEY TO SUCCESS…
…OUTDOOR BRINGS JOHN TO LIFE
LIONSGATE "DELIGHTED" WITH RELEASE
HOME ENT, GAME LAUNCH EVENT
ESCAPE ROOMS RECREATE ICONIC SETTING
SKINHEADS, CORGIS KICK OFF LIONSGATE Q4
BIG CONVERSION PLANNED FOR RUGBY RELEASE
CAGE, BUTLER BRING MORE ACTION
AT THE MOVIES
TWEET OF THE WEEK
TRAILERS OF THE WEEK
---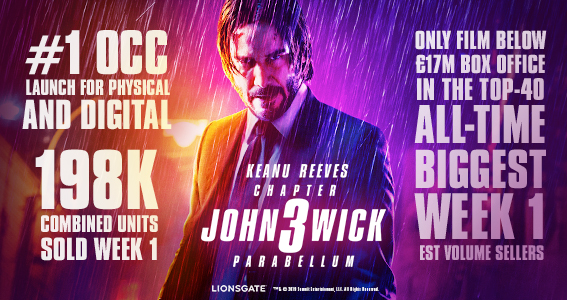 ---
If you can't read this newsletter or see the ads, please click here.
With John Wick 3 continuing Lionsgate's excellent 2019 – think Fighting With My Family, Hellboy and a run of consistently strong home entertainment performances – and a strong slate, including two of London Film Festival's most eagerly awaited films, this special one-off edition looks back at the release of the third chapter of the hugely successful Keanu Reeves franchise, Lionsgate's campaign, the much-talked about launch event and the film's successes, as well as previewing its forthcoming Q4 home ent slate and previewing some biggies due out into 2020…
John Wick Chapter 3 – Parabellum, has shown the franchise further bucking the trend – where most experience fatigue by the third film, this one is still growing. It's first milestone came through the nine-day exclusive release EST window. "It exceeded our expectations," said senior product manager Olivia Dean, "posting over 82,000 units and entering the digital chart at number one. With fantastic support across the retail landscape, John Wick 3 is now the largest Week 1 EST result for a film under £17 million at the UK box office. The digital sales team collaborated extensively with retailers, ensuring that the marketplace was buoyant with sales initiatives to give Mr Wick the edge on all platforms." These exclusives and digital retailer-specific offers saw iTunes enjoying an exclusive special feature, Sky was able to offer consumers the chance to watch the first 10 minutes of the film for free, an initiative that proved highly popular. Dean continued: "Microsoft was also a key partner, with the target audience crossing over closely with gamers it was important we tap into that market. As such, for the opening week of EST, Microsoft offered a free 2 week Xbox Games Pass when you purchased John Wick 3 on store."
The digital release of John Wick 3 – which has added a further 15,000 EST transactions in its second week – has also seen a significant tie-up between Lionsgate and Warner, which released the first two Wick films. As Lionsgate's head of marketing Ben Grunbaum explained: "Collaborating with Warner's, we have also been able to offer a digital triple pack across a range of platforms. Consumers have been delighted and we've seen take-up of the box-sets beyond our expectations, taking digital sales over a stunning 100k already – as John Wick cements itself as a must-own franchise." More comment came from Adrian Zak, senior manager at Virgin Movies Store and Virgin Media, who said: "
John Wick Chapter 3 has got off to a great start on the Virgin Media Store taking no prisoners and blowing away the competition on its first week of release and remains our best-selling title so far this month. We've supported the title since its theatrical release with a pre-order and drafting of the previous movies and this has worked well for us as the sales demonstrate."
And what of the physical release? The title, as previewed here on The Raygun, shifted an impressive amount in its first week, thanks in no small part to Lionsgate's efforts with retailers and its above the line activity. It was supported by grocery ("almost the entire sector," said the distributor), as well as non-traditional retailers, specialists and online. There were a raft of SKUs too, taking in 4K UHD, Blu-ray and DVD, with offerings of not just the new film, but the entire franchise too. As Lionsgate's Olivia Dean explained: "We also had triple packs across all three formats and finally two Steelbook exclusives. Both with exclusive slipcase artwork designs, Zavvi's product contained an exclusive black adjudicator coin and Amazon's offering held a gold coin and metal lobby card; all as seen in the film itself. Fans reacted positively to both products, with Zavvi selling out ahead of release, and generating lots of word of mouth as people were desperate to get their hands on this limited product."
In stores, the was a full complement of point of sale, taking in window posters, with front of store racking across retail outlets making it what Lionsgate described as an "unmissable event". Keanu's creation was writ large over much of it, the imagery lending itself to POS and marketing materials. And, as the company's Ben Grunbaum noted: "We are delighted with how much retailers got behind the release." The film's physical sales – 100,000 after the first week – have elevated it to number one in the Official Film Chart this week and, as hmv's Andy Anderson noted: "
It's always great to see a film doing well at HMV and also in the market, especially on physical formats. Also one that has a box set available for upselling. It was pleasing to see that after a great performance on digital that there were good sales to be had physically."
The marketing was of course, key and given that the film is arguably one of the year's coolest, it was essential to Lionsgate to give that same kind of sheen and air to the release through its activity. "To support the film, our media campaign always needed to be bold, cool, and slick; ensuring we targeted the right fans in the right way to truly do justice to the film itself. We launched our campaign on social media back in July in time with the launch of the press release and the reveal of our new artwork direction. This worked fantastically well; ensuring we were directing early word of mouth and chatter towards pre-order, capturing those all-important early sales."
Lionsgate realised early on that AV would provide the keys elements for its campaign, particularly as the action quota is so high it lends itself to the the format. Lionsgate utilised the long EST to kick off its campaign with major TV and good support. Lionsgate's junior product manager Abi Golding said: "We were confident our eye-grabbing spots and creatives which showcased the action and the incredible cast; would remind fans why they loved John Wick 3 in the cinema and why it is a must-own HE proposition." Lionsgate went further by putting together what amounts to being an industry first for home entertainment. "We utilised personalised, interactive units on VOD," said Abi Golding, "calling out the signed-in users' name and asking them to choose between the stunning motorbike and horse scenes of the film. A key objective was to command stand-out and this was one way in which to really cut through and grab the consumer's attention."
It went even broader with its advertising support for outdoor, with six sheet panels on the London Underground using, as Lionsgate eloquently put it, "a bright, reactive creative which brought the iconic New York rain to life just as we were saying goodbye to the summer". And, as Lionsgte's Olivia Dean continued: "Tesco panels complemented this well, capturing consumers close to the point of purchase and hugely increasing our opportunities to see. We bolstered John Wick 3's share of voice even further through tactical press insertions throughout the physical week of release; capturing those all-important commuters on their way into the week and their way into the weekend to truly bookmark the week of release."
Digital was key too, with Lionsgate carefully targeting ads to turn fans of the franchise into customers. Key to targeting was studying the results of the Chapter 3 theatrical campaign, as well as Lionsgate's previous action titles. There was a robust three-week campaign across Facebook, Instagram, Amazon and IMDB, which was further enriched by activity across Amazon's gaming platform Twitch and video display across a host of newsbrand and male lifestyle sites. "We've seen fantastic engagement across all areas of the digital campaign with fans eager to talk about the release and help us position John Wick: Chapter 3 – Parabellum as a must own proposition in the ever-growing John Wick franchise," said Åbi Golding. "We're delighted with the success of John Wick 3 and look forward to setting the title up for continued success throughout Q4."
It wasn't just the key above the line elements that helped John Wick excel. It collaborated with Lionsgate's US games arm, and partnered with Good Shepherd, the company behind video game launch John Wick Hex. They joined forces for a joint launch of the game and home entertainment release under the banner of John Wick: Excommunicado, hosted across nights on September 16 and 17 and recreating the Continental hotel, home to and a safe haven for assassins . "It was a unique opportunity to leverage the whole franchise, the event comprised a bespoke escape room set in the world of John Wick: Chapter 3 – Parabellum," explains Lionsgate's Olivia Dean. Players – press, influencers, industry representatives, retailers and more on the first night, ordinary punters, via competitions and giveaways on the second – were taken into the vaults by the concierge and given 15 minutes to escapeIf they were able to break out, their status as excommunicado would be reversed. If not; then they, like John Wick, would be at the mercy of assassins around the globe.
The keenly planned event saw players solving clues, progressing to different phases and areas, first the vault, complete with safety deposit boxes, then the New York library, decked out old books, leather bound chairs and dark wood panelling, then a vault room in the form of Casablanca and the Moroccan desert and finally, the communication centre. Here they had to connect all Continental hotel sites around the world in a specific sequence and, if successful, a mysterious phone call followed – and with a correct answer in the time given, players were free to escape and the bounty removed from their heads. A treat awaited successful players – a Continental themed bar which spanned two floors and displayed costumes and props from the film; themed drinks; computer stations to play John Wick Hex and not to mention the gorgeous Ramsay (@bluestaffy) who stole the show and attracted a lot of attention and cuddles! Commenting on the event, Lionsgate's Olivia Dean said: "A host of influencers and celebs from across the entertainment and gaming worlds took on the escape room to great success on the launch night; guests included Chris Eubank Jnr, Nathan Henry, Tallia Storm, Olivia Cox, Kieran Nicholls and Tyla Carr. Reactions were all extremely positive with plenty of Instagram and social coverage going live on the night – search the hashtag #JohnWickExcommunicado to take a further look." The next night saw the escape room experience open up to the public, with thousands of applicants vying to get a chance to live the John Wick experience. "It was a great achievement to be able to collaborate with Good Shepherd in this way and help elevate the release of John Wick 3, creating the type of buzz usually reserved for theatrical releases and really putting Mr Wick on the map as a must-own home entertainment proposition and one of the key event-size releases of the year so far." You can see more on the event including footage and pictures over here…
---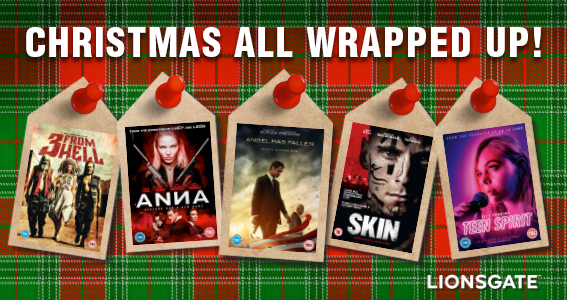 ---
And while John Wick: Chapter 3 – Parabellum marks a true high point in the Lionsgate release calendar for the year so far, the company has stated that 2019, a strong one at home entertainment for Lionsgate, is far from over, with a hefty Q4 slate due. The final quarter kicks off with Skin; based on a true story the film battles with themes of white supremacy, violence and how to overcome your past. It features Jamie Bell in a career defining role, ably supported by breakout Dumplin star Danielle McDOnald, It sits alongside the latest offering from horror and heavy metal legend Rob Zombie, 3 From Hell reeleased in time for Halloween. Showcasing the diversity of the Lionsgate slate, October is rounded off by family-fun British animation The Queen's Corgi. Launching at the start of half term, the story follows Rex, the Queen's top dog, who finds himself out of his very comfort-able zone and in a whole lot of trouble! Jack Whitehall, Julie Walters and Matt Lucas are just some of the voice cast behind the tale.
And theres more Wick too. As the company's Olivia Dean outlined plans for a deluxe triple box set of his adventures. "One for the superfans," she said, "this six-disc collection houses all three films on UHD and Blu-ray. Laid out in a rigid box with a stunning silverwrap; 10 art cards; Sophia's blood oath marker from the third film and a lobby card, the 1000-run limited edition collections will be numbered and make the perfect collectible in time for Christmas."
Beyond that, there's action albeit of a different kind (no less violent for some), in the shape of the official record of the Rugby World Cup, currently playing out in Japan. "The Official Review of the 2019 Rugby World Cup will feature all the highlights from this years' tournament, the release will be positioned as a great gift for Christmas and a must-own for rugby fans."
And, of course, it wouldn't be a Lionsgate quarter without a brace of its favourite stars, namely Nic Cage in Primal and then Gerard Butler in the latest in the Fallen franchise. Lionsgate's Abi Golding said: "Cage fans won't be disappointed as he battles an extradited assassin and endangered predators, all awhile on a freight ship. Rounding off the year comes Angel Has Fallen; the third instalment in the highly successful franchise; sequel to Olympus and London Has Fallen. Gerard Butler reprises his role as Mike Banning – a secret service agent and bodyguard to the US President. However, when Mike is framed for an attack on the President, he must use all his resources to prove his innocence and find the real culprits. A franchise known for its action, the films have traditionally performed exceptionally well for home entertainment and we're ensuring Angel will be set-up to perform just as well."
---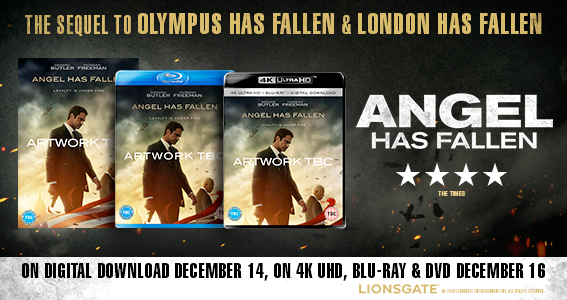 ---
"The popularity of the John Wick franchise continues to surge with strong growth across packaged media, electronic sell-through and video-on-demand platforms. The success of John Wick: Chapter 3 is a testament to the film's incredible cast, led by Keanu Reeves, and amazing creative team, the efforts of our sales and marketing executives, and the vibrancy of the home entertainment business across all of its platforms."
Lionsgate President of Worldwide Home Entertainment Ron Schwartz after the film shifted 3 million units across physical and digital on its US release.
Lionsgate has a clutch of big, big films airing at London Film Festival in October, with two key gala screenings. These will work their way on to home entertainment formats next year after post-LFF theatrical releases. It kicks off with the opening night film, The Personal History of David Copperfield on October 2. Lionsgate's Kirsten Sweeney said: "The highly anticipated take on the Dickens' novel has been directed, produced and written (screenplay) by Armando Ianucci who brings his unmistakeable style and eye to the retelling. The cast is absolutely fantastic, with Dev Patel taking up the eponymous lead, and supported by Tilda Swinton, Ben Whishaw, Peter Capaldi and Hugh Laurie amongst others. The film makes a fantastic proposition for home entertainment, appealing across a spectrum of families, children and adults with a multitude of appealing selling points for all. More to come on this brilliant and unique British film."
Next up is American Express Gala Screening for the eagerly awaited Rian Johnson-directed whodunnit Knives Out on October 8. Lionsgate's Olivia Dean said: "Starring Daniel Craig, Chris Evans, Jamie Lee-Curtis, Toni Collette and Christopher Plummer amongst others; the film pays homage to Agatha Christie's iconic style; is extremely clever, wickedly comic and a must-watch hot on the agenda. With fantastic critical reception from the world premiere at TIFF, we're very much looking forward to Knives Out's UK release and how we can generate a huge success in home entertainment in 2020."
Its third and final film from its perfectly formed LFF slate is Blackbird. "Directed by Roger Michell and starring Susan Sarandon, Kate Winslet, Mia Wasikowska and Sam Neill, the film deals with the difficult premise of a mother spending a final few days with her husband and children," said Lionsgate's Ben Grunbaum. "Deeply moving with stunning performances, the film delves into understanding human behaviour at its most raw. We're very much looking forward to bringing all three films to both the festival and future home entertainment. The line-up truly offers a snapshot of the quality and variety of films Lionsgate are bringing to the UK market."
Amazing word of mouth on this Rian Johnson whodunnit…
Here's Rob ZOmbie's latest…
Billy Elliot's turned out bad…
You're on The Raygun newsletter mailing list, which has been running for eight years, because you requested it, have been recommended to us or sent us emails. You can unsubscribe at any time, if you're daft, using the link elsewhere or by emailing as below. But of course, you don't want to do that, do you? We don't share your information with anyone else, we don't like cookies and we're the good guys. We care because you do…
To subscribe to The Raygun newsletter, please email
info@theraygun.co.uk
with subscribe in the subject matter
To unsubscribe, email

info@theraygun.co.uk

with unsubscribe in the subject
For editorial or advertising queries, contact

tim@theraygun.co.uk