BASE SHORTLIST TO BE REVEALED
FRIGHTFEST GOES DIGITAL FOR AUGUST
OFFICIAL FILM CHART UPDATE
LIONSGATE'S TUBE JOURNEY…
LOCKDOWN INSPIRES INNOVATION
LIONSGATE UNVEILS Q3 TITLES
INVISIBLE AIMING TO BE SEEN
AT THE MOVIES
TRAILERS OF THE WEEK
---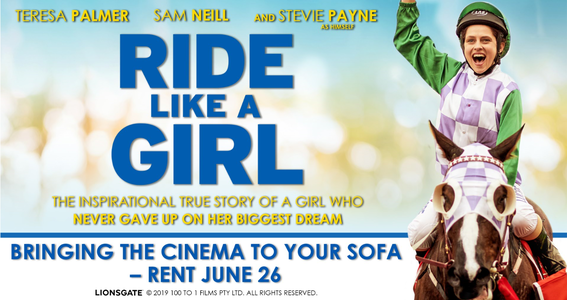 ---
If you can't read this n

ewsletter or see the ads, please click here.
Get ready. For by this time next week, the record number of entrants for the 2020 BASE Awards will know whether or not they're on the shortlist to pick up one of the gongs. For, in the latest innovation from the awards, due to take place later this year, BASE and its partners are heading online to unveil the shortlists for the 24 different awards. From 5.15pm next Thursday, July 2, the organisation will be revealing who is in the running for this year's gongs. The online judging completed, these are the nominees who are in with a chance of scooping an award at the delayed event. You need to be registered, which you can do by heading over here. As BASE said in its announcement concerning this year's reveal, it will also give the industry a chance to raise a glass at home to the nominees and congratulate them on getting those far, and commiserate those who sadly missed out. The BASE statement added: "With the BASE Awards currently postponed until November, the team at BASE nevertheless remains committed to delivering an event in 2020 that acknowledges and rewards all of your hard work. Further updates on the BASE Awards 2020 will follow." Good luck to everyone involved…
More event-based news and FrightFest has further outlined its plans for the coming months, following the news that it is expanding its Halloween event to mirror its traditional August event following the cancellation of this summer's FrightFest is Leicester Square due to Coronavirus. Rather than summer in London, however, there will be a virtual Arrow Video FrightFest taking place online over the August Bank Holiday weekend. It will feature at least 25 films airing from the Friday to Monday, with additional material including Q&As, guest intros, short films and possibly even live events (the latter are currently at the planning a stage. Tickets will go on sale early in August, along with details of the line-up and the platform FrightFest will be working with. What's more, organisers have promised that the line-up will Be completely different from the Halloween event, meaning no doubling up and even more world, European and UK premieres. Ian Rattray, FrightFest co-director said: "Although we can't recreate the special atmosphere of our public gatherings, we hope our online event will go some way to bringing the fans and filmmakers back together, not just to watch some great new films but also to carry on the community spirit that FrightFest is famous for. And, of course, we welcome genre fans who have been unable to attend in person before and who will be joining us for the first time." Arrow Video will remain headline sponsor, the company's head of sales and marketing Mike Hewitt said: "We're incredibly proud to be acting as headline sponsor of the UK's premiere genre event, FrightFest, for a third year running. In these changing and challenging times, we need to adapt to new ways, and although we are clearly sad that this year's August event will not be in a physical form, we are really pleased and excited that the team have decided to retain the summer genre festival spirit in a new online format. We hugely look forward to working with the team in making Arrow Video FrightFest Digital Edition a hugely engaging and successful experience this August Bank Holiday."

Official Film Chart update time and number one in this week's outing is Birds Of Prey And The Fantabulous Emancipation Of One Harley Quinn (to give it its full title), propelled to the top slot on the back of its physical release. In at number four is David Copperfield, Lionsgate's Armando Ianucci adaptation of the Dickens classic boasting an all-star cast. This continues the company's pure patch and its strong work across multiple areas during the lockdown, for more of which, read on…
---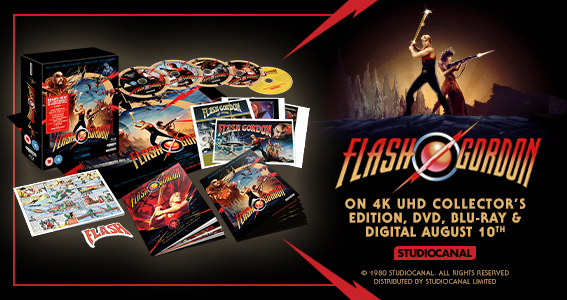 ---
Meanwhile, with Lionsgate unveiling its impressive and varied Q3 slate for Raygun readers this week (see below), we've been catching up with the mini-major to discuss its current varied slate and lockdown-inspired activity. The indie has been nimble in the way it's worked during the crisis and looks set to emerge with its reputation for quick thinking and innovative ideas further enhanced. Among its chief activities during the lockdown has been the excellent Lionsgate Live series, watch-along events where the company aired four of its key catalogue titles for free on its YouTube Channel, with accompanying input from talent and celebrity hosts. The event also raised money for NHS charities (a total of £1400 plus through the offering that could be tracked, with much more given through channels highlighted in the initiative's publicity), the talent was closely involved, with the likes of La La Land director Damien Chazelle taking part and, even David Beckham got in on the act during the Bend It Like Beckham screening. "Getting a shout out from him was phenomenal," said Lionsgate's senior vp for home ent Marie-Claire Benson. "The US had its own version of Lionsgate Live, but in the UK this was a real collaboration across the theatrical, home entertainment and several other divisions in the company, as well as promotion partners and even exhibition partners. In three weeks, we created a new brand with Lionsgate Live. Everything was done in conjunction with our partners and we really wanted to recreate that feeling of being in a cinema. The cinema exhibitors promoted it on their channels and we had more than 25,000 viewers, over 26 million impressions, 7,300 subscribers added, had 5,500 hours viewed and had Q&As with the talent afterwards accepting questions from the comments section. And we raised money for charity."
What's more, Lionsgate's work with Lionsgate Live has helped act as a catalyst for further initiatives. Lionsgate Live may return in other forms, while it is experimenting with other strategies. The company is working with the Secret Cinema organisation on its latest initiative, Haagen-Dazs presents The Drive-In from Secret Cinema, which kicks off on July 5 and presents features from Lionsgate (alongside Studiocanal and Disney) at Goodwood, complete with all the event lunacy that only Secret Cinema can offer. "This can work alongside cinema reopening, and it's all about that shared experience. Meanwhile, other titles, such as Ride Like A Girl, are moving to become premium vod releases following in the wake of Military Wives' success (for more on this see below), while it has also moved the adaptation of Caitlin Moran's bestseller How To Build A Girl from its initially planned wide theatrical release to an Amazon Prime premiere. As the company's ceo Zygi Kamasa said: "We at Lionsgate UK continue to be huge supporters of British independent films, and How to Build a Girl is one of the most hotly anticipated films on our British slate for 2020. Although we had planned a wide theatrical release for this film, given the current climate, we believe Amazon Prime Video is the perfect home to enable consumers to see and enjoy it immediately. This is a fantastic opportunity for us to bring great films to people at home more immediately and it is the light relief that we all need during this time."
Its innovations with the Lionsgate Live YouTube and the PVOD for Military Wives have set out the stall for the coming months and weeks. Its home entertainment successes have been well documented in new release terms, but it has also succeeded in 2020 with catalogue releases too. As the company's Marie-Claire Benson explained: "It's amazing to see what we can achieve in the face of new challenges. We will build on what we have done. It's given us a real energy and motivation to try all sorts of new things. Digital sales are above expectation this year although, physical sales have suffered a bit, where people aren't going out to browse films in stores at the moment. But we're still seeing some great catalogue sales on both physical and digital. That's as much due to the strength of our recent catalogue, with titles such as Rambo Last Blood, Midway and Angel Has fallen, escapist action titles. The new Hunger Games book The Ballad of Songbirds & Snakes has seen new people coming to the franchise, sales of the series have picked up once again, the box sets are doing really well. We're consistently performing above where we'd expect to be week in and week out. With Military Wives, we've invested time, energy and money and we felt we needed to get it to audiences. We turned it into a PVOD release in two weeks, despite having no real frame of reference. We're really pleased with the results and the levels of transactions we had."
Military Wives heads up its summer slate, straddling Q2 and Q3, with the digital on Monday and the physical release a week later. "We took Military Wives off pvod, giving it a window of seven weeks before bringing it back for the home entertainment release. We're putting full marketing and promotion behind it, retailers are getting behind it and we think it's going to do really well." It's followed by the aforementioned Ride Like A Girl, which, as the the company's Olivia Dean explained: "Following the success of the Military Wives PVOD launch back in March, we're excited to be bringing the brand new film Ride Like a Girl to families and horse racing fans at home on June 26th. Available to rent from all digital platforms, the film stars Teresa Palmer, as real-life jockey Michelle Payne, Sam Neill, and Stevie Payne who plays himself. An astonishing, uplifting family film based on an incredible true story, Ride Like a Girl was the highest grossing Australian film at the Australian box office in 2019 and we're excited to be bringing it to a UK audience whilst cinemas are shut. We're supporting the film with a full marketing campaign; including a robust VOD, social and digital activity, targeting family audiences and sports fans with the return of the Premier League. Promotional partnerships have been secured with The Pony Club, Sprinkles Gelato and The Jockey club amongst others. This will be complemented by a national PR campaign with support from talent."
Beyond this Lionsgate's summer of home entertainment releases offers up a wealth of strong titles, with the beginnings of what will become its forte over the coming months – strong DTV titles which, in normal times, would be arriving on home entertainment with some theatrical release behind them. July alone sees the likes of romcom The Swing Of Things, released digitally on July 6, starring Luke Wilson; Liam Hemsworth and Vince Vaughn in thriller Arkansas (EST July 13, physical July 20); Bruce Willis in home invasion thriller Survive The Night (EST July 20, physical July 27) and, nestling cutely in between those, talking canine family film Think Like A Dog starring Josh Duhamel and, for the dads, Megan Fox. At the end of July on digital, with physical on August 32, there's Mickey Rourke and cast of many more in snowy sword and sandal actioner Legionnaire's Trail. TV is represented by Orange Is The New Black S7, the final outing for the long-running and still hugely popular prison drama, with a compete season box set too (all on July 27). Into September, there's an all-singing, all-dancing Blu-ray release for classic gritty drama Last Exit To Brooklyn. "Moving into Q4, we're looking to be more innovative, and were looking at acquiring more product of the kind that's working well. We're at virtual cannes, discussing titles and looking at the best ways of getting them to consumers in any and every form."
---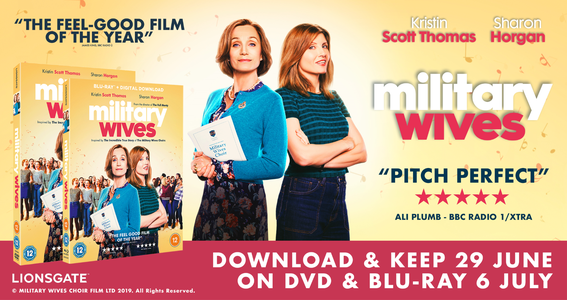 ---
What was the last film you saw in the cinema, is a question oft asked on social media. For us on The Raygun it was The Invisible Man, the Leigh Whannell-directed new take on the classic tale, and a title that should still be standing tall as one of the year's finest genre efforts once 2020 is over. After a speedy PVOD outing when its strong theatrical run was cut short by cinemas shuttering, it lands on physical formats on Monday July 29. Universal's campaign follows the theatrical and PVOD marketing by focusing on making entirely clear that it is now available to own. The major is also playing up the extended edition and additional material, as well as attempting to take the film beyond genre fans and into a wider audience. Senior product manager Emily Evans said: "which was not shown in cinemas and all formats include a wealth of exclusive bonus features for fans to enjoy. We have also worked with our Digital team on a joint press ad in the Guardian Guide to highlight to consumers the different options of ownership available to them. The majority of our campaign is online, with all AV including display activity around it so it really stands out. Our creative highlights the extended edition and the great reviews for the film. This is being supported by an organic social campaign which includes sneak peaks of the bonus features and a press office campaign."
Also due from Universal on the same day is the riotous female-friendly comedy Like A Boss. The film sees would-be beauty entrepreneurs Tiffany Haddish and Rose Byrne going up against mega-business mogul Salma Hayek in a business-based romp. Commenting on the film, Universal senior product manager Emily Evans said: "For our marketing campaign, we are positioning the film as the perfect girls night in (even if it's virtual!) and focusing on paid activity on social media. It's the perfect, feel-good pick-me-up."
More from Monday and there's heart-warming, classic capers from Studiocanal due in stores and on the shelves, both real and virtual, with the release of a slice of feel good in the shape of Alastair Sim starrer Laughter In Paradise. We're not sure about anyone else, but much of our lockdown has been spent watching just this kind of film, and with the reputation of the channel that serves up this kind of black and white fare, Talking Pictures, only growing in recent months, it's not just us. Commenting on the release, Studiocanal's Ncola Browning said; "Monday sees the release of the brand new restoration of the classic comedy, Laughter In Paradise. Starring the great Alistair Sim and featuring an early performance from Audrey Hepburn, this film is a jolly good addition to the Vintage Classics brand. As well as stunning new artwork, the release includes a fascinating interview with its most famous fan, Stephen Fry, which was filmed before lockdown. Supported with a fun and engaging social campaign as well as fantastic PR across specialist press and national radio, we've celebrated the light-relief that this entertaining classic brings."
Monday sees the latest release on MUBI's physical imprint as the company puts another of its recent exclusives, Pablo Larain's Ema, on to disc format after its appearance in the curated video on demand service. It's been busy elsewhere too, making plans alongside independent distributor Modern Films and director Werner Herzog to host a special preview of the director's next film, Family Romance LLC. The 24-hour preview will include an introduction from the director, with a Q&A following in its wake. The film will be available to rent through MUBI from the next day, July 4. Commenting on the title, Daniel Kasman, VP of Content for MUBI said "We are ecstatic to introduce this extraordinary feature from Werner Herzog, one of cinema's greatest visionaries. After showcasing his fiction and documentary work, as well as presenting retrospectives of the filmmaker over the years, it's an absolute honor for MUBI to release Family Romance, LLC."
Picturehouse Entertainment this week gave a digital release to its latest biggie, explosive thriller True History of the Kelly Gang, which charts the life and times of the Aussie anti-hero and his violent gang who wreaked havoc across Australia. To mark the event, the company is due to host a special event on Sunday June 28, with the film's director Justin Kurzel (whose filmography also includes the superlative Snowtown) and the film's stars George MacKay, Essie Davis and Earl Cave taking part in a live Q&A on Picturehouse's YouTube Channel. Questions are being submitted in advance via Twitter using the hashtag #kellygangfilm. The film also boasts Russell Crowe, Thomasin McKenzie, Charlie Hunnam and Nicholas Hoult as part of the cast. The Q&A falls midway between the title's home entertainment release – the title's digital EST bow on June 22 is followed by a physical release across Blu-ray and DVD and the digital TVOD on July 6. More on the release next week, but commenting on the Q&A Picturehouse Entertainment's Elizabeth Taylor said: "We're incredibly excited to have Justin Kurzel, George MacKay, Essie Davis and Earl Cave take part in this live video Q&A. It's a truly incredible film and it will be brilliant to hear some of the stories behind the production from such a talented team. We hope you're able to join us for the Q&A on the Picturehouse YouTube channel on Sunday night!"
---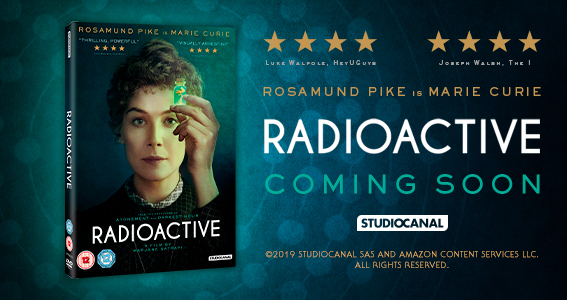 ---
"After each show is broadcast on TV, social media buzz boosts the number of downloads. However, we find that there is no significant corresponding increase related to traditional TV ratings. The most important factors that trigger downloads seem to be social buzz amount and whether the program is an entertainment show or not,"
From a new report in the Journal of Internet Electronic Commerce Research suggesting that it's not viewing figures, rather social media chat that inspires illegal downloads of TV shows.

AT THE MOVIES
Tenet has slipped back into August, Mulan is doing the same in the US, but still Hollywood is pressing ahead with ongoing productions and more plans. This week has seen the Tenet and Mulan news matched by a raft of drive-in based announcements in the UK, and more from the UK exhibition arm. Here's a look at safety from Showcase Cinemas and its general manager Mark Barlow, who said: "We've been busy preparing for our re-opening by making all our sites as Showcase Safe as possible for the comfort of both staff and guests, which has always been our top priority. We encourage all our guests to use the hand sanitiser available, regularly wash their hands, wear a face covering and practice social distancing when inside the cinema.There are some fantastic films to be released in 2020 and we can't wait to see people enjoying movies back on the big screen. We've also brought some classic hits and recent favourites back to remind everyone just how great it is to see them in the cinema."

In this week's surprising reboot news, turns out that it's an ill-wind that blows good for Universal, as the studio is said to be giving a new lease of life to Twister. The near-quarter of a century old flick is being revived as a new project for director Joseph Kosinski, currently working on the Top Gun sequel Maverick, due at the end of the year. No word yet on who will replace Bill Paxton and Helen Hunt as the married couple who set about following hurricanes and weather across the US.

The Pirates of the Caribbean franchise is set to return, albeit with a few key differences. For star Margot Robbie is set to be steering the course for the new pirate ship, working on the script with Birds Of Prey collaborator Christina Hodson. The film will be flying under the flag of the same studio, Disney, and the skull and crossbones, although whether it will have exactly the same name and other elements are yet to be revealed. It's not the first Pirates ship to sail to revive the franchise, for Chernobyl writer Craig Mazin is also working in a new vessel, along with Pirates alumnus Ted Elliott.

TWEET OF THE WEEK
Follow us on www.twitter.com/theraygun…

TRAILERS OF THE WEEK
At last, we'll find out what a Hamilton is…
https://youtu.be/J5-HCsQN7Jw

Into the Abyss…
https://www.youtube.com/watch?v=uF6ONAE_bT8

Straight to Disney+
https://youtu.be/Qeehd1fAEU8
You're on The Raygun newsletter mailing list, which has been running for eight years, because you requested it, have been recommended to us or sent us emails. You can unsubscribe at any time, if you're daft, using the link elsewhere or by emailing as below. But of course, you don't want to do that, do you? We don't share your information with anyone else, we don't like cookies and we're the good guys. We care because you do…
To subscribe to The Raygun newsletter, please email
info@theraygun.co.uk
with subscribe in the subject matter
To unsubscribe, email

info@theraygun.co.uk

with unsubscribe in the subject
For editorial or advertising queries, contact

tim@theraygun.co.uk