SHOP HOURS
Monday: CLOSED
Tuesday: 12 - 6
Wednesday: 12 - 6
Thursday: 12 - 7
Friday: 12 - 6
Saturday: 10 - 6
Sunday: 12 - 4

 

ReBelle will be closed December 24th & 25th and January 1st

 

 

 

 

I am writing this month's newsletter bundled up in my favorite handknit sweater. Seems like we were just enjoying 60 degree days, oh wait, we were!! While not a fan of cold weather, I love pulling out all of my handknits that have sat, neglected, for the past several months. In the last week I have worn my

Hermione's Everyday socks

,

FLOTUS shawl

,

Thendara

,

Sockhead Hat

,

Fine and Dandy Socks

,

Effortless Cardigan

and my

Bigger on the Inside

wrap- and I am only getting started.

 

This is one of the most exciting times of the year at the shop, lots of people knitting, crocheting, and making for themselves and their loved ones. We love seeing all of your projects, keep them coming!

 

This year we are excited to be participating in Local First Lexington Holiday Shopping Challenge. Come by the shop to grab a passport, get it stamped at other participating businesses, and turn it in for the chance to win some really amazing prizes.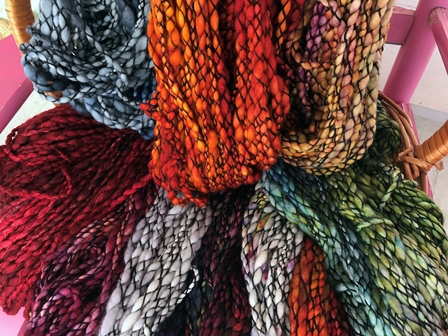 Malabrigo's newest yarn, Caracol, is a unique thick and thin bulky spun with two strands of a super fine yarn and hand dyed in Malabrigo's gorgeous colorways.  This makes for a unique texture well suited for simple stitch patterns.  It is 100% superwash merino and has the luscious softness we've come to associate with Malabrigo. We've had this yarn in the shop before, but recently got a large shipment, so we have a wider selection of colors. There are already a ton of great pattern ideas popping up on Ravelry, but our favorites so far are the
Caracol Cowl
which Robyn is currently knitting and the
Waltz Through the Forrest Cowl
. This yarn is very dramatic when knit up in simple stockinette stitch so it is the perfect yarn for those last minute gifts.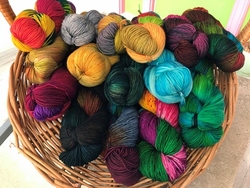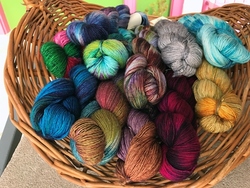 We started carrying Rockshelter Sock and Silk Traveler from Meadowcraft Dyeworks this Fall and they have been very popular, so we've just restocked both of them in more fabulous colors.  Plus, we got some mini skeins in the Rockshelter sock!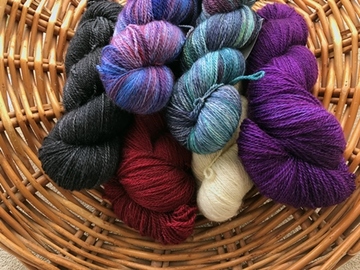 We know how much you love the handdyed offerings from Zen Yarn Garden so we have added some of their Serenity Silk+ to our selection. This georgeous handyed fingering weight yarn is 75% superwash merino, 15% cashmere, 10% silk and each skien gives you a generous 500yds to work with, perfect for a small shawl.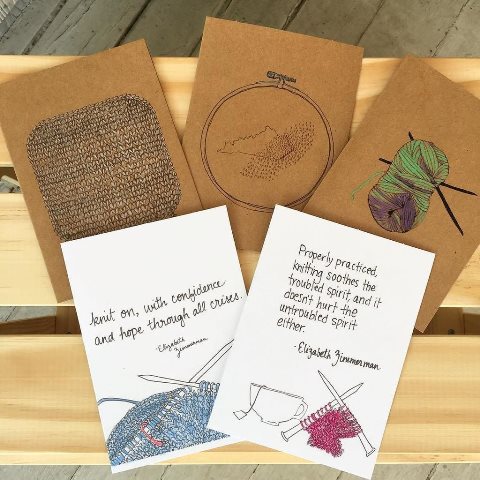 We are really excited to have more locally-made knitting cards from Danniqrafts in the shop. We abslutely love these cards and obviously you do to. They are available individually or in packs of five and would make a great gift for the knitters in your life.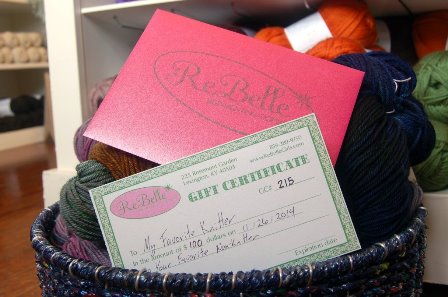 Don't forget to let your loved ones know that what you really want for Christmas is a gift certificate to ReBelle!! Gift certificates are available in the shop or can be purchased
online
 and mailed directly to you. Nothing could be easier!!
The yarn of the month for December is Baby Alpaca Chunky.  It's a real crowd pleaser with the super soft feel and warmth that come with alpaca.  This yarn is chunky and knits up nicely (and quickly) on a US size 9-11 needle.  You can use baby alpaca for a wide variety of projects including hats, cowls, scarves, sweaters, leg warmers, boot toppers and mittens.  Some patterns perfect for this yarn include:
Shawl Collared Cowl
,
Shalom Cardigan
,
Cranberry Sauce
(hat),
Gaptastic Cowl
,
Quick Cable Slouch Hat
,
Quickie Cowl
,
Cocoon
(hat),
Owls
(sweater),
Shrug/Vest
,
Sulka Boot Toppers
,
Scorpio Leg Warmers
and the
Wolfpup Hat
shown below which teams the Baby Alpaca Chunky with Plymouth's Arequipa Fur to make an amazingly soft hat that will keep you warm through Kentucky's most brutal winter conditions.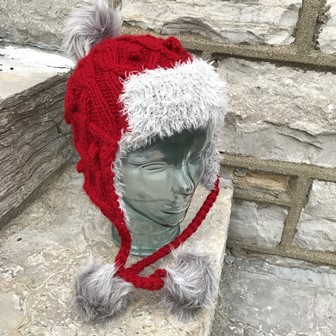 Featured Upcoming Classes
 

 

 

Come learn to crochet this cowl featuring a novel crochet technique using two weights of yarn to create interesting texture and pattern. The resulting fabric is soft and lightweight, resulting in a cloud-like cowl you'll always want to wear. The pattern is easily memorizable, and is a perfect take along project.





Saturday, December 11th 4-6pm

 
 Cross Stitch Holiday Ornament




Counted cross stitch has made a pretty big comeback, come see why it is all the rage. We will be covering the basics while making adorable ornaments for gifts or for your tree. In this class you will learn to match your materials to your pattern, reading your pattern,  the basic stitches, and how to finish your work.  This is a beginning class so you need no previous experience to join us and the class price includes the kit with everything you need to get you started just bring yourself. This is a beginning class, but all levels are welcome.

Saturday, December 17th 1-3pm




 
 

 

Introduction to Vessel Felting ($35)

 

In this class we will learn the basics of three dimensional vessel felting while creating multi-textural felt bowls. We will get a little wet so wear clothes that can get a bit messy. Class kits will be available for $10 and include enough fiber for two bowls, take home forms and a felting mat.

 

Saturday, December 10th, 12-3pm