==========================
These cats enjoy their basket stack!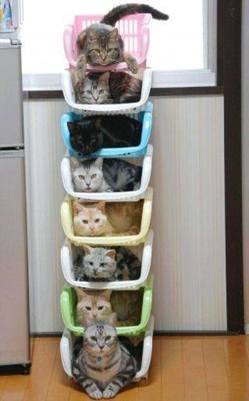 Skin Condition Mystery

My kitty Mikey isn't very old, only 9, but that is the "industry standard" for being classified as a senior cat.
He's is a long haired Maine Coon who used to weigh 23 lbs. Now he weighs 18 lbs. We're not sure why he lost 5 lbs this year, as I did not have him on a diet, but it could be stress, related to the series of treatments he's had to endure.
He has a skin condition that started 2 years ago, and it has me, and several veterinarians I've taken him to, completely stymied.
Several remedies have been tried, with mixed results, but always the same in the end:  It didn't last. We've explored the possibilities of mange, allergies, parasites, auto- immune diseases, diet, dermatitis, etc.
If you've had a cat like that, tell me about it. Maybe there will be some bit of information to lead us in another, more helpful direction.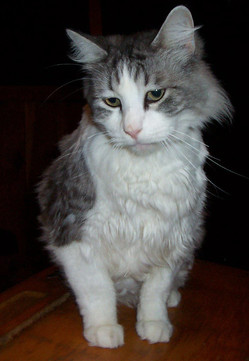 Not happy about having to be shaved. Poor Mikey!
=========================
 __________________________
Feel free to share this newsletter with your friends. If they would like to have their own subsription, send them to:
TheProblemCat.com
to fill out the form on the upper left of the page. This is a private list and is not shared with others, certainly not any advertising companies.
felinehelpline @ live.com
Happy Holidays!
 
Well, the results are in and the poll I ran last month has been removed from the website. Thanks to everyone who helped guide the future of The Kitty Times by responding to the survey.
As it turns out, 66% of readers are satisfied with the Kitty Times as is, with 58% showing an interest in more stories from my shelter and rescue work. So I'll be adding stories about the cats I care for, too. And then 41% would like to read about products, with my opinions about them and where to find them. So I will add some things as I find them, but please feel free to let me know of any products you have used and how it worked out. I use mostly home remedies and natural compounds, and I don't work with many commercial products, so you'll have to help me out there if you have any suggestions.

OK, here are my first reports:

Back to School

Earlier this year, I enrolled in school to become a certified feline behaviorist. Since the years seem to roll by faster and faster, I decided I didn't have much time to get this done, so I doubled up on my course load. That means I finished faster and am now done with the "book learning" part of the course and will get completion certificates for each class. However, there is one more requirement, called "field work," before I am officially certified by the Animal Behavior Institute. I have not found the right opportunity to do that yet, but I will have to put in 40 hours somewhere, working with animals, under supervision. I hope to complete that part by spring.

Update on Peaches

Peaches, as you may recall from the last issue, became paralyzed a couple months ago, much to everyone's surprise, and no cause has yet been found. He is doing quite well, though, considering his condition. He is still healthy, eats like like an orange tabby horse, and is remarkably happy. He has accepted his limitations, though I doubt he considers them limiting. He's quite active, actually. He drags himself around the house but needs help to get up onto the bed in the TV room, where he hangs out during the day. I leave animal shows on so he can watch or just listen to them. If I'm not nearby when he's ready to go back to his own space, he "oozes" over the side of the bed, to the floor, and drags himself across two rooms and back into his crate to snooze or eat, then snooze again.

I've made a prototype "wheel chair" for him, but I still have some design issues to work out. It doesn't fit quite right yet, so this photo shows how it looks so far, propped against a "statue" of a tiger. Peaches is much larger than the tiger, so it will strap level onto his back. For now, he's not on board with me about testing things and refuses to let me put it on him again. I may need help....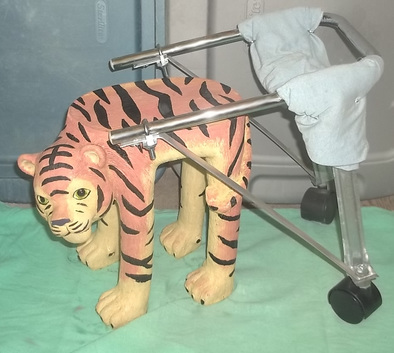 Wellness Tips
With the holidays in full swing now, a lot of folks like to acquire (and give) plants to create a festive mood in the home. Trouble is, many of those plants are toxic to cats. In the class I just completed, we studied some basic first aid procedures to help cats who have been poisoned by chewing on plants that are common for many holidays.
http://m.petmd.com/dog/seasonal/evr_multi_dangerous_winter_holiday_plants
Thanks to Cheryl Wright for this link.
Here is a pretty comprehensive list of plants with first aid advice:
http://goodcats.com/toxicplants.html
And here is a link to information on contacting an emergency hotline if you need help:
http://www.aspca.org/pet-care/animal-poison-control/toxic-and-non-toxic-plants
If you think your animal is ill or may have ingested a poisonous substance, contact your local veterinarian or the ASPCA 24-hour emergency poison hotline directly at 1-888-426-4435. (PS - They charge a fee.)