Good Morning CSA members,
This is just a reminder that today, Wednesday June 14th is a CSA share pick-up. Your share will be ready for you to pick up at your chosen pick-up location between 4-7 pm.  We are excited about this week's harvest.

In this weekly newsletter you will find a list of what is in your share this week, crops to look forward to next week, recepies and ideas on how to prepare this week's veggies, and details about what is happening in the field and around the farm.
We are looking forward to seeing you on the farm!
One of the things we love most about each farm season is the group of people who come together to make it all happen. We are grateful that these aspiring farmers have joined us in the fields this season and are excited to introduce them to you.
Maddy is one of our crew leaders this season.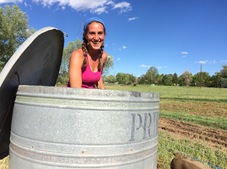 She spent the last two seasons working on a small farm at a 4-H center in Maine (her home state) growing veggies for school and camp programs and providing hands on farm and gardening education to students. Like her spirit vegetable, the carrot, she loves to spend the majority of her time in the dirt. Maddy is excited to share this love of dirt, to work, and learn alongside the rest of the crew this season!
Frannie, a native Virginian, spent two years as a Peace Corps Volunteer in Guyana followed by working as a Hospital Outreach
Specialist in New York City.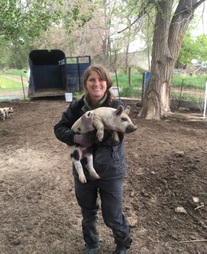 This past fall she discovered her love for farming while volunteering at an organic garden in Patagonia. She is excited to get to know all of our CSA members this season and her favorite vegetable is a radish.
Tony is a proud Michigander who recently finished his undergrad at Central Michigan University.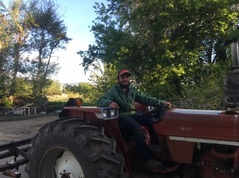 He enjoys cooking, hiking, working outdoors and traveling. This year, Tony is excited to build on his prior farming experience and looks forward to getting to know the Cure Organic Farm community. His favorite vegetable is asparagus!
Grace was raised in Oregon and has  spent the past four years residing in Colorado.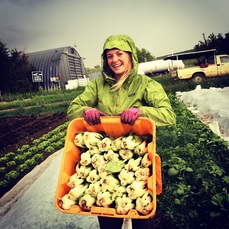 Her love for farming grew in her own Denver backyard garden and expanded in an organic garden in Patagonia. When she is isn't farming she is creating beautiful hand lettering art pieces and exploring the outdoors.Her favorite vegetables are snap peas and bacon.
Chloe Serino comes to us from Denver, CO.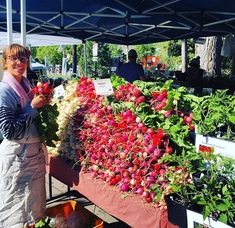 She recently graduated from MSU Denver with a degree in Human Nutrition and Dietetics. Interning at Cure is her very first experience farming and she is loving every minute of it. Chloe enjoys harvesting radishes, tilling on the tractor, and playing with the piglets.
Kate is a part-time intern at the farm.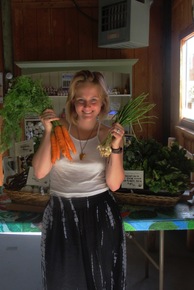 She grew up in Louisville, Colorado and her family has been a CSA member for ten years. Her next adventure after the farm is a three and a half month study abroad trip to Tanzania where she will study wildlife conservation and political ecology.
Jocelyn hails from Parker but has become smitten with Boulder and its incredible farming community.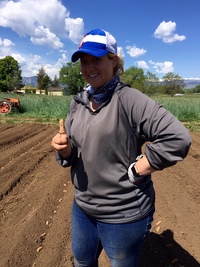 That is why she is back for a second season, this time as Intern Crew Leader. After attending University of Southern California and working a brief stint in journalism, Jocelyn decided to go back to her roots, and the dirt, as she is a fifth generation farmer. This season she is looking forward expanding our presence at Union Station Farmers Market, seeing the familiar as well as new faces at CSA, making rainbow beet bunches, and attempting again to teach our resident momma pig Matilda how to do tricks.
1 bunch kale, stemmed and coarsely chopped
3 tablespoons olive oil
3/4 teaspoon kosher salt, divided
1/2 cup thinly sliced red onion
1 teaspoon ground sumac (optional)
1/2 teaspoon toasted sesame seeds
1 tablespoon fresh lemon juice
2 teaspoons Dijon mustard
2 garlic scapes, minced
1 (14-ounce) can unsalted chickpeas, rinsed and drained
1/4 teaspoon freshly ground black pepper
Massage kale with olive oil and 1/2 teaspoon salt in a large bowl, coating all surfaces, about 2 minutes. Let stand at room temperature at least 15 minutes and up to 1 hour.

Rinse onion in a sieve under warm water for 2 minutes. Drain well. Combine onion, sumac (if desired), and sesame seeds in a small bowl. Combine juice, mustard, and garlic in a small bowl.

 

Add juice mixture and chickpeas to softened kale; toss well. Stir in remaining 1/4 teaspoon salt and pepper. Top with onion mixture.



Cure Organic Farm

7416 Valmont Rd.
Boulder, CO 80301
cureorganicfarm@yahoo.com
www.cureorganicfarm.com
In your CSA share this week
Carrots
Garlic scapes
Head lettuce
Chard (medium & large shares)
Kale
Sugar snap peas
Broccolini
Bok choy
Coming next week... head lettuce, carrots, turnips, greens, snap peas and more.
Fruit share - Cherries
Flower share - Agrostemma, larkspur, nigella.
Egg share - please pick-up this evening
Coffee share - this week! Please pick up your coffee tonight.
Bread share - this week! Please pick up your coffee tonight.
Wine & cheese - this week! Please pick up your coffee tonight.
 Broccolini & garlic scape sauteed
Sauteed sugar snap peas with lemon, chili and mint
Marinated kale salad
Chicken & bok choy soup
Detailed recipes are below
  Each Wednesday through October 18th your share will be ready for pick-up at your chosen pick-up location between 4-7pm. Pick-up locations are the following:
Farm Store: 7450 Valmont Rd
Boulder Farmers Market: 13th st
Q. Can we pick up our share early on Wednesdays?
A. No. We finishing harvesting for your CSA share on Wednesday mornings, so unfortunately we cannot accomodate early CSA pick-up.
  We will have your share ready for you between 4-7pm at the pick-up location that you indicated on your registration form for the duration for the 20 week CSA season. 
Q. I can't make it to pick up my share one week? What happens?
A.You are welcome to send someone else to pick it up, or send us an email and we will pack your share for you to pick up at the farm store on Thursday. We can only accommodate the Thursday pick up if you let us know by noon on Thursday. The best way to contact us is by email: cureorganicfarm@yahoo.com
Q. What happens to my share if we don't pick up our CSA share?
A. Any shares not picked up are donated to our volunteers and to community food share each Thursday afternoon.
Q. I didn't order a Fruit Share....can I add one on now?
A. Sure! We are happy to add a fruit share, bread share, coffee share or wine & cheese share to your weekly pick-up. We will pro-rate the price. Email us at cureorganicfarm@yahoo.com to set this up.
While we love all animals, we ask that you please leave your pets in the car if they come with you to pick-up your CSA share.
Wine:
H&M Hofer Gruner Veltiner
The Hofer family farms vineyards in Auersthal, a dead-still little wine village in the Weinviertel, just barely beyond Vienna's northern suburbs. The gently rolling hills in in this village are made up of deep loess soils and are planted predominantly to grüner veltliner, in addition to some zweigelt and riesling. Additionally, the Hofers grow organic grains; rye, barley, and alfalfa. These grains are raised for consumption, and are used as cover-crops in their vineyards.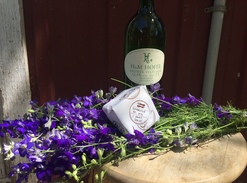 Cheese:
Garrotxa St. Gil; goat milk.
Garrotxa, also known as Pell Florida, is the most famous Catalan cheese usually characterized by the gray mold growth on its rind. Josep produces this semifirm goat's milk cheese in Albió-Llorac in the province of Tarragona and ages it 55 days. A tremendous table cheese, Garrotxa has a long, smooth finish that hints of nuts.
"Agriculture is our wisest pursuit,
Because it will in the end
contribute most to
real wealth, good morals and happiness."
-Thomas Jefferson
Snap Peas with chili, lemon & mint
4 teaspoons olive oil, divided
3/4 pound sugar snap peas, trimmed
1/4 teaspoon kosher salt, divided
1/4 teaspoon crushed red pepper, divided
2 green onions (green and light green parts only), thinly sliced and divided
1/2 teaspoon grated lemon rind, divided
2 teaspoons chopped fresh mint
Heat a large skillet over medium-high heat. Add 2 teaspoons oil; swirl to coat.

Add half of snap peas, 1/8 teaspoon salt, and 1/8 teaspoon pepper to pan; sauté 1 1/2 minutes, stirring and tossing constantly. 

 

Add half of onions to pan; sauté 1 more minute or until peas are crisp-tender. Toss in 1/4 teaspoon rind, and remove from pan. Repeat procedure with remaining oil, peas, salt, pepper, onions, and rind. Garnish with mint.
Sauteed broccolini & garlic scapes
 Fresh Garlic Scapes (as many as you have)
Fresh Broccoli (as much as you have)
Olive oil
Salt and Pepper (just a sprinkle of each)
Cut the scapes into 2 to 3 inch pieces so they almost look like green beans.
 Cut the broccoli up into small florets as you would do for a stir fry.
Heat oil in a skillet and add broccoli and cut scapes.
Add salt and pepper to taste and cook until the broccoli turns a bright green (about 3 minutes).
Remove from heat and serve right away. Sprinkle with fresh parmesan if you so desire.
1 onion

1

tablespoon oil

4

cups vegetable stock
salt & pepper to taste

1 bok choy


1

tablespoon soy sauce
Chop the onion and garlic in the food processor.
Fry the onion and garlic in the oil.
Chop the chicken breast into cubes and then add to the food processor and pulse to get ground/minced chicken. Alternatively, you can buy chicken mince and chop the onion finely. 
Add to the onion and stir to brown the chicken.
Add the vegetable stock (you could use chicken stock if you have it), a good pinch of salt, grind of pepper and the soy sauce.
Twist the leaves off the Bok Choy (I find that easier and quicker than chopping them).
Rinse any dirt off the ribs and chop coarsely. Add to the soup.
Simmer for 10 minutes.
Roughly chop the leaves and add to the soup.
Simmer for another 2 minutes. Enjoy!