FUNDRAISING 
Thank you all our fundraising heroes!!
KEEP UP TO DATE
login
 to the Aspergillus Website and check the 'Notifications' tab 
MARK YOUR PAGE
Login to your own account
and click on 'Bookmark this' on any page. Bookmarks are saved to your account under 'Bookmarks' tab.
COURSES
Highlights of this month...
ImmunoPET: the future of lung scans in aspergillosis
Imaging technologies rely on physical characteristics such as differences in density (
ultrasound
,
X-ray
,
CT
) or water content (
MRI
) in tissues, which is good for showing changes in structure, especially when contrast-boosting dyes are added, but may not reveal the finer biological differences – for example, whether a cavity in the lung is caused by tuberculosis or aspergillosis. Further tests are used to arrive at a definitive diagnosis but these all have drawbacks: biopsies can be invasive, growing samples in a petri dish is slow, and blood tests may not be sufficiently sensitive or specific.
ImmunoPET uses mildly radioactive antibodies to home in on exactly what the clinician is looking for, like finding a camouflaged soldier using a heat camera. Antibodies can be generated against almost anything you can think of: one against chitin would detect any fungal cell wall, whereas a more specific one could show it was a species of
Aspergillus
.
In a recent collaboration between
ISCA diagnostics
and several European universities, immunoPET was used to look at
Aspergillus fumigatus
in a mouse strain lacking neutrophils (white blood cells), as a proxy for studying invasive infections in immunocompromised patients. When control mice were inoculated with water, there was only a weak signal on the scan. But in mice that had been infected with
Aspergillus
the lungs lit up like Christmas trees.
It may be some time before this technology is routinely available in the clinic, but it would be very useful in diagnosing and monitoring aspergillosis patients. Indeed, the target of the antibody used here is a sugar group on the mannoprotein antigen, which is a molecular signature of
Aspergillus
that is commonly tested for in blood and bronchoalveolar lavage (BAL) fluids.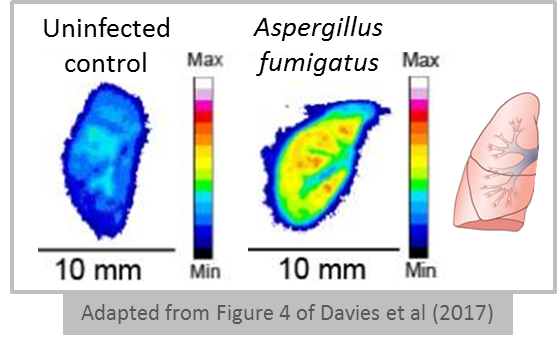 8th Advances Against Aspergillosis
Plans are well underway for the next AAA in Lisbon, Portugal on 1-3 February 2018.  Having run bi-annually since 2004 AAA is established as the biggest and best forum for detailed and dedicated discussion of Aspergillus diagnosis, treatment, and research. 
The 8th AAA
program has been published
.
Organisers hope to hold another event at the conference for patients, this time providing translations to the host language for local participants, Portuguese.
First CPAnet symposium identifies four key research areas for CPA
Even though around 3 million people worldwide are suffering from chronic pulmonary aspergillosis (CPA), there are large gaps in our knowledge that make diagnosis and management challenging. The Chronic Pulmonary Aspergillosis Network (CPAnet) was established earlier this year to promote clinically-oriented research that fills those gaps. Four key areas were identified:
1) Online global registry of CPA patients;
2) Validation of CPA-specific diagnostics and cut-offs;
3) A CPA culture collection;
4) Standard definitions of outcomes/endpoints;
The second CPAnet meeting will be held on Saturday 30th June 2018 at RAI Amsterdam, as a pre-meeting of the ISHAM congress.
Invasive fungal infections are best treated by giving the right antifungal for that strain as quickly as possible, but clinical symptoms and radiological signs are often non-specific, and growth on culture is slow and can lack sensitivity. In the past 10 years, nucleic acid amplification tests (NAATs) have emerged as a favourable alternative, but more large-scale studies are required to test their performance in a routine clinical setting.
Gomez et al (California) recently published a retrospective study performed over 7 years at 233 samples taken from patients with known and suspected invasive fungal infections. PCR was used to amplify a section of DNA that is universally present in all fungi ('panfungal'), which was then sequenced and compared against a sequence database to identify the species present. The test performed well, with an overall specificity of 98% and a sensitivity of 97% and worked best when a large amount of material was taken from an open biopsy.
A multicentre validation study for this resistance screening method showed that a 4 well agar plate assay (VIPcheck™) is an easy and reliable method for testing the most common azole-resistant Aspergillus fumigatus strains.
The international team of researchers tested forty WT and 39 cyp51A mutant strains of A. fumigatus, both individually and as mixed samples. The 4 well plates contained agars with itraconazole (4mg/L), voriconazole (1mg/L), posaconazole (0.5mg/L) and no antifungal. For reliability testing, fungal growth was scored by two independent observers in three seperate laboratories.
Inter-observer agreement was high with 86-99% identical scoring. Overall sensitivity and specificity were both 99%. This study suggests that the 4-well azole agar plate is an accurate and reliable method for testing azole susceptibility in Aspergillus fumigatus in clinical microbiology laboratories. 
Aspergillus terreus infections readily disseminate and are known to respond poorly to antifungals. A study published  in Scientific Reports compared how conidia (spores) from A. fumigatus and A. terreus interacted with dendritic cells.
A. terreus
 conidia remained inside the dendritic cells, rather than quickly escaping like those of 
A. fumigatus
. 
A. terreus
 conidia were also less immunogenic than those of 
A. fumigatus
, which triggered various different activation markers on dendritic cells. 
Although the dendritic cells that interacted with 
A. terreus
 didn't produce the usual pro-inflammatory or T-cell stimulating cytokines, they were activated by the addition of TNF-alpha, which also prompted expression of migration markers. These findings suggest that dendritic cells carrying 
A. terreus
 conidia inadvertently help their passengers to survive and disseminate.
Researchers from the National Aspergillosis Centre have reviewed Aspergillus species as a cause of non-dermatophyte mould onychomycosis. Using 42 epidemiological studies, the authors looked at the prevalence of Aspergillus involvement in onychomycosis, its clinical presentation and treatment.
According to the review, there is high variation between study results for Aspergillus involvement in onychomycosis (<1-35%), but this is higher (up to 71%) in diabetic populations. The most common aetiologic species appear to be A. flavus, A. terreus and A. niger. The authors comment that there is usually a distal-lateral subungual presentation when Aspergillus species are involved, and that treatment with systemic antifungal agents like itraconazole or terbinafine can be successful. 
Infection with Aspergillus is often regarded as a limiting factor for bird survival following oil spills (as stress promotes opportunistic Aspergillus infection). But treating fungal infections in birds can be tricky – blood vessels are often difficult to access, and appropriate antifungal dose and delivery vary between species.
This study investigated liposomal amphotericin B delivered by atomizer in mallard ducks. Their first trial, using 64 ducks, investigated the pharmacokinetics of the drug. The second compared methods of delivery with the atomizer.
The researchers were able to achieve the target MIC of 1µg/ml in lung tissue, but not evenly across both lungs. No method tested in trial two resolved this lateralisation problem. The authors speculate that this was due to the position of the atomizer in the trachea, as tracheas in mallard ducks bifurcate evenly. There were no signs of renal, hepatic or cardiac tissue damage. The authors conclude that amphotericin B delivered by atomizer could be clinically useful, particularly in rehabilitation settings, but that more work needs to be done to achieve symmetrical distribution of the drug in the lungs. 
This study is of particular relevance in light of the spread of 'snake fungal disease' (SFD) caused by the pathogen Ophiodiomyces ophiodiicola.
Snakes and other reptiles are also susceptible to disease caused by various 
Aspergillus
 species.
The researchers investigated the metabolism of voriconazole and itraconazole in pitvipers. 
They found that, out of 11 healthy snakes receiving voriconazole (5-10mg/kg), 4 died within 12 hours of receiving the drug. 
No control population was studied, so it is not certain that these effects were due to the drug.
The surviving subjects maintained potentially therapeutic doses of >250ng/ml (effective against 
O. ophiodiicola
 based on in vitro data) for 12-24 hours. 
A per-cloacal suspension of itraconazole (10mg/kg) did not result in any deaths, but therapeutic levels (>1000ng/ml for 
O. ophiodiicola 
based on in vitro data) were not reached. 
There may be potential for therapeutic use of triazole antifungals in pitvipers, but safety and appropriate therapeutic protocols are yet to be determined.
The Aspergillus community/patient group meeting normally meets on the first Friday of each month at the Altounyan Suite, North West Lung Centre, Manchester at 1.30pm BST/GMT. If you can't make it in person, you are welcome to listen in to our live Facebook Broadcast. 

If you want a text reminder when each meeting is approaching (UK only) then send us an email at admin@aspergillus.org.uk with your mobile phone number.
Nb. This year we will also be running a  patient meeting on Friday 5th January
If you would like to listen or chat with fellow patients and a NAC staff member we are running a successful Skype meeting every week! We are a chatty group of 8 - 12 most weeks but we can accommodate up to 24. If you have a computer or smartphone you will be able to join in - just click on https://join.skype.com/nbubWMUM8teC and you will be asked to register, then taken to the group. The Skype meeting is at 11am GMT every Thursday. 
Join our Facebook Groups
We also have a Facebook group for those who are caring for someone who is affected by the disease -
join here
. 
To find our regional and international groups, search the following terms within Facebook: 'aspergillosis'; 'aspergillus'; 'ABPA'