IN THIS ISSUE
Pike County's 1st Shovel-Ready Site Certified!
Pike County EDC to Master Plan Pike Crossing Interchange
EDC Created TIF for Mega-Site Opportunity
Buchta Technology Center's Feasibility Study Completed
EDC Partners with PC Parks & Rec. Dept. for Prides Creek Event Center
EDC Partners with School to Revitalize Old Petersburg Gymnasium
EDC to Begin Housing Study

PCEDC to Begin Housing Study
According to the U.S. Census, Pike County's population in 2015 was approximately, 12,594.  Local population has stagnated right around this number
for decades

. On the positive side, we have not experienced a sudden decline in population, but we haven't increased in population either. Most likely, there are several reasons why. One reason in particular is that there has not been a subdivision built in Pike County since the 1980's. Today, most people that move to Pike County either purchase land and build-to-suit, or purchase an older home and spend several hundred, if not thousands, of dollars on rehabilitation. Thus, the EDC is beginning the process to assess the housing needs in Pike County for cost, single family, and multi-family use. The plan should be finalized by the end of first quarter in 2017.
Merry Christmas & Happy New Year!
 
On behalf of Pike County Economic Development Corporation, I want to wish you a Merry Christmas and Happy New Year!  I hope this holiday season is full of faith, family, and cheer for all.
For more information and updates in Pike County Economic Development Corporation, like us on Facebook or contact Ashley P. Willis at pikegrowth@pikeco.org or 812-354-2271.
---
Pike County's 1st Shovel-Ready Site Certified!

On Wednesday, December 14, 2016, Bill Konyha, Executive Director of the Office of Community & Rural Affairs, recognized Pike County's first Indiana Site Certified location.This designation occurred only because of a public/private partnership through Pike County, Solar Sources, Inc., WIN Energy, and Hoosier Energy.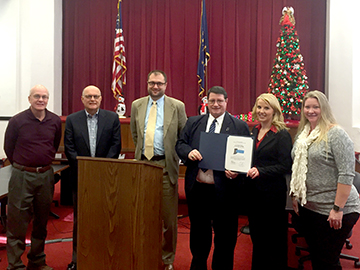 We have great forward-thinking organizations throughout Pike County, and given this opportunity, we have established a Silver "shovel-ready" Site Certified location that includes a 340-acre site, ½ mile from I-69 interchange, and we are currently in the process of master planning this area in addition to 3,000+ acres throughout the interchange. 
Pike County EDC to Master Plan Pike Crossing Interchange
Pike County EDC recently dispersed request-for-proposals to master plan 3,100 acres that include the Pike Crossing Interchange and the shovel-ready site, in addition to several acres of Solar Sources Mega-Site area. Within this boundary, the EDC has identified development opportunities including retail/commercial, residential, light industrial, and heavy industrial. We want to encourage all of these sectors of developments to occur in Pike County to benefit the residents, workforce, tourists, and future generations, providing opportunities to ultimately live, work, and play in Pike County. Essentially, the EDC will be creating a roadmap, a plan to move development opportunities forward and eliminate any risk-factors that may be at stake for investors. Once the master plan of the 3,100 acres is complete it will increase capital investment, create job opportunities, diversify Pike County's industrial makeup, increase assessed value and create a better place to call home.
PCEDC Created TIF for Mega-Site Opportunity
TIF, or Tax Increment Finance is a tax phase-in. It is an incentive used throughout the state of Indiana and most of the nation to encourage private investment.  This is a tool utilized by economic developers and communities when "making a deal."  With the recent momentum of PCEDC, county elected officials, city elected officials, and the public/private partnerships that have formed it felt it was a critical step for the EDC in incentive preparation. As result, the Mega-Site and an additional 500 contiguous acre boundary-area, were put into a TIF district to incentivize development. This TIF will help assist the county and EDC to put infrastructure in-place as the Mega-Site developments unfold.
Buchta Entrepreneurship & Technology Center Feasibility Study Completed
Many thanks to the University of Southern Indiana for assisting the Buchta Entrepreneurship & Technology Center in completing the feasibility study focusing on sustainability and programming. The feasibility study was unveiled on November 17. The synopsis of the study was explained along with feedback from Pike Central students that utilizing the facility today, and what it means for Pike County and the region. Pike County has wonderful programs through the school and has inspired an entrepreneurial spirit that needs to be fostered to launch their ideas into successful businesses. If anyone is interested in seeing the complete feasibility study, contact Ashley Willis at
pikegrowth@pikeco.org
.
PCEDC Partners with PC Parks & Recreation Dept. for Prides Creek Event Center
Through several quality-of-life enhancement discussions with PCEDC and PC Parks & Recreation Department, we identified there is and has been a need in Pike County for quite some time for an event center that can cater to large crowds for special events, fundraising, and wedding receptions. On December 1, 2016 we submitted a grant proposal to the Indiana Department of Tourism for a 1:1 match to construct and build the Prides Creek Event Center. This center would sit on the 90-acre lake at Prides Creek Park. The agritourism component of this project would expand the nationally recognized Azalea Path and have gorgeous azaleas planted throughout the landscape of the event center and Prides Creek Park, while staying true to the heritage and enhancing Pike County's quality-of-place.
Pike County EDC Partners with School to Revitalize Old Petersburg Gymnasium
Since the closing of the Old Petersburg Gym (OPG), nearly one year ago, it has been a priority for the EDC to assist in the re-use and re-opening of the facility.  Superintendent Blake and Mayor Klipsch, along with many other stakeholders in the community have been brainstorming revitalization plans for what is needed in Pike County, while being fiscally sustainable. Many conversations, spur back to health and wellness, after all it is a gymnasium! There are multiple moving pieces to the re-opening plan but we are making strides in a positive direction for the people of Pike County. A firm plan should be released by the first of the year.