Hi Cat Lover!

Here's what's in this issue:
  Research on cat diseases...
  Cat librarian in Russia...
  World's first cat video...

Cat food news...
  Click to give...
  What Makes You Happy...
  Cat food: healthy or affordable?

Websites to explore...
  Caring for outside cats...
A smile for you...
  A funny video to share...
  New video on my site...
Take action...
  Donate to worthy causes, sign petitions, etc.
NEWS FOR CAT LOVERS
Research on cats is far less common than for dogs,
so it will be interesting to see what will be learned by
this new project, headed by Yunjeong Kim, a research
assistant professor at the College of Veterinary Medicine
at Kansas State University.
Kim said,  "Feline coronavirus can cause gastroenteritis,
and calicivirus often causes ulcerative upper respiratory
infection with gingivitis and stomatitis. In most cases,
these viral infections are mild and self-limited."
However, when they become severe, they are deadly and
are known as FIP and vs-FCV.
Her work is being supported by a $156,342 award from
the Morris Animal Foundation.
http://www.sciencedaily.com/releases/2013/11/131104112238.htm
-----------------------------------
Cat "Hired" As Assistant Librarian in Russia
http://halopets.com/freekibble/donation126.html
-----------------------------------
The world's very first cat video! Thoma Edison, 1894:
http://now.msn.com/first-cat-video-ever-created-by-thomas-edison-goes-viral
CAT FOOD NEWS
Click to give:
http://www.freekibblekat.com/answer.asp?a=4373
http://www.theanimalrescuesite.com/clickToGive/home.faces?siteId=3
http://www.givelitter.com/vote/
  (This one gives litter, not food.)
* * * * * * * * *
Be sure to scroll down the FreeKibbleKat page a little more
and look at the November Slide Show. Wonderful cat photos!
-------------------------------------------------
Someone sent me an interesting question the other day.
What's the most affordable and healthiest type of food for my cat?
Here's my answer:
http://cathealthproblems.blogspot.com
WEB SITES TO EXPLORE
If you or someone you know are caring for any outside
cats this winter, here are some good tips:
http://aspcapro.org/resource/spay-neuter-feral-cats-starting-program/top-ten-tips-caring-ferals-winter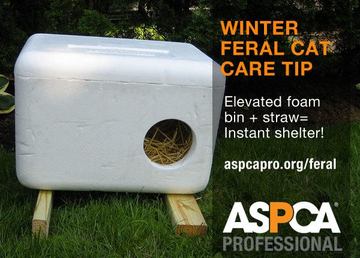 A SMILE FOR YOU 
Overly Polite Kitten Doesn't Want to Disturb
Her Siblings... So She Does This - Cute Video
http://www.godvine.com/Overly-Polite-Kitten-Doesn-t-Want-to-Disturb-Her-Siblings-So-She-Does-This-3889.html
Thanks to Judy for this video! I couldn't figure out
how to put it on my website, so I'm sharing the URL
with you here.
-------- LATEST VIDEO -----------
Check out the video on my website, at the top of
the page: Simon's Cat, in Ice Capade:
http://www.theproblemcat.com
===================================
TAKE ACTION TO HELP ANIMALS IN NEED
===================================
How to help the animals:
1. Always remember to check with your local shelter
to see what they need. Your donation will go directly
to the animals, in sharp contrast to some of the large
national groups, whose donation income goes toward
large administrative salaries and other expenses, not
necessarily for animals.
2. Buy my books if you haven't yet. Sales are used to
help support all the cats here. And they make great
holiday gifts, too! Thank you.
http://ouramazingcats.com/book-list/
==========================
Watch for your next issue of The Kitty Times in 2 weeks!
Pawhugs and nosetaps,
Roberta, the Cat Lady
mskitty @ theproblemcat.com
Thought for today:
Compassion for animals is intimately connected with goodness
of character, and it may be confidently asserted that he who is
cruel to animals cannot be a good man."
~~ Schopenhauer
===================================
We will NOT rent or sell your info. You are
subscribed to a free email newsletter from
R.J.Peters, "the Cat Lady." You can unsubscribe
anytime.
If you know someone who would like to read
this newsletter, please feel free to forward
this one to them. If they want to sign up to get
their own, refer them to my web site, here:
http://www.theproblemcat.com/catalog.html.
If you would like to also receive my dog newsletter,
you can find the signup form here:
https://ymlp.com/xgbuhmbugmgj
To see past issues of the Kitty Times:
https://ymlp.com/archive_gqbyjegjgu.php
Required by the FTC as of Dec. 1, 2009:
Disclaimer:  This email newsletter may contain
affiliate links that provide compensation to our
shelter if a purchase is made. Yes, we need the help.