=============
**
Contact Colleen for a free consultation or to book an EFT or FREED session for an hour of surrogate muscle testing, laughing, fear block blasting and SWEET RELIEF!
<><><><>
<><><><>
DISCLAIMER: EFT is gentle acupressure and has produced remarkable results in relieving emotional and physical distress.
USE EFT AT YOUR OWN RISK ON YOURSELF AND OTHERS, INCLUDING ANIMALS.
If you apply this newsletter's techniques to yourself or others, you are agreeing to take full responsibility for any side effects and/or outcomes.
* * *
Thank you for subscribing to my newsletter!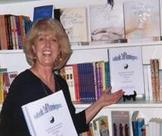 Please forward this newsletter to family and friends who could use the news!
Need help identifying the Core Issues to tap on?
Products to help YOU heal your life with the power of Tapping and Louise Hay's teachings.
* * **
Click
HERE
for Private Session information
.
Mega thanks to YOU, my Worldwide Subscribers for inviting my Energy Work Tips into your inbox!
*

<><><><><><><><><><><><><><><><><><>
Please share this newsletter with others
and take advantage of
Colleen's $99 FREED session fee
for the entire month of February!
<><><><><><><><><><><><><><><><><><>
My new suite of healing tools called FREED is helping people all over the world.
*
Most clients report feeling lighter, happier, fearless and empowered!
A male Australian client reported this FREED experience:
"
I must say I felt a big energy shift. Whilst working on the 2nd issue I felt a surge of energy over my head... I wanted to dance a jig and I felt very uplifted.
It is much easier and quicker than EFT. I still believe in EFT but this is better. "
YOU may not feel like dancing a jig after a FREED session with me, but we WILL release old fears from this life, your DNA and if desired, past lives.
For one self-employed female client having low income issues, my surrogate muscle testing found
27 generations of ancestral fear blocks to extreme success and wealth!
We released them and every other income block I could find anywhere in her energy system.
A day later she reported a surge of new business and paying clients. Was it a coincidence or
was
she FREED of her prosperity blocks?
Email today for a free consultation or to schedule your FREED session for only $99 for February 2010!
P.S. - Yes, I am still doing EFT if you'd prefer it.
You can also do both in one session--your choice!
<><><><><><><><><><><><><><><><><><>
How to Give a Valentine's Day Gift of
Energy Work
to Your Animal and Human Loved Ones
*
This news comes as no surprise to us animal lovers: in a recent Reuters / Ipsos poll of 24,000 people in 23 countries, over one fifth of those surveyed prefer to spend Valentine's Day with their pets than with their spouse or partner.
*
Country-by-country, residents of Turkey were the most likely, at 49%, to choose their pet over their spouse or partner, followed by
India with 41%, Japan with 30%, China with 29%, the USA with 27% and Australia with 25%.
*
On the opposite end, residents least likely to spend the day with a pet instead of their spouse or partner were France at 10%, Mexico 11%, the Netherlands 12% and Hungary at 12%.
*
Will YOU be spending Valentine's Day with your human or animal sweethearts or both? Why not gift your sweetie with some energy work on February 14th?
*
Being "in between relationships" now, I'll be hanging out with my Siamese Fighting Fish this weekend. I love his independent attitude, and that he's always excited to see me, day or night. His unceasing joy of living is an inspiration for me!
*
On February 14th, I'll serve a Valentine's Day brunch of red worms and peas or lima beans (for the fish, that is...he loves his vegetables. I'll probably eat broccoli quiche or some other worm-less meal). *
*
This feisty fish is not a fan of chocolate or flowers but he DOES love to get energy work and hangs by the side of his fish bowl as I send healing energy to his body via my fingertips.
*
Who will YOU give the gift of healing to this Valentine's Day? Even if you don't have a significant other or an animal friend, you can do surrogate EFT on yourself, a loved one living elsewhere or even that homeless person shivering on the corner while you wait for the traffic light to change.
*
New to EFT? Please download the FREE EFT chart on my Free Stuff and Links web page. Here's how I apply surrogate EFT:
*
(1) Put yourself in the place of the person or animal, then think what what kind of fears they may be experiencing, e.g., fear of not being safe, rejection, abandonment, failure or that the bad times will never end.
*
(2) Do the surrogate EFT by tapping on your karate chop point or rubbing your sore spot with setup statements like:
*
- Even though I (person or animal's name) am so anxious and afraid of not being safe, either now or in the past, I choose to release these fears now!
*
- Even though I (person or animal's name) am afraid that "they" will reject or abandon me, I choose to feel safe and loved, always.
*
- Even though I (person or animal's name) am terrified that these frightening times will never end, I now consciously release all this fears, past and present, from my energy system NOW!
*
(3) Do a 9-Gamut procedure, then tap on your reminder phrase points with phrases like, "Feeling so anxious and afraid. They left me alone in the past and I'm afraid of being abandoned or rejected again. I feel overwhelmed and afraid that these scary days will never end! Being "me" is so frightening. I release all these fears, terrors and anxieties. I know that when I change my energy, I DO change my life and what comes to me in love instead of fear!"
*
(4) When you're done with the surrogate work, state "I now DISCONNECT my energy from (person or animal's name).
*
NOTE: You can also send Angels, Archangels, and/or waves of healing light, love, peace, bliss and abundance. All that you send out comes back to you tenfold!
*
*
Click
here
for more information on FREED!
Or copy and paste this address into your browser:
*
Clear your energy system for the optimum health of you, your loved ones, and your animal friends!
*
Happy Valentines Day with my Love & Appreciation!
Colleen Flanagan
<><><><><><><><><><><><><><><><><><>

*

Would you like to use EFT more often but don't know what to say? No worries!

Check out Colleen's

NEW E-BOOK

of TAPPING SCRIPTS!

*

*

The TAP LIKE A MANIAC e-book is YOUR ULTIMATE GUIDE to constructing effective Setup Statements and Reminder Phrases for every occasion, plus generic scripts you can modify for fears of failure, rejection, abandonment, success or not being safe, and many tips on surrogate EFT: what it is and how to use it for children and animals.

*

<><><><><><><><><><><><><><><><><><> *

*
Want to learn HOW use MUSCLE-TESTING and TAPPING

together

like Colleen does?
*
People around the globe have ordered my
Muscle-Testing and TAPPING SECRETS in
ONE E-BOOK to help themselves, pets and their loved ones! You can NOW get the E-book and 3 bonus e-books through PayPal, then

download them right away

!
*
Check out the Table of Contents and get details by clicking HERE.
<><><><><><><><><><><><><><><><><><> *
GOT ALLERGIES? Get the facts about worldwide allergies and how TAPPING can help HERE!
* <><><><><><><><><><><><><><><><><><>
PET MISBEHAVIOR, ALLERGIES OR ILLNESS?
Get Colleen's 5 years of ANIMAL TAPPING experience and PROVEN TECHNIQUES in one informative e-book.
E-book's table of contents is HERE!
It's the BEST $20 you'll ever invest in your animals' emotional and physical wellness!
<><><><><><><><><><><><><><><><><><> *
Do you need a
reliable, talented massage therapist, handyman, Reiki practitioner or intuitive healer
in Phoenix?
I've found them and they're listed
here
!
<><><><><><><><><><><><><><><><><><>
Gift Certificates for Private Sessions with Colleen
are NOW available for birthday or Valentines Day gift-giving!
Give the gift of health and peace to your loved ones... or ask them to purchase a gift certificate for YOU!
<><><><><><><><><><><><><><><><><><
10% of Colleen's session fees are donated to charities -
you're helping yourself and others!
<><><><><><><><><><><><><><><><><><>