---
| | |
| --- | --- |
| | August 2019 |
Reduced stress. Increased productivity. Improved well-being.
Forte Organizers helps individuals and families stay organized at home, as well as teaching business people organization skills at work.
With school right around the corner, Lori's throwback Dayton Daily News article provides us some great tips for getting back into the swing of delegating chores to your kids.
There's a saying in the business world, "Dress for the position you want, not the one you have." Think about taking this same approach with your office. It should reflect the position you want, not the one you have.
Stuffed animals, plastic footballs, an abundance of family photos, party decorations and vacation souvenirs are items found in offices that sometimes send the wrong message.
Of course, it's okay to bring in items that reflect your personality, but don't go overboard. A plant, a decor piece that reflects your interests and a family photo may be all you need to show your individuality, while remaining professional.
How many of you have old paint cans cluttering our garages, basements and storage spaces? Often times, they are colors that we don't even need for touch-ups anymore. Did you know that those old paint cans from previous projects can actually rust and leak onto your floor? Imagine the mess that would make!
Why not be proactive and get rid of those paint cans now before disaster strikes? Look up the Hazardous Waste Removal procedures for paint for your county and take charge of those old paint cans.
For Montgomery County residents, go to this link to see how to dispose of your paint cans properly: Hazardous Waste Disposal
Lori's next public seminar is in the month of October. We will update our Facebook page and website if any new seminars are scheduled between now and then.
Free Shredding Document Shredding
Marc's
2100 E. Whipp Road, Kettering, OH 45440, Phone:
937-401-3777
Lose Your Stuff, Find Yourself...
Lori's book, "Lose Your Stuff, Find Yourself," teaches us how to take control of our own spaces.
"Do away with the excuse that you can't be organized because those around you are not. You can live with a disorganized person and still be organized yourself. Look for spaces that are solely in your control and organized those."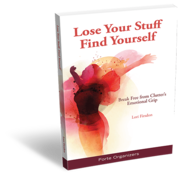 Pick up a copy of Lori's book by using this link:
Amazon.com
One More Thing...
Get back to the basics when it comes to organizing. This quote by Arthur Ashe puts it perfectly,
Happy Organizing,