---
| | |
| --- | --- |
| | October 2019 |
Reduced stress. Increased productivity. Improved well-being.
Forte Organizers helps individuals and families stay organized at home, as well as teaching business people organization skills at work.
It's scary how helpful Lori's new article in the Dayton Daily News is:
The Shredder...
Do you have a box labeled "SHRED" in your office for everyone to see? Often times, papers in your shred box have confidential information contained in them. Having a box labeled SHRED is an invitation for any unscrupulous passerby to snatch that information out of the box. Keep your shred box out of sight and unlabeled for everyone's protection. It would be scary if someone made off your important papers.
The same goes for having a SHRED box at home in your garage. If you ever leave your garage door open, anyone could sneak in and make off with your confidential information. If you really want to keep it safe, label the box "Grandma's Needlepoint Projects" instead.
Are your Halloween decorations a cluttered mess and scattered throughout your storage spaces? It's time to slay those disorganization monsters!
When you put your decorations away this year, store everything together in plastic tubs. This will keep them safe from bugs, dust bunnies and anything else that might go bump in the night.
Clearly label each bin "Halloween." If you don't have a labeler, make a sign like the one pictured below and place it in a plastic sheet protector. Securely tape it to the front of the bin.
Create a list of the contents of each bin, put it in a sheet protector, and place it on top of the decorations before you close it. When you pull out your decorations next year, you will be able to see what is in each bin with a single glance.
What's even scarier is that Christmas is right around the corner! You can do the same thing with your Holiday decorations when the time comes.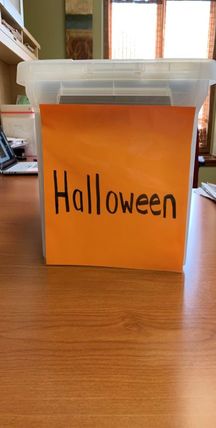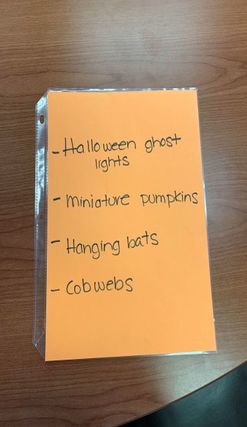 FREE!
Reflections on Collections
Managing your sentimental stuff.
Thursday, Oct. 3, 6:30 pm-8:00 pm
Winters-Bellbrook Library, 57 W Franklin St, Bellbrook, OH
Call (937) 352-4004 for more information.
Stop clutter in its tracks.
Wednesday, Oct. 16, 6:30 pm-8:00 pm
Woodbourne Library,
6060 Far Hills Ave, Centerville, OH
Call (937) 435-3700 for more information.
Registration is not required, but space is limited.
FREE! Helpful Holiday Hints
Organizing for the Holidays
Tuesday, Oct. 22, 6:00 pm-7:30 pm
Clark County Library,
201 S Fountain Ave, Springfield, OH 45506
Call (937) 328-6903 for more information.
Residents of Centerville and Washington Township with proper ID
Saturday, Oct 12, 10:00 am-1:00 pm
Public Works Garage, 8190 McEwen Rd.
Saturday, Oct 12, 10:00 am-1:00 pm
Fire Station 45, 8328 McEwen Rd.
FREE
PAPER DOCUMENT SHREDDING
City of Moraine-

Moraine Residents Only
Saturday, October 5, 2019 from 10:00 am-12:00 pm.
C.F. Holliday Elementary School, 3100 South Dixie Drive
(During the Moraine Fire Division Neighborhood Safety Fest)
Call Dave Miller at (937) 535-1003 for information.
Lose Your Stuff, Find Yourself...
Free yourself from fear with this quote from Lori's book, "Lose Your Stuff, Find Yourself."
"Let go of fear and start making decisions. A wrong decision can be more freeing than no decision at all."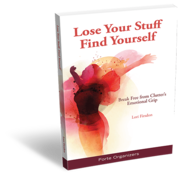 Pick up a copy of Lori's book by using this link:
Amazon.com
Just Hit Reply...
What scares you most about getting organized? 'Just Hit Reply' and let us know one your of fears, and how you plan on overcoming it.
One More Thing...
"Halloween is not only about putting on a costume, but it's about finding the imagination and costume within ourselves." ~ Elvis Duran
Happy Haunting,